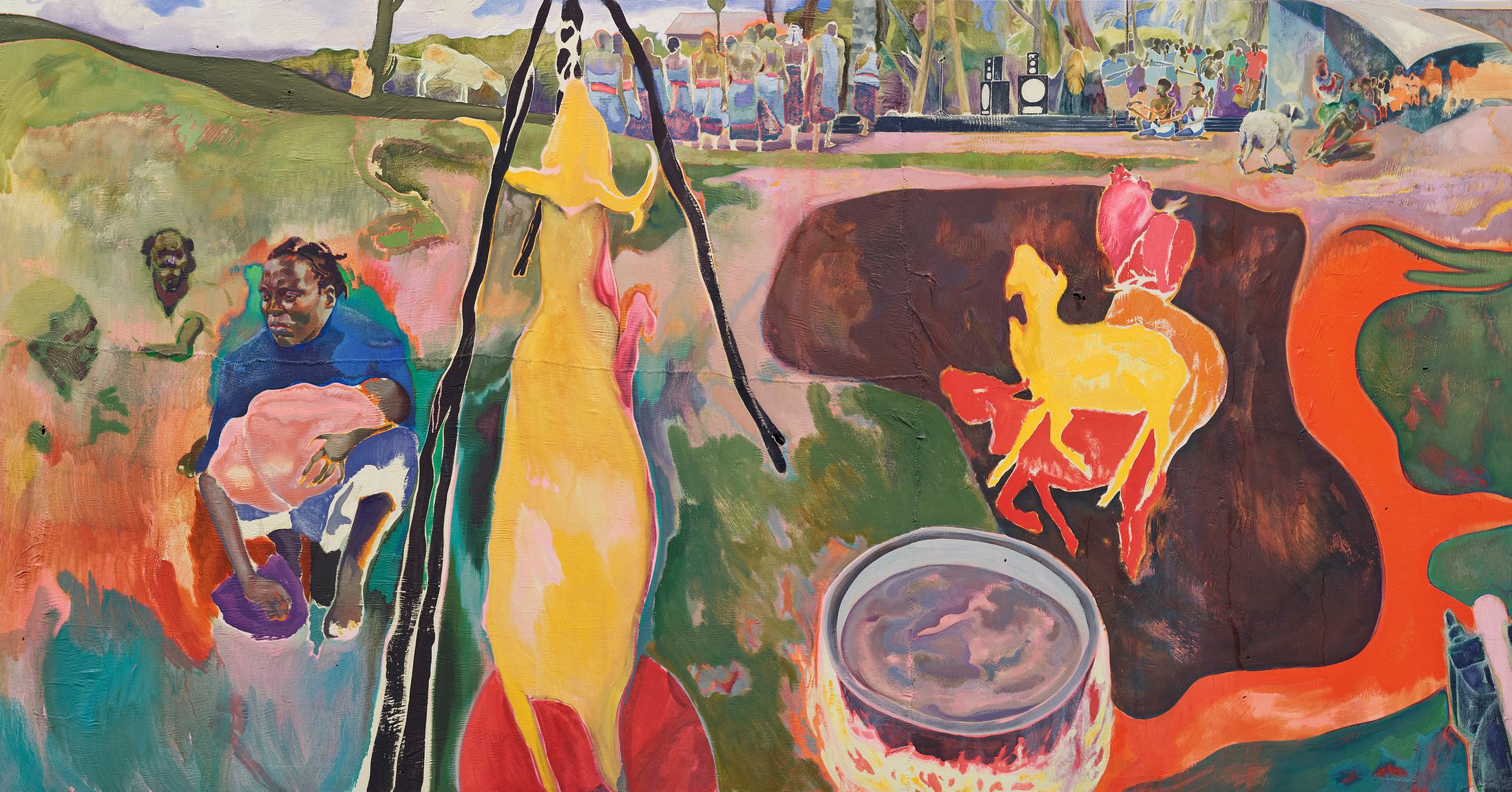 Michael Armitage
Lives and works in London and Nairobi
B. 1984
Michael Armitage's paintings weave multiple narratives that are drawn from historical and current news media, popular culture, and his own ongoing recollections of Kenya, his country of birth.
Living and working between London and Nairobi, Armitage paints with oil on Lubugo, a traditional bark cloth from Uganda, which is beaten over a period of days creating a natural material which when stretched taut has occasional holes and coarse indents. As noted by the artist, the use of Lubugo is at once an attempt to locate and destabilise the subject of his paintings.

Applying the paint in layers, Armitage scrapes, revises and repaints his compositions. The visual iconography of East Africa lies at the heart of his practice: its urban and rural landscape, colonial and modern vernacular architecture, advertising hoardings, lush vegetation and varied animal life. Undermining this rich colour palette and dream-like imagery, however, is a quiet exposition of Kenya's sometimes harsh reality: its politics, social inequalities, violence and extreme disparities in wealth. In turn, Armitage reflects on the more absurd aspects of the everyday, commenting on both society and the surrounding natural environment – evoked with a lyrical and phantasmagorical vision.

Armitage claims that 'Painting is a way of thinking through something, trying to understand an experience or an event a little better and trying to communicate something of the problem to others'. In the painting 'Hornbill' (21st - 24th September 2013) (2014), Armitage depicts one of the four terrorists who carried out the Westgate Shopping Mall attack, in which 67 people were killed including a group of children who were filming a cookery programme in the mall at the time. Armitage makes reference to this loss, by implanting the symbol of the Hornbill bird repeatedly across a tiled wall to the foreground of this armed figure; as according to West African myth Hornbills bury their dead in the beak of their bill.

In the painting Necklacing (2016), a naked man with a tyre around his neck is framed by two sutures or lines in the Lubugo surface, that run vertically either side of his body. A penetrating, haunting image, the idea for the painting surfaced from an event the artist witnessed as a child, in which a naked man with a tyre around his neck was being chased through the streets of Nairobi by a large mob. Necklacing is the name given to this type of unlawful mob justice enacted by gangs across Africa.

Inspired by the 2017 Kenyan General Elections, Armitage centred a series of eight paintings and ink drawings around his own experience at an opposition rally situated in Uhuru Park with a local press team. Amongst the crowds, the artist bears witness to politics at play as he recalls a number of carnivalesque revellers dressed up in outfits with wigs, masks and slings at the ready to rouse further attention. Those same characters were reported in the news running through teargas throwing stones at the police force that replied with live rounds, as further political rallies turned to protest and eventual violence.

As Catherine Lampert describes: 'His approach is synthetic but various in terms of composition; sometimes shapes flow, occasionally images are cut and pasted, he experiments with florid colour and sinuous line, and eventually the elements click into place….This instability exists in part because the stories that inform Armitage's paintings have been filtered by inherently unreliable voices.' Using a flattened perspective Armitage's figuration evolves into passages of pure abstraction, and then back again seamlessly within one painting creating works that are both romantic and synchronous, offering up various narrative threads, only to then unravel them like a resonant myth or legend.

Michael Armitage was born in 1984 in Nairobi, Kenya and lives and works between London and Nairobi. He received his BA in Fine Art from the Slade School of Fine Art, London (2007) and has a Postgraduate Diploma from the Royal Academy Schools, London (2010). In 2022, the Royal Academy of Arts, London, elected him a Royal Academician in the category of painting.

Armitage is the founder of the Nairobi Contemporary Art Institute, a non-profit platform established in 2021 and directed by Ayako Bertolli.

Solo exhibitions include: Kunsthaus Bregenz, Austria (2023); White Cube Bermondsey, London (2022); Kunsthalle Basel (2022); Calcografía Nacional, Real Academia de Bellas Artes de San Fernando, Madrid (2022); Ny Carlsberg Glyptotek, Copenhagen (2021); Royal Academy, London (2021); Haus der Kunst, Munich (2020); The Norval Foundation, Cape Town (2020); Projects 110, Studio Museum in collaboration and at MoMA, New York, Museum of Contemporary Art Sydney (2019); Fondazione Sandretto Re Rebaudengo, Turin (2019); South London Gallery (2017); Turner Contemporary, Margate, UK (2017); White Cube, Hong Kong (2017); Berkeley Art Museum and Pacific Film Archive, San Francisco (2016); White Cube, London (2015); and Royal Academy Schools Studios, London (2010).

Selected group exhibitions include: White Cube New York (2023); The Museum of Fine Arts, Houston (2023); Tate Modern, London (2023); Astrup Fearnley Museum of Modern Art, Oslo (2023); Zeitz MOCAA, Cape Town (2022); Galerie Rudolfinum, Prague (2022); Tate Britain (2022); Royal Academy Summer Exhibition, London (2022); The Drawing Center, New York (2022); British Art Show 9, UK (2021-2022); Palais de Tokyo, Paris (2021); Royal Academy Summer Exhibition, London (2021); Pallant House Gallery, Chichester, UK (2021); Diversity United, Flughafen Tempelhof, Berlin (2021); Drawing Biennial, Drawing Room, London (2021); The Warehouse, Dallas (2020); Whitechapel Gallery, London (2020); 58th Venice Biennale (2019); Nasher Museum of Art, Durham, North Carolina (2018); Prospect.4, New Orleans (2017); Scottish National Gallery of Modern Art, Edinburgh (2017); HOME, Manchester, UK (2016); Yuan Art Museum, Beijing (2015); 13th Biennale de Lyon, France (2015); Palazzo Capris, Turin, Italy (2015); South London Gallery (2014); and Drawing Room, London (2013).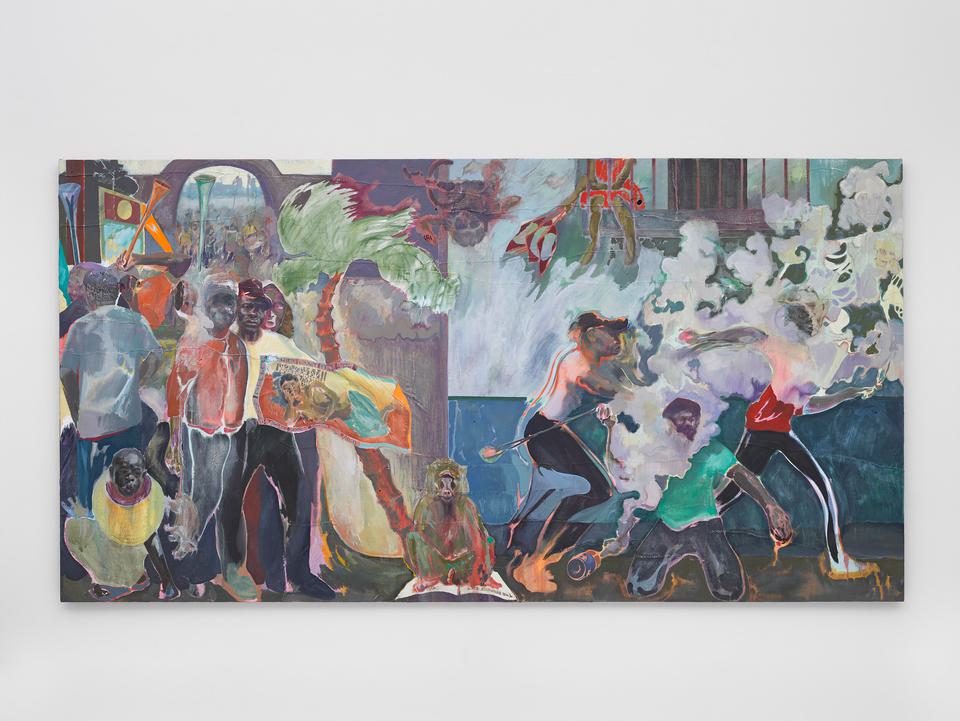 2019
---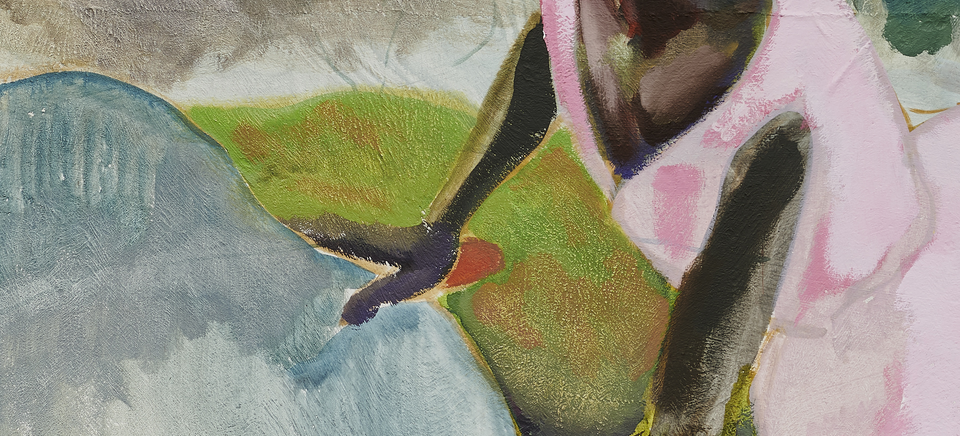 Contact us about available Michael Armitage works
Enquire
---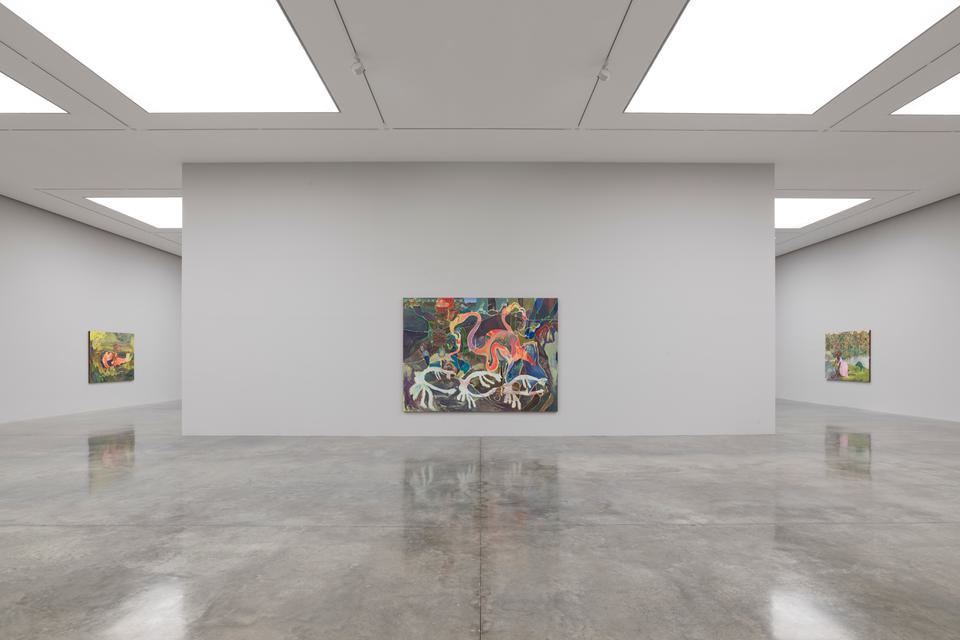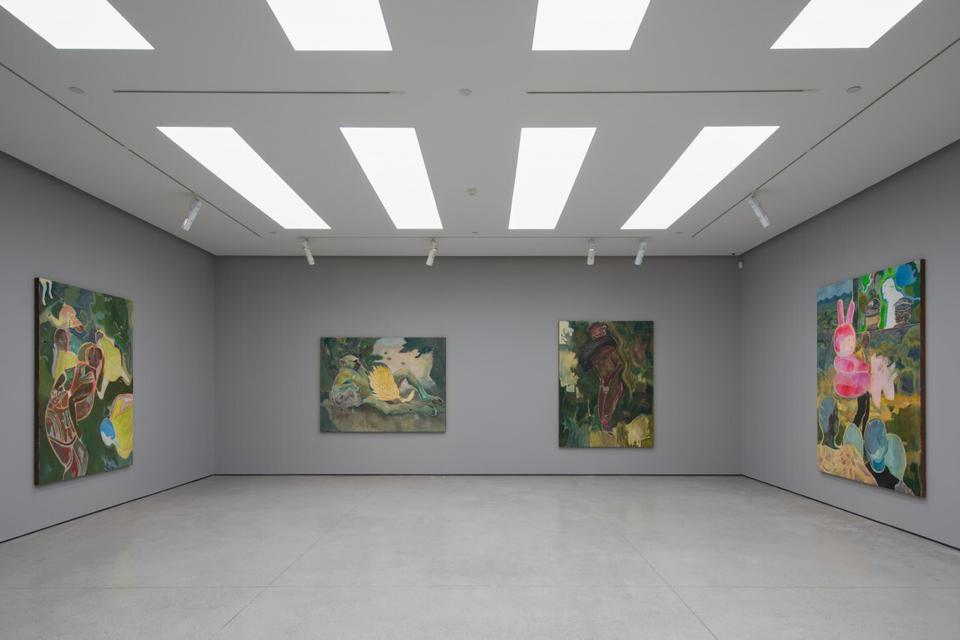 ---
---
In the Studio
Michael Armitage
Michael discusses his painting and studio practice in both Nairobi, Kenya and London, England (2017). He talks about how using Lubugo, a traditional bark cloth, as a ground for his paintings has transformed his practice.
Conversations
Michael Armitage and Nakhane
In response to the exhibition at White Cube Bermondsey in 2022, Michael joins singer-songwriter Nakhane in conversation.
Beyond White Cube
Michael Armitage on 'May You Live In Interesting Times'
Michael discusses his works included in the 58th Venice Biennale, 'May You Live In Interesting Times' (2019), curated by Ralph Rugoff.
In the Studio
Michael Armitage
Michael discusses his painting and studio practice in both Nairobi, Kenya and London, England (2017).
---
---
---