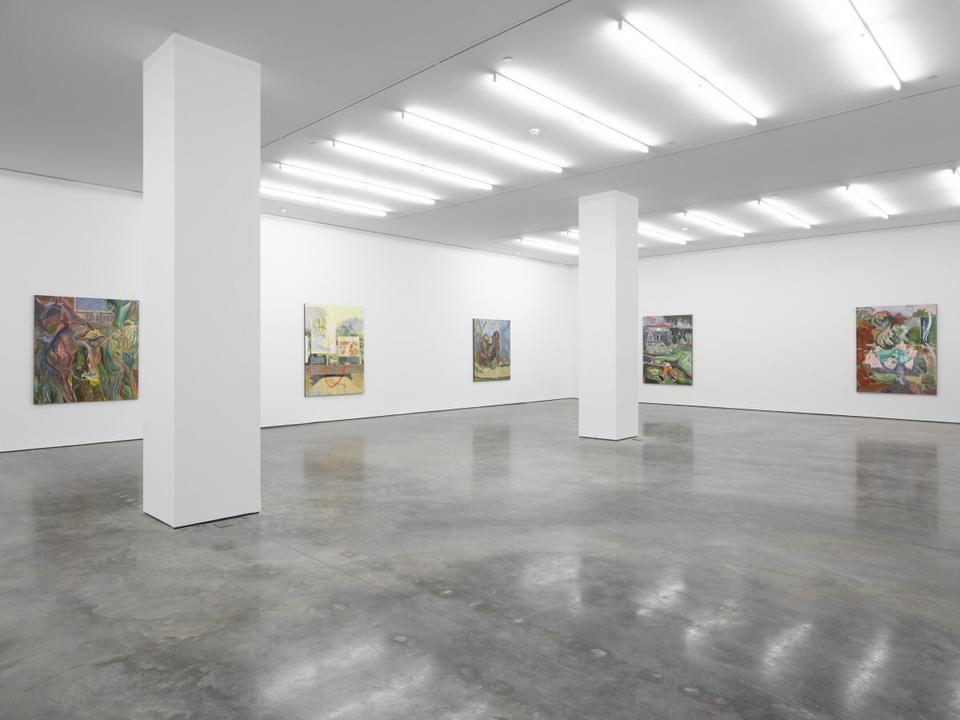 Inside the White Cube
29 April – 5 July 2015
Dates
29 April – 5 July 2015
Location
144 – 152 Bermondsey Street
London SE1 3TQ

Inside the White Cube presents an exhibition of new paintings by Kenyan-born, London-based artist Michael Armitage. This was Armitage's first solo exhibition in the UK.

Armitage weaves multiple truths into his lyrical, figurative paintings which focus primarily on narratives from his native country, Kenya. Using oil paint on Lubugo – a traditional bark cloth from Uganda – he applies the paint in layers, sometimes scraping back, revising and repainting his images which are fused together from a wide range of sources including media news, East African legends, internet chat and images lodged in his own personal memory. In the painting Mpeketoni (2015), Armitage refers to the terrorist attack by Somali militants on the North Coast of Kenya during the last World Cup, where forty-eight men were killed in cold-blood. Armitage depicts a group of women carrying one of the wounded outstretched on a shroud-like cloth, echoing a Goya etching called Feminine Folly from the series 'Los Disparates' (c. 1816–23). While in Accident (2015), for which the starting point was a photograph of a bus crash, he revisits a scene of personal trauma: a plane crash he experienced as a teenager, with his father and uncle, deep in the Kenyan bush.
In presenting a visual iconography of East Africa; its urban and rural landscape, colonial and modern vernacular architecture, advertising hoardings, lush vegetation and varied animal life, his representations take on the appearance of an imagined or intangible myth, rather than an accurate vision of a singular event. Undermining his richly coloured palette and romantic imagery, however, is a quiet exposition of the daily realities of Kenya's political problems, male-dominated society and extreme disparities in wealth. In And so it is (2015), for example, Armitage depicts a figure behind a pair of microphones, ready to give some kind of important address. Here the artist expands an all too familiar media image of political power, into a fantastical landscape of abstract vegetation, where the speaker is simply a shadow to his audience who mimic each other's responses in a form of imagined bubbles. Likewise, in #mydressmychoice (2015), we are presented with a scene which is both sensual and disquieting: a naked woman is depicted from behind, reclining on the ground in front of a row of blue-suited legs, belonging to a group of male onlookers. Two bush babies in the foreground are placed as if in response to the viewer's own voyeuristic gaze. While the woman's reclined pose suggests the tradition of classical nudes, the painting in fact relates to a series of incidents in Nairobi, where women wearing miniskirts were accused of being indecently dressed and then stripped and molested.

Armitage's application of paint is visceral: drips, visible brush marks, washes and layers lend the work a physical presence and charged energy. Using a flattened perspective and sinuous line, faces are often reduced to a few defining shadows, backgrounds to abstract washes of paint and vegetation – particularly doum palms – carriers of atmosphere or simplified, stylised shapes. In these works, figuration evolves into passages of pure abstraction, and then back again, seamlessly, within one painting.

Michael Armitage was born in 1984 in Nairobi, Kenya and lives and works in London. He received his BA in Fine Art from the Slade School of Fine Art (2003 – 07) and has a Postgraduate Diploma from the Royal Academy Schools (2007 – 10). Group exhibitions include '100 Painters of Tomorrow', Beers Contemporary, London (2014); 'Tomorrow : London', South London Gallery (2014) ; 'Connecting Worlds', UBM, London (2013); 'Myth and Market' (with John Tiney), Studio 1 :1, London (2013) ; 'Drawing Biennial 2013', Drawing Room, London (2013) ; 'RA Schools Show', Royal Academy Schools Studios, London (2010) ; and 'Ascension', Simon Oldfield, London (2008).