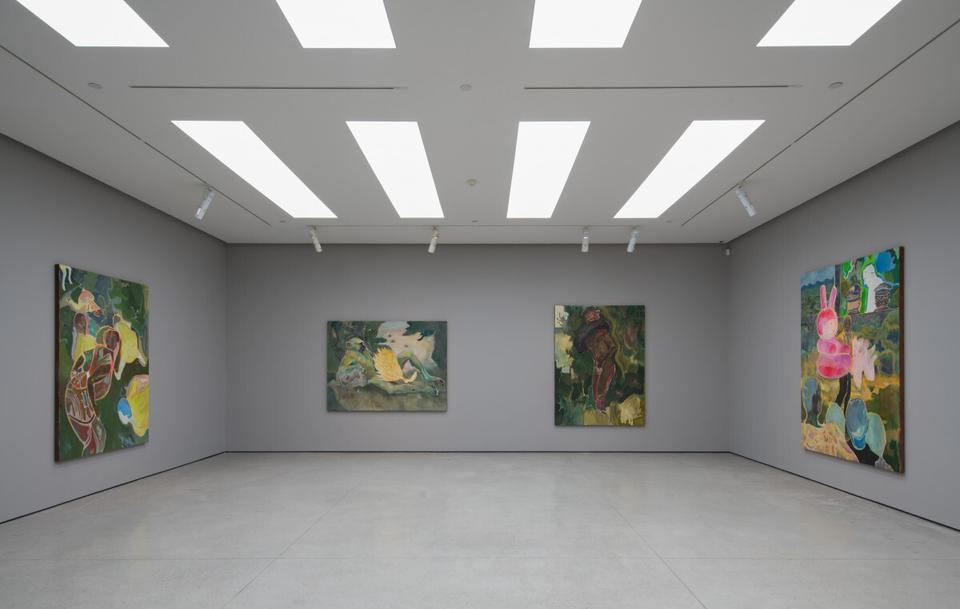 18 January – 11 March 2017
Dates
18 January – 11 March 2017
Location
50 Connaught Road Central
Hong Kong
Working in London and Nairobi, Armitage produces paintings that connect with art history, often adapting the strategies and compositions of historical paintings to unpack the cultural and social politics of contemporary East Africa. Although the scenes depicted in his paintings are sometimes bucolic and vivid, this conscious aesthetic belies his committed exploration of pertinent narratives, in particular, the intersection of societal and sexual behaviour against a backdrop of cultural conservatism.
Armitage gathers his images from a wide range of sources including news and social media, his own personal memories and drawings from life. He paints in oil on cloth made from Lubugo bark, which has been harvested from trees in Uganda and is more commonly used in making sacred or ceremonial fabrics. He stretches the cloth across a frame, incorporating the resultant tears and sutures into the overall texture and composition of the image.

In several of the paintings in this exhibition, Armitage makes reference to 'Baikoko', a dance that originated on the coast of Tanzania. Performed by women only, it has been popularised in recent years through its appearance in Bongo Flava music videos but, due to its sexually explicit nature, the dancers have faced increasing restrictions by the Tanzanian government. In the painting Nasema Nawe (2016), he draws on Gauguin's well-known painting The Vision after the Sermon (Jacob Wrestling with the Angel) (1888) by mirroring its compositional arrangement. While Gauguin's picture concerns the revelation of semi-illicit religious activity, here Armitage exposes a similar trance-like communal ritualism inherent in the expressive form of the Baikoko dance. However, in Armitage's painting, the figures in the foreground consciously look away from the dancers. In another work, Baikoko at the Mouth of the Mwachema River (2016), Baikoko dancers are depicted hovering just above the ground, in a manner that makes reference to Francisco Goya's painting Atropos(1819-23).
In the painting Necklacing (2016), a naked man with a tyre around his neck is framed by two sutures or lines in the Lubugo surface, that run vertically either side of his body. A penetrating, haunting image, the idea for the painting surfaced from an event the artist witnessed as a child, in which a naked man with a tyre around his neck was being chased through the streets of Nairobi by a large mob. Necklacing is the name given to this type of unlawful mob justice enacted by gangs across Africa.
In Strange Fruit (2016), Armitage depicts a female figure perched on the branches of a tree, taking on a laconic and anthropomorphic symbolism. Rendered from a vantage point beneath the woman, only the soles of her feet are visible. The painting, whose title refers to the well-known protest song about the lynching of African Americans, alludes to the fact that 60% of the Kenyan population are now aged 25 and under, meaning there are very few prospects for young adults. In some extreme cases, on the North coast of Kenya, young adults have accused their parents of witchcraft, resulting in the parents being banished or attacked by their community, thereby allowing the children to claim their property and assets. In one instance, a man was killed by a mob as a result of such an accusation, leading his wife to commit suicide.
Similarly, the work Muliro Gardens (baboons) (2016), was inspired by an actual event in Kakamega, Kenya where police set up a hidden camera near a bench in Muliro Gardens, a place which people frequented for sexual encounters. Attempting to publicly shame those involved, the videos were released online, but in Armitage's painting, the illicit scene becomes not just voyeuristic but surreal, witnessed by an audience of silent, statuesque baboons. This element of surrealism continues in several other works that include animal protagonists. In Leopard Print Seducer (2016), a sexualised baboon stands proud, clad in a leopard print bikini. This painting references an interview with a traditional healer that the artist discovered which described how the healer accompanied a patient through a vision. During the vision, the healer pointed out various traps which had been set by animals in order to seduce the patient and steer them away from the right path and route to good health.