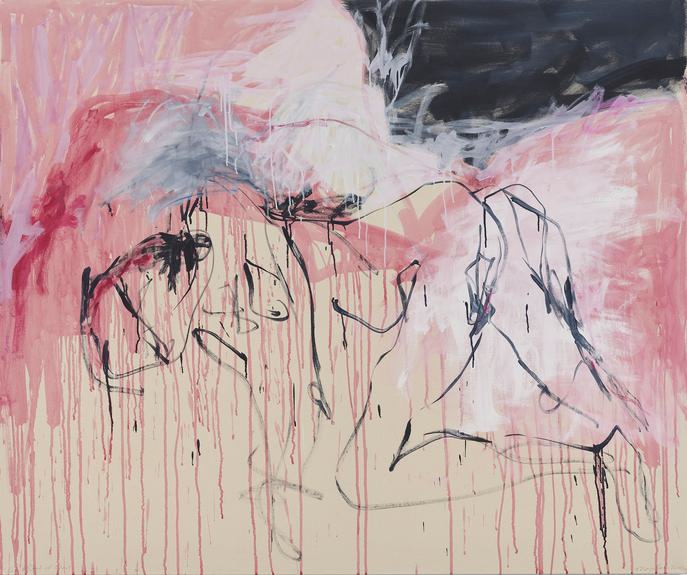 Tracey Emin
Lives and works in London and France

B. 1963
Tracey Emin looks to her life for her primary material. With soul-searching candour, she probes the construct of the self but also the very impulse to create. Unfiltered, irreverent, raw, she draws on the fundamental themes of love, desire, loss and grief in works that are disarmingly and unashamedly emotional. 'The most beautiful thing is honesty, even if it's really painful to look at', she has remarked.
Self-portraiture and the nude run throughout her practice, which Emin has described as being about 'rites of passage, of time and age, and the simple realisation that we are always alone'. Her earliest works refer to her family, childhood and chaotic teenage years, growing up in the seaside town of Margate and leaving home at the age of fifteen. What happened next is explored, in a manner that is neither tragic nor sentimental, in drawing, painting, film, photography, sewn appliqué, sculpture, neon and writing, as the vicissitudes of relationships, pregnancies and abortions intersect with her commitment to the formal disciplines of art. Most recently, the artist has experienced her body as a battleground, through illness and ageing, on which she reports with characteristic fearlessness.

The playful title of Emin's first solo exhibition, My Major Retrospective 1963–1993, suggests the artist felt, despite being at the beginning of her career, significant things had already happened. Her obsessive assemblage of personal memorabilia included tiny photographs of her art school paintings that she'd destroyed, a 'photographic graveyard' that revealed an admiration for paintings by Egon Schiele and Edvard Munch. She details this 'emotional suiside' in Tracey Emin's CV Cunt Vernacular (1997), among several early video works that give further insight into her formation as an artist, highlighting moments of epiphany through the use of first-person narrative. 'I realised there was the essence of creativity, that moment of conception,' she says in How It Feels (1996), a pivotal film in which she tells the story of her abortion. 'The whole being of everything… it had to be about where it was really coming from'. Speaking to camera while walking through the streets of London, she concludes that conceptual art, as an act of reproduction, is inseparable from the artist's inner life. Developing this connection, the haunting film Homage to Edvard Munch and All My Dead Children (1998) shows the artist on the pier near Munch's house, naked and prostrate in the foetal position, the dawn rising over the water as she lifts her head and screams – a guttural response to great painter's iconic image.

In 1998, Emin created My Bed, an uncensored presentation of her most personal habitat. The double bed has become abstracted from function as it sits on the gallery floor, in conversation with art history and a stage for life events: birth, sleep, sex, depression, illness, death. The accumulation of real objects (slippers, condoms, cigarettes, empty bottles, underwear) on and around the unmade bed builds a portrait of the artist with bracing matter-of-factness, defying convention to exhibit what most people would keep private. The work gained international attention as part of the Turner Prize, entering Emin into public consciousness. Another work that became a byword for her art of disclosure was the sculpture Everyone I Have Ever Slept With 1963−1995 (1995, destroyed 2004), where the names of all those she had ever shared a bed with – friends, lovers and family – were sewn on the inside of a tent, a crawl-space that invites the viewer to reflect on their own inventory.

Explicitly feminist, and acknowledging the influence of her friend and collaborator Louise Bourgeois, Emin's choice of medium is integral to the story she tells. In hand-embroidered blankets and quilts, traditionally associated with women's work, she pierces the visual field with words, combining scraps of different material with uneven stitching to spell out statements whose syntax and spelling remain uncorrected. With titles such as  Mad Tracey from Margate. Everyone's been there, (1997) or Helter Fucking Skelter (2001), they register the artist's acute sensitivity to the views of those around her and give a riposte, just as the medium is a riposte to the classification of fine art, for centuries dominated by male artists. As she herself became newsworthy, both nationally and internationally, Emin used the publicity to prick other forms of decorum in the professional art world – such as never over-explaining. In longer form, her memoir, Strangeland (2005) offers an account of her journey to becoming 'a fucked, crazy, anorexic-alcoholic-childless, beautiful woman. I never dreamt it would be like this.' The text is riddled with spelling mistakes that challenge the form and carry through a sense of unfiltered process, as was also the case with her long-running newspaper column for The Independent (2005–09), in which she narrated her weekly goings-on under the title 'My Life in a Column'.

Emin's ongoing series of neons features snatches of text in her recognisable slanted handwriting, elevating fleeting thoughts and feelings as aphorisms: You touch my Soul (2020), I Longed For you (2019) or I don't Believe in Love but I believe in you (2012). Her formulation of statements in the second person has the effect of placing the viewer squarely in the situation, and can encapsulate an entire romance in a pithy phrase, as in I want my time with You (2018), a twenty-metre-wide neon that greets passengers at London's St Pancras Station. A critical part of her practice since the 1990s, the neons evoke the seafront lights of Margate, latent with the sense of dusk and faded glamour. Her birthplace is an abiding subject; it resurfaces in large-scale sculptures, where reclaimed wood and found materials are assembled in jagged structures that allude to the beach, pier, huts and tide markers. Margate's famous theme park 'Dreamland' is referred to in several works, among them Self-Portrait (2001), which recreates the pleasure ground's helter-skelter, and It's Not the Way I want to Die (2005), which recalls the undulating roller-coaster in rickety, worn wood, fragile to the point of collapse. Margate is 'part of me', Emin says, and while looking back she is now looking to the future with the establishment of TKE Studios, a new art school and artists' studios.

Questions of mortality and the centrality of the female reproductive body drive The Mother (2021), one of Emin's most significant public sculptures. Permanently sited next to the new Munch Museum, Oslo, it marks the death of her own mother, and brings her lifelong admiration for Munch full circle. Fifteen tonnes of bronze standing nine metres high, this woman with 'her legs open to the Fjord' is visible from afar over land and water, a monument to the female figure as protector without compromising on her vulnerability or eroticism. By contrast, Baby Things, Emin's accurate rendering of children's tiny lost shoes and clothes in bronze, was installed as if by chance outside the British Pavilion at the Venice Biennale (2007) and around Folkestone Triennial (2008), intimate tokens that might inadvertently provoke a range of reactions, from fear for those we love most, to the indifference with which we treat a discarded object.

Most recently, Emin's work has been charged by the seriousness of her medical situation, since in 2020 she was diagnosed with bladder cancer. Self-portraits taken on her camera phone in bed find the artist facing her 'crippling' insomnia in the small hours, and in recovery from extensive surgery. Her paintings of the nude figure have a tempestuous energy. Emin's graphic line, by turn delicate or vigorous, imparts a sense of urgency; with each abandoned and assertive gesture, she is flaying herself open. Drips and obliterations point to the fluidity of the body, as it fluctuates between joy and suffering on its journey between birth and death. Explosions of colour allude to a self that is overcome by feeling and triumphing in sheer sensuality. 

Tracey Emin was born in 1963 in London. She currently lives and works between London, the South of France, and Margate, UK. Emin has exhibited extensively including major exhibitions at Royal Academy of Arts, London (2020); Musée d'Orsay, Paris (2019); Château La Coste, Aix-en-Provence, France (2017); Leopold Museum, Vienna (2015); Museum of Contemporary Art, Miami (2013); Museo de Arte Latinoamericano de Buenos Aires (2012); Turner Contemporary, Margate, UK (2012); Hayward Gallery, London (2011); Kunstmuseum Bern (2009); Scottish National Gallery of Modern Art, Edinburgh (2008); Centro de Arte Contemporáneo, Malaga, Spain (2008); Art Gallery of New South Wales, Sydney (2003); and Stedelijk Museum, Amsterdam (2002).

In 2007 Emin represented Great Britain at the 52nd Venice Biennale and her installation  My Bed has been included in 'In Focus' displays at Tate Britain with Francis Bacon (2015), Tate Liverpool with William Blake and also at Turner Contemporary, Margate alongside JMW Turner (2017). In 2011, Emin was appointed Professor of Drawing at the Royal Academy of Arts, London, and in 2012 was made Commander of the Most Excellent Order of the British Empire for her contributions to the visual arts.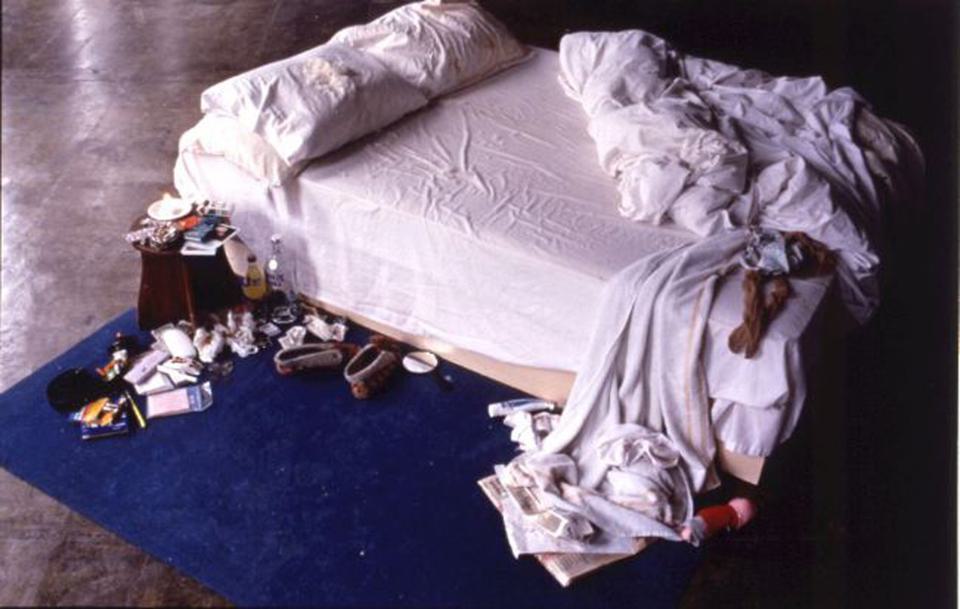 1998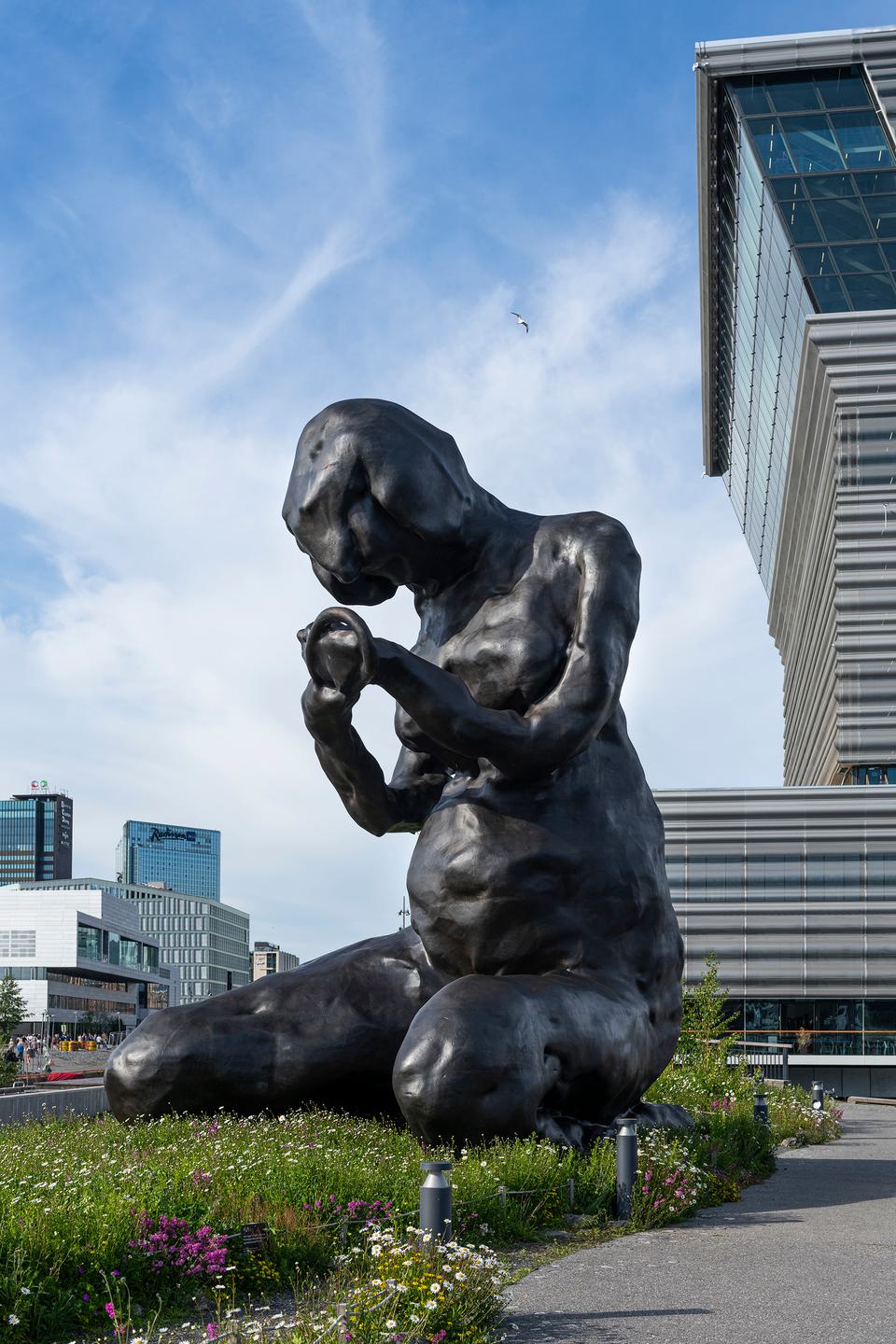 2022
---
---
---
Beyond White Cube
Emin / Edvard Munch: The Loneliness of the Soul
Edith Devaney, Contemporary Curator at the Royal Academy of Arts introduces the exhibition 'Tracey Emin / Edvard Munch: The Loneliness of the Soul' in 2021.
In the Gallery
Tracey Emin on 'I Cried Because I Love You'
Tracey explores the ideas behind the work in her exhibition 'I Cried Because I Love You' in Hong Kong, 2016.
Beyond White Cube
Emin / Edvard Munch: The Loneliness of the Soul
Edith Devaney, Contemporary Curator at the Royal Academy of Arts introduces the exhibition 'Tracey Emin / Edvard Munch: The Loneliness of the Soul' in 2021.
In Focus
Tracey Emin on 'How it Feels'
Tracey Emin discusses her film, How it Feels (1996), the title of which she has used for her solo exhibition at MALBA, Buenos Aires.
In Focus
Tracey Emin on making films
Tracey discusses her approach to film-making with Philip Larratt-Smith.
In the Gallery
Harry Weller on Tracey Emin's paintings
Harry Weller, the Creative Director at Tracey Emin's studio discusses her painting methods, describing how she embraces mistakes and constantly reworks the canvas.
In the Gallery
Susanna Greeves on Dreamers Awake
Susanna Greeves discusses the work in the exhibition 'Dreamers Awake' at White Cube Bermondsey in 2017.
---
---
---