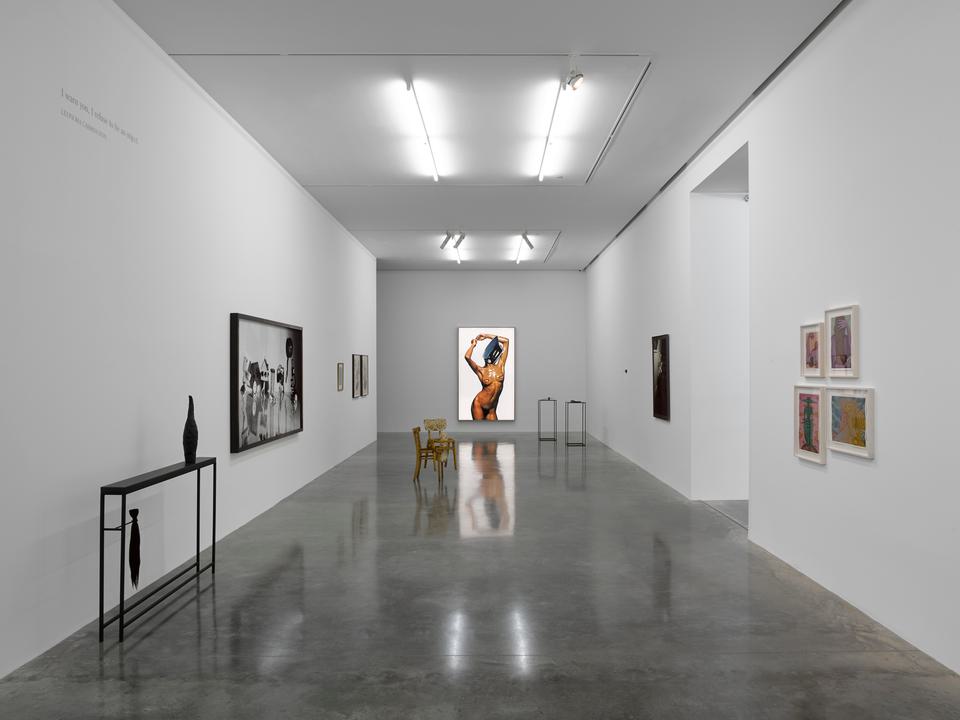 Dreamers Awake
Dreamers Awake
28 June – 17 September 2017
Dates
28 June – 17 September 2017
Location
144 – 152 Bermondsey Street
London SE1 3TQ

Curated by Susanna Greeves
White Cube presented 'Dreamers Awake', a group show at White Cube Bermondsey which explored the enduring influence of Surrealism through the work of more than fifty women artists. The exhibition brought together sculpture, painting, collage, photography and drawing from the 1930s to the present day and included work by well-known Surrealist figures as well as contemporary and emerging artists.
Woman has a powerful presence in Surrealism. She is the object of masculine desire and fantasy; a harpy, goddess or sphinx; a mystery or threat. Often, she appears decapitated, distorted, trussed up. Fearsome or fetishized, she is always the 'other'. From today's perspective, gender politics can seem the unlikely blind spot of a movement that declared war on patriarchal society, convention and conformity.

Nonetheless, from its earliest days female artists have been drawn to Surrealism's emphasis on personal and artistic freedoms and to the creative potential that the exploration of the unconscious offered. By focusing on the work of women artists, 'Dreamers Awake' hopes to show how, through art foregrounding bodily experience, the symbolic woman of Surrealism is refigured as a creative, sentient, thinking being.

Repossessed by its owner, the fragmented, headless body of Surrealism becomes a vehicle for irony, resistance, humour and self-expression. Ranging beyond those who might identify themselves as Surrealists, the show traces the influence of the movement where artists delve into the unconscious; create alternative realities; invent fetishistic objects, such as Mona Hatoum's Jardin Public (1993), that subvert the objectification of the female form, or, in the spirit of Claude Cahun's iconic black and white self-portraits from the 1930s, play with gender identity as a fluid construct.

The exhibition featured works by women associated with the Surrealist movement – including Eileen Agar, Leonora Carrington, Lee Miller, Dorothea Tanning and Leonor Fini – who until recently, were often characterised simply as muses, models or mistresses. Works by Francesca Woodman, Hannah Wilke, Louise Bourgeois, Rosemarie Trockel, Kiki Smith, Paloma Varga Weisz, Mona Hatoum, Tracey Emin and Sarah Lucas, among others, testify to the far-reaching influence of Surrealism through the intervening decades. Surrealism meets punk in the work of Linder, and infuses the separate cultural heritages of Iraqi artist Hayv Kahraman and Japanese painter Tomoko Kashiki.

Today, one hundred years since Apollinaire coined the term 'surrealisme', the unconscious mind is familiar territory, and the word 'surreal' itself debased to the point of meaninglessness. But in a world preoccupied with the politics of identity, in which the advances of previous generations must be continually defended, we see the continued – even renewed - relevance of surrealist ideas and strategies to a generation of emerging artists, including Sascha Braunig, Jordan Kasey, Loie Hollowell, Kelly Akashi, and Caitlin Keogh.
Installation Views