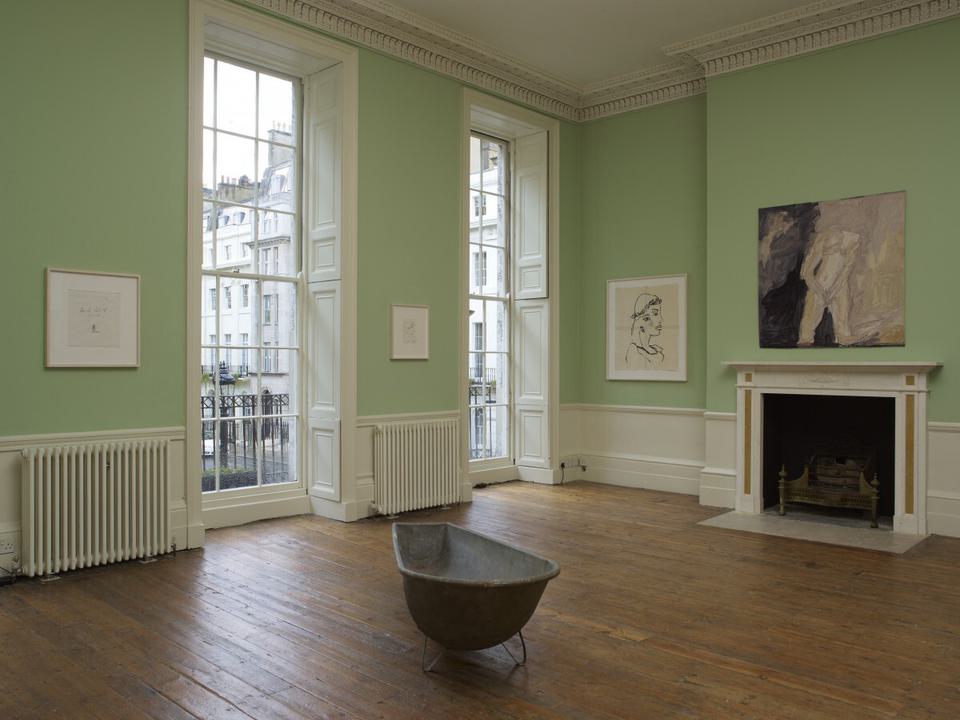 7 October – 12 November 2011
Dates
7 October – 12 November 2011
'She looked into the mirror…
I made a fool of myself again. A fool like a stupid child. A child that has never known love… A soul that has never been touched. Then she began to cry.
Knowing that every thing is as it should be…
She was a fool.
It was all too late…The lake had gone…

The vanishing lake is not a metaphor… It is a real lake… it is small and magical looking… but only exists from autumn to spring… in the summer… it is just a dry dusty barren bowl…
The only metaphor is often…This is how I feel.'

An extract from 'The Vanishing Lake' 
Tracey Emin Autumn 2011
White Cube presents a special site-specific exhibition by Tracey Emin, 'The Vanishing Lake'. The title is taken from her novel, which has been a catalyst for a series of new works created for exhibition in the Georgian house at 6 Fitzroy Square.
Emin relishes the opportunity of showing in historical surroundings, previously exhibiting at the Foundling Museum and Freud's former home in London as well as the British Pavilion in Venice in 2007. Now Emin has chosen an eighteenth century house, designed as part of a terrace by the neoclassical architect Robert Adam in 1794. Fitzroy Square was home to numerous artists and writers before the war, but subsequently many of the properties became commercial businesses and number 6 became a bank. However, in the 1990's the Georgian group restored the building to its original domestic design - and this evolution of purpose corresponds with the ethos of 'The Vanishing Lake'.

The seasonal disappearance and reappearance of the lake by Emin's home in France informs a series of new 'Self Portraits' that reflect and absorb a personal metamorphosis. With titles including: 'Knowing how I am', 'Anatolian Princess' and 'Beautiful Girl', Emin portrays her multifaceted past by drawing from Picasso's intimate portrayals of his long-standing muse and mistress, Marie-Thérèse Walter. Pleas of unrequited love and touching melancholia are conveyed in a series of embroidered texts and drawings shown alongside the exposed vulnerability of an isolated figure captured in a series of hand-woven tapestries. Scaled up from intimate works on canvas, the tapestries produced by the West Dean tapestry studios continue Emin's interest in the domestic and handcrafted tradition. In addition, tiny hand-modeled bronze figures pray either side of a pregnant bronze figure in 'Prayers for Mother'. As visitors entered or left the exhibition, a neon text enigmatically recounted: 'I followed you into the water knowing I would never return'.
Born in 1963, Tracey Emin lives and works in London. After the success of her survey exhibition 'Love Is What You Want' at the Hayward Gallery this summer, Emin is now planning a solo exhibition at Turner Contemporary, Margate in May 2012 and her first major US solo exhibition at the Brooklyn Museum in 2013. In 2008 Emin held her first major retrospective 'Twenty Years' at the Scottish National Gallery of Modern Art, which subsequently toured to Malaga (2008) and Bern (2009). In 2007 Emin represented Britain at the 52nd Venice Biennale and was made a Royal Academician.