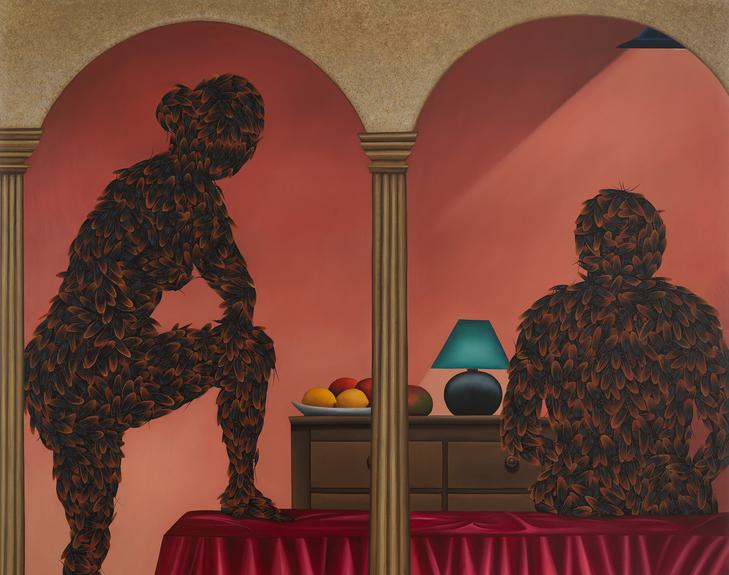 Julie Curtiss
Lives and works in Brooklyn


B. 1982
Julie Curtiss focuses on the relationship between nature and culture in her figurative painting, sculpture and gouache on paper, exposing and reworking female archetypes through a surrealist sense of the uncanny. 'In my images, I enjoy the complementarity of humour and darkness, the uncanny and the mundane, grotesque shapes and vivid colours', she has commented.
Born and raised in Paris, Curtiss studied at l'Ėcole des Beaux-Arts before moving first to Japan and then to New York, where she now lives and works. Employing a highly stylised visual language, she draws on a history of figurative painting including 18th- and 19th-century French painting, as well as the Chicago Imagists and the 'pop' imagery of comic books, manga and illustration. Her subject matter centres on the female body, through deconstructed and fragmented details like heads or legs, or the symbols of stereotyped 'femininity' such as long nails, flowing hair or high heels. In a similar manner to Post-Impressionist painters, Curtiss mines her subjects from contemporary, everyday life, representing its curious, small details in cropped and ambiguous compositions that are erotically charged, and cinematic and dreamlike in feel, interweaving the general and specific in ways that are at once fantastical, precise and unsettling. Through the use of unexpected juxtapositions, of subject with object, of the seen and the implied, and an exaggerated portrayal of cartoon-like forms, her paintings are infused with a direct and deadpan humour, revealing the uncanny within the banal and the grotesque and surreal undertones of human characteristics and behaviour.

Using a range of different media including oil, acrylic or gouache, Curtiss' paintings feature a variety of treatments and textures in matt, unmodulated colours which are finely mixed to achieve a precise, tonal effect. Psychologically driven, her work adopts Surrealist strategies of picture making, using a shallow depth of field and close-cropping to leave parts of an image out, resulting in a sense of intimate objectivity that hints at underlying sexual or fetishistic activities. Curtiss often situates the viewer as a predator or furtive voyeur, allowing the viewer to glimpse what should remain hidden. Derailing the sense of a privileged gaze, the viewer is left askew: complicit and uncomfortable, in a manner that recalls the authorial strategies used in Michelangelo Antonioni's Blow-Up (1966), Marcel Duchamp's Étant donnés (1946–66) or Robert Gober's Untitled Leg (1989–90). As Curtiss has said: 'I am interested in nuances, in complexity, in the in-between, in complementarity.'

The female figure is always faceless in Curtiss' work: an archetype, symbol or stand-in without defining characteristics. Whether turning away from our gaze or veiled by rope-like tresses of hair, her form is often fragmented but powerful, questioning of a history of female objectification and re-appropriating what Curtiss terms the 'tools of communication and seduction'. Nails extend into sharp talons, nipples become graphic cones and hair is Medusa-like, both hypnotic and attractive, abstracted and reconfigured into a series of repetitive, twisting tendrils.

Curtiss has commented that her subject matter emerges from '[...] the surrealist elements of modern life, in which our corporeal appetites are titillated with the extravagant, abnormal and bizarre.' Frequently reusing the same, insistent motifs from one painting to another, objects such as cigarettes, teapots or long boots appear familiar and strange and soft, as if covered with down. Food is a consistent theme, both seductive and repulsive in equal measure. A slice of pie is covered with tight ridges of hair, or a piece of sushi is formed from a neatly severed finger.

In D'après l'origine du monde (2016), Curtiss draws inspiration from Courbet's infamous depiction of female sexuality, L'Origine du monde (1866). Veiling the partial, prone body with stylised loops and coils of hair, she obscures her female subject, thereby breaking with the scrutinising objectivity of the original. Presenting us with an animalistic female energy and – as Courbet's title reminds us – the origins of life itself, Curtiss draws attention to the virgin / whore dichotomy, while inflecting any erotic potential with a phantasmagorical, sinister edge.

Julie Curtiss was born in 1982 in Paris, France and lives and works in Brooklyn, New York. She studied at the École Nationale Supérieure des Beaux-arts, Paris, during which time she undertook two exchange programmes; one at the Hochschule für Bildende Künste, Dresden and the other at the School of the Art Institute of Chicago. Curtiss graduated in 2006 with a BA and MFA. Recent solo exhibitions include White Cube Mason's Yard, London (2021); Anton Kern Gallery, New York (2019); Various Small Fires, Los Angeles (2018); and 106 Green, Brooklyn, New York (2017). Group exhibitions include Leeum Museum of Art, Seoul (2022); Biennale des Arts de Nice (2022); The Shed, New York (2021); La Patinoire Royale – Galerie Valérie Bach, Brussels (2020); Deitch Gallery, New York (2020); Nassau County Museum of Art, Roslyn, New York (2019); Perrotin, Seoul (2019); Clearing, New York (2019); White Cube Bermondsey, London (2017). She has been the recipient of a number of fellowships and awards, including Youkobo Art Space Returnee Residency Program, Tokyo (2019); Fellow of the Sharpe-Walentas Studio Program, New York (2018); Saltonstall Arts Colony Residency, New York (2017); Contemporary Art Center at Woodside Residency Program, New York (2013); VAN LIER Fellowship, New York (2012); Louis Vuitton Moët Hennessy's Young Artists Award (2004); and Erasmus European Exchange Program Grant, Hochschule für Bildende Künste, Dresden (2003).

Curtiss' work is represented in a number of museum collections, among which are Bronx Museum, New York; Columbus Museum of Art, Ohio; High Museum, Atlanta; Los Angeles County Museum of Art; Maki Collection, Japan; Museum of Contemporary Art, Chicago; Walker Art Center, Minneapolis; and Yuz Museum, Shanghai.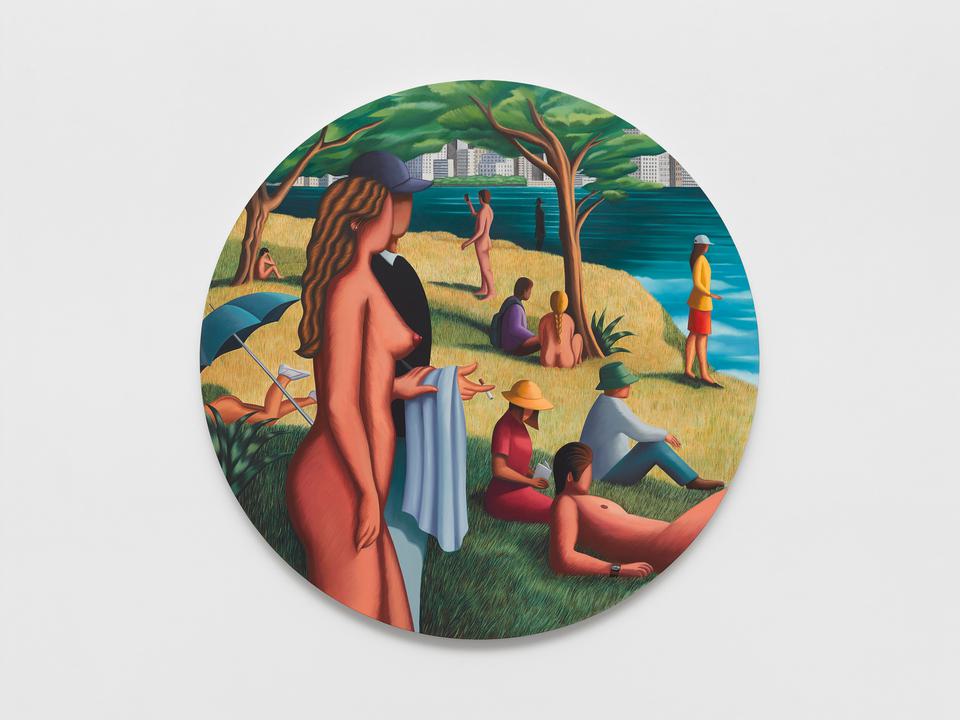 2021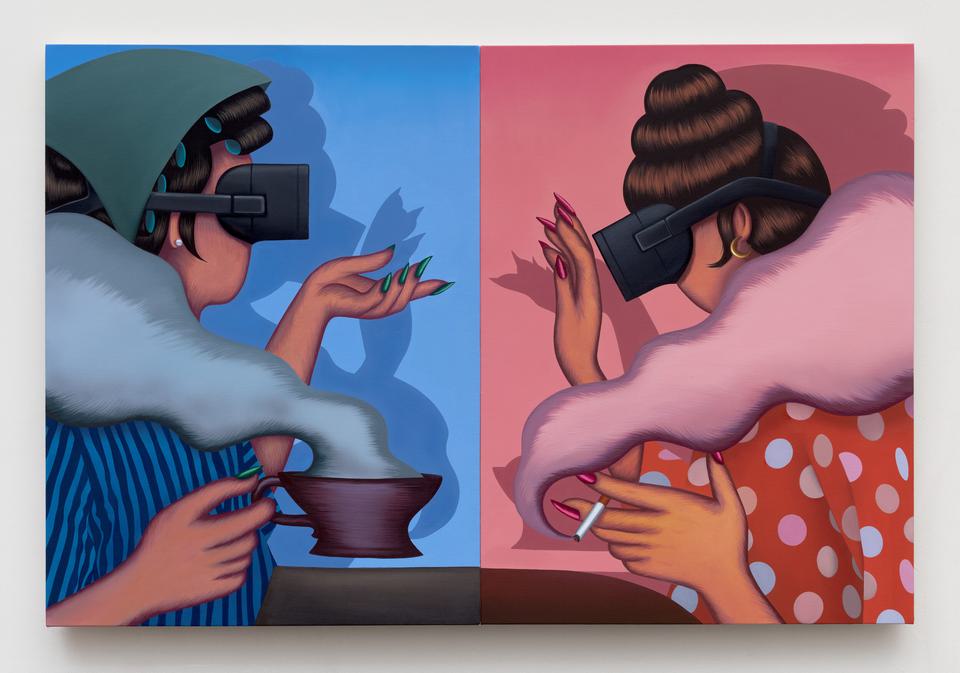 2021
2021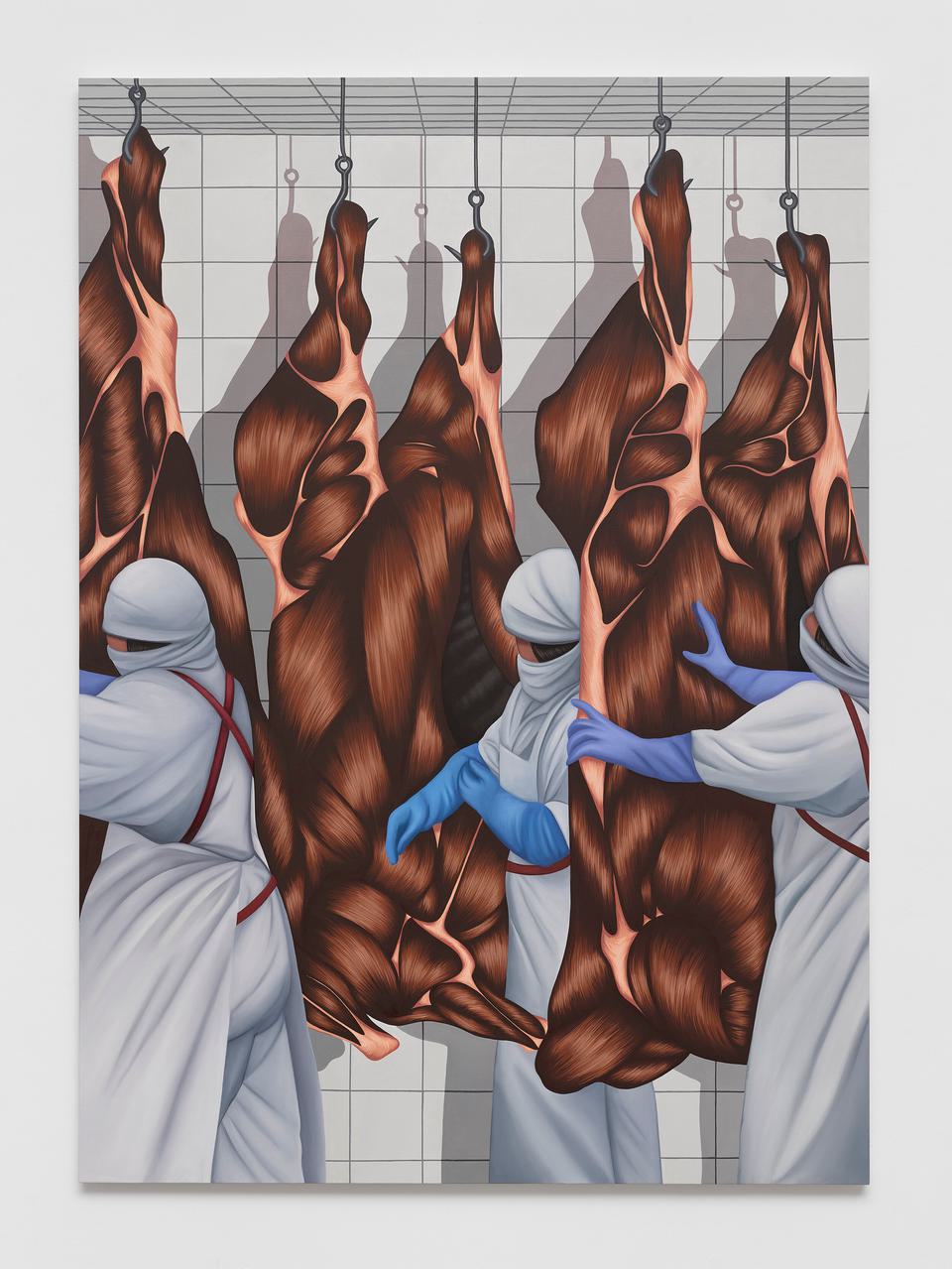 2020
---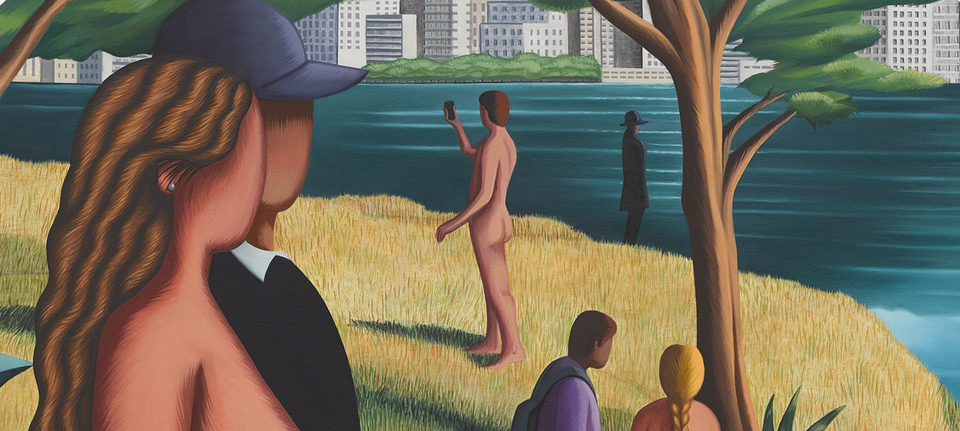 Contact us about available Julie Curtiss works
Enquire
---
---
In the Studio
Julie Curtiss
Julie Curtiss discusses her work and methods from her studio in Brooklyn, New York. She explains how she constructs her paintings and her various inspirations, such as the archetypal female characters in the films of Alfred Hitchcock.

In the Gallery
Julie Curtiss, 'Monads and Dyads'
Julie Curtiss reflects on the evolution of the paintings in her exhibition 'Monads and Dyads' at White Cube Mason's Yard in 2021.
Conversations
Julie Curtiss and Mary Wild
Julie Curtiss and film theorist Mary Wild discuss the 2021 exhibition 'Julie Curtiss: Monads and Dyads' through the lens of psychoanalysis and film interpretation.
In the Studio
Julie Curtiss
Julie talks about her work and methods from her studio in Brooklyn, New York.
In the Gallery
Susanna Greeves on Dreamers Awake
Susanna Greeves discusses the work in the exhibition 'Dreamers Awake' at White Cube Bermondsey in 2017.
---
---
---