Earthseed: Julie Curtiss, Loie Hollowell, Marguerite Humeau
Earthseed
Julie Curtiss, Loie Hollowell, Marguerite Humeau
18 October 2022 – 21 January 2023
Dates
18 October 2022 – 21 January 2023
Location
10 avenue Matignon
75008 Paris

Curated by Susanna Greeves
The dystopian world created by influential science fiction author Octavia E. Butler (1947−2006) in her prescient Parables novels opens in 2024 in an America devastated by climate change and corporate greed, where a Christian-fundamentalist brand of fascism is taking hold. 'Earthseed' is both how the central character, Olamina, refers to all human beings, and the name that she gives the movement she founds amidst the ruins of civilisation. Earthseed is a matriarchal cult, a philosophy and a manual for survival: 'God is Change', Olamina pronounces, and it is only through malleability and adaptability that we can take control of that inexorable change and resist chaos and victimhood. Humans – Earthseed − contain the potential to escape our self-engineered destruction and instead 'take root among the stars'. The works in this exhibition resonate with the notion of travel to outer space and inner space, in different ways considering the female body as a site of transformation as well as a portal for the imagination.
Looking to the distant past as well as the future, Marguerite Humeau locates the roots of our spiritual sensibility entangled with the origins of human consciousness and speculates on our scope for evolution. Julie Curtiss' disquieting surrealist representation of femininity hints at secret rituals while suggesting a post-human hybridity and adaptation. Loie Hollowell's work, taking shape from the female body, celebrates the miracle that is human reproduction, in a language of forms that reference earth, seed and cosmos.

In making her Venus sculptures Marguerite Humeau looks back 150 thousand years to a time when Mitochondrial Eve, our most recent common matrilineal ancestor, is thought to have lived. Taking the theory that early humans may have ingested animal brains for their psychoactive effects, Humeau imagines how these consciousness-expanding experiences might have triggered the social changes that set us on a different path from that of other primates. Cast in bronze or carved in stone, her hybrid forms merge the hemispheres of the brain with the contours of the female body, acting as anatomical guide for a female shaman as well as a totemic focus for spiritual ecstasy. A series of dense, diagrammatic works (Brain Earth, Future Exile, both 2019) see the artist grappling with the same questions as Olamina: Does escape lie beyond Earth? Can human ingenuity compensate for human self-destructiveness? What change can humankind undergo without losing its humanity?

Working during lockdown, Loie Hollowell started replacing the abstract shapes of the mandorla, ogee and lingam that until then had characterised her work with forms cast directly from her own breasts and pregnant belly, as well as those of pregnant friends. Softly radiant, isolated from their relation to the body and arranged in symmetries referencing tantric art, these organs become a focus for a meditation on the mysteries of childbirth. While titles such as Ten Centimetres (2022) and Blue Crowning (2021) relate to birth as an intense physical event, their composition centres the belly as a floating circle, mystical symbol of unity and completeness that represents the earth, the celestial sphere, and the concentrated promise of an egg or seed. The unusually intricate Belly, breast, face, brain, milk ducts, placenta (2022) suggests a circuit of interdependent growth and connection, one organ seeming both to nourish and take nourishment.

As in classical mythology and in science fiction, metamorphosis is common in Julie Curtiss' world, and categories of flesh and hair, human and animal are not fixed. Altered States (2021), shares a title with Ken Russell's 1980 sci-fi body horror film, in which a scientist's attempts to unlock other states of consciousness through sensory deprivation and hallucinogens leading to actual physical devolution, sees him regress to animal and even amorphous states of matter. The feathery figures in Curtiss' painting, set under a columned loggia reminiscent of Fra Angelico's Annunciation (c.1440−45), are composed of hundreds of meticulously detailed cockroaches. The pair shown in a retro-futuristic spa in Bathsheba (2021), their seated poses echoing Rembrandt's painting of the same subject, also have bodies transposed into another material, in this instance coils of hair. Again, we are placed in the position of spying on mysterious and intimate feminine rituals. Curtiss' exquisite gouache on paper works depict female figures in sensual encounters with the natural world, scenes that might be prelapsarian or postapocalyptic.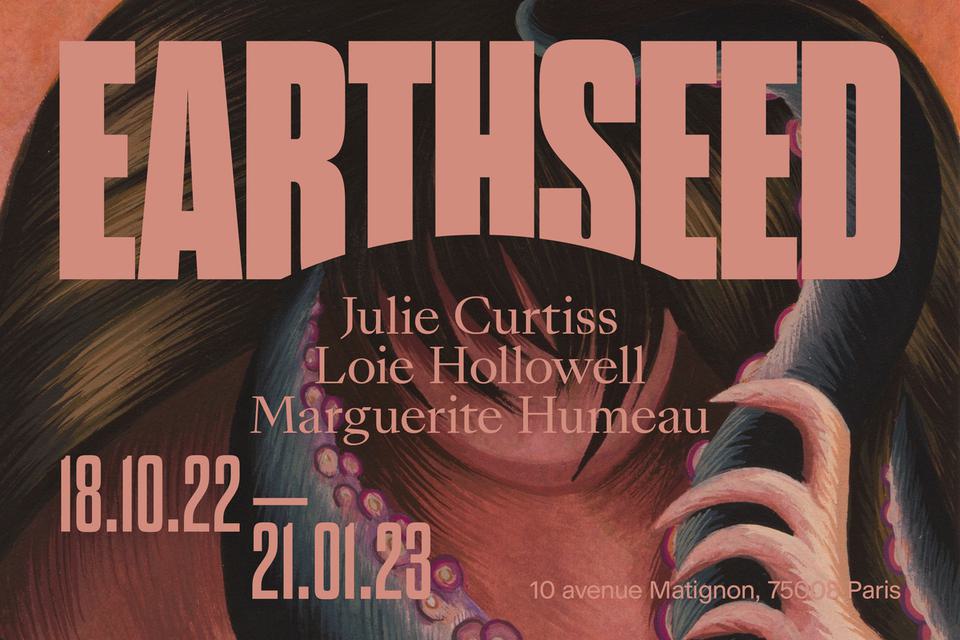 Film
Earthseed at White Cube Paris
Join Thaïs Hourbette, White Cube's Head of Gallery and Sales Operations in Paris, as she takes us through 'Earthseed', an exhibition exploring the transformative potential of the female body.
Installation views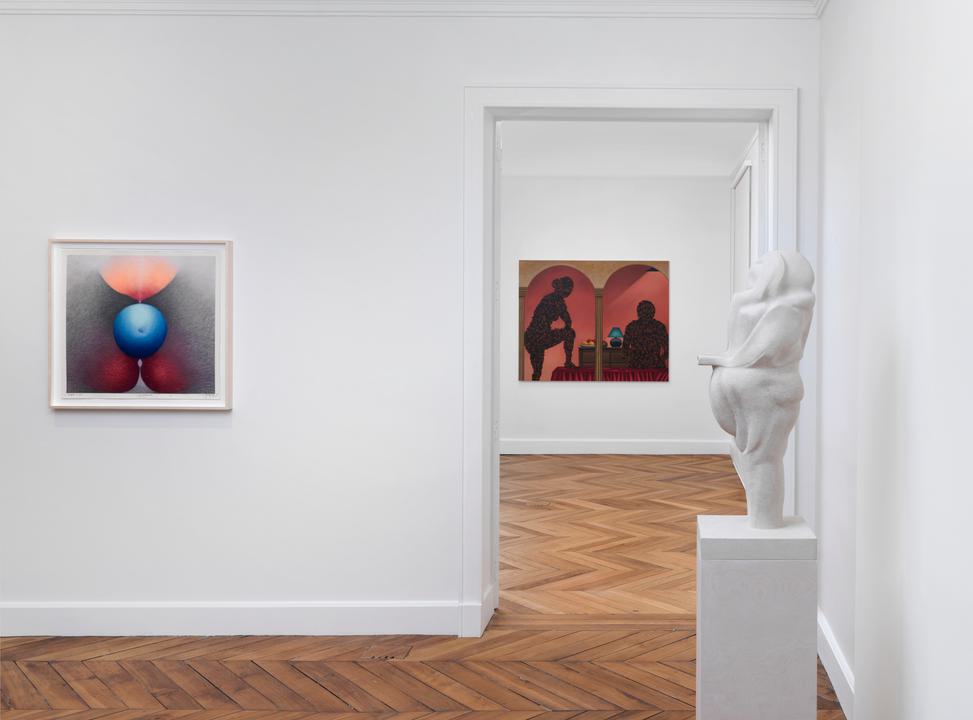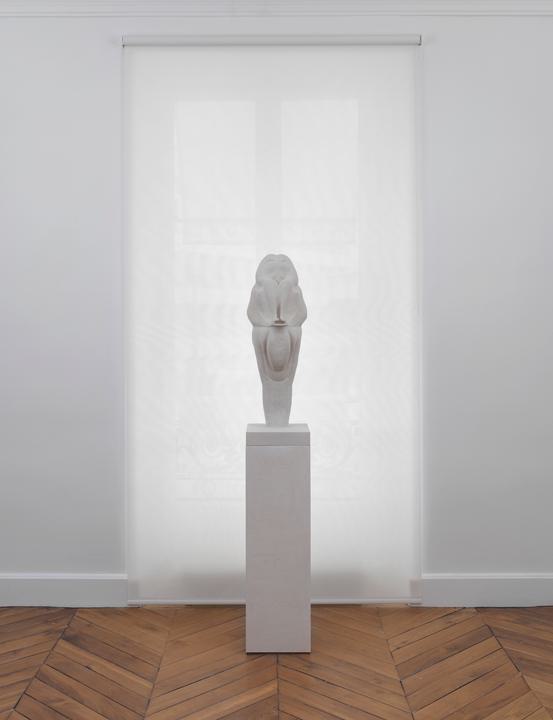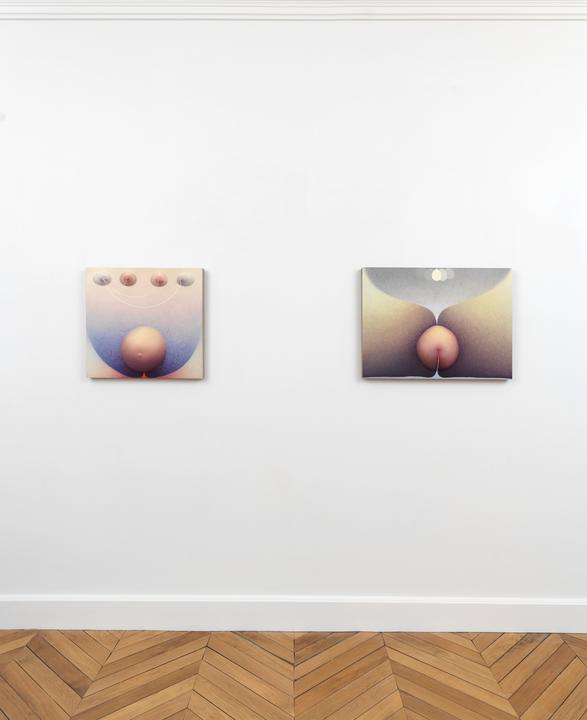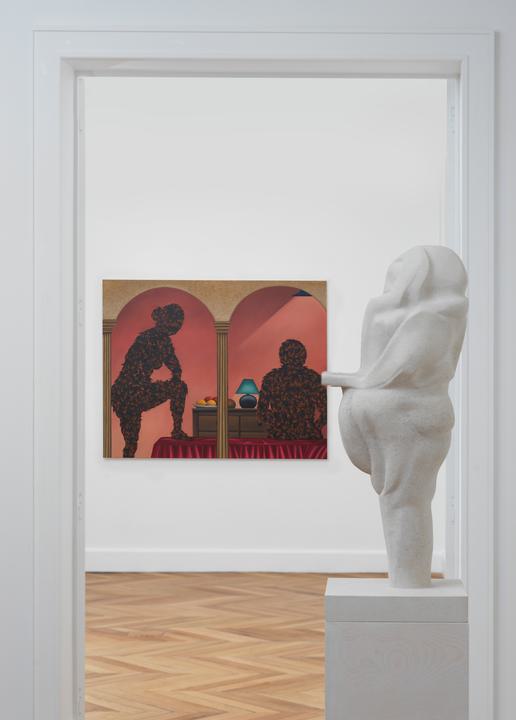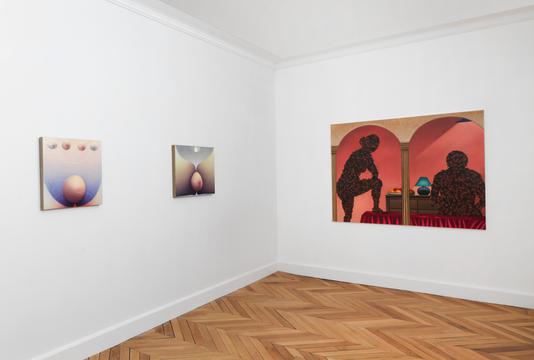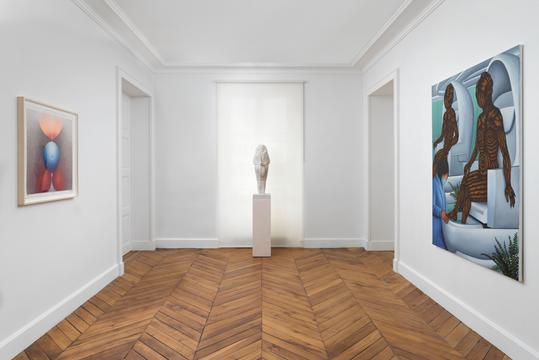 ---