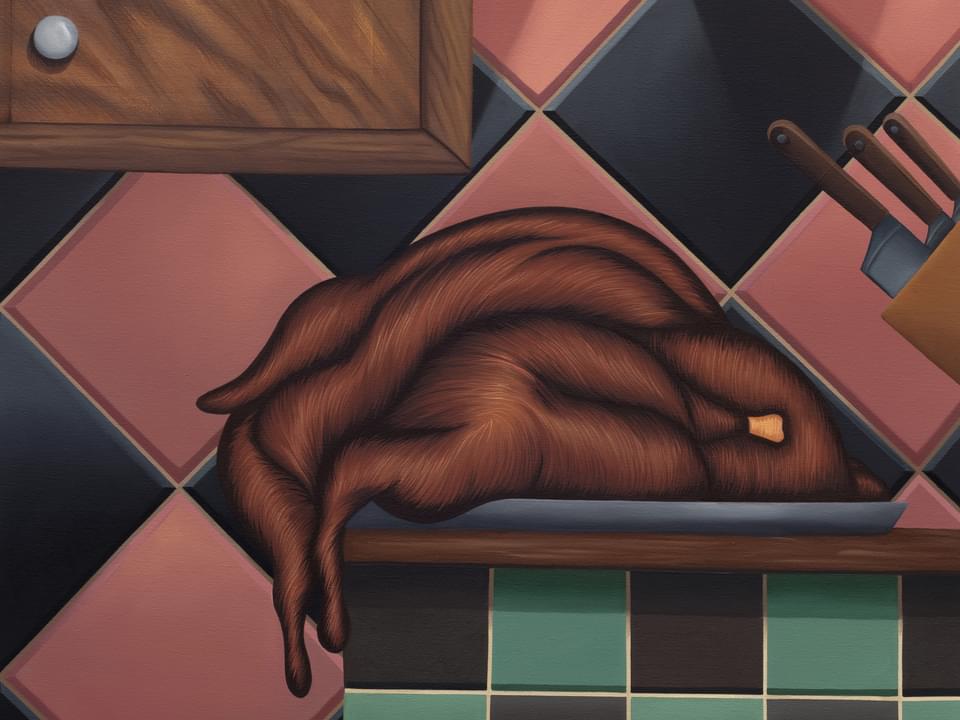 Dates
14 May – 26 June 2021
Location
25 – 26 Mason's Yard
London SW1Y 6BU

White Cube is pleased to present 'Monads and Dyads', Julie Curtiss' first exhibition in London, featuring new paintings, works on paper and sculptures. Curtiss' paintings are carefully composed, framed and cropped with a cinematographic instinct for arresting image and a keen eye for the absurdities of everyday life. With their saturated colour, crisp detail, and scenarios which are at once banal and bizarre, they have a dreamlike quality.
Curtiss' visual language draws on a history of figuration that includes 18th- and 19th-century French painting, as well as the Chicago Imagists and the 'pop' imagery of comic books, manga and illustration. Through the use of unexpected juxtapositions of subject with object, of the seen and the implied, and exaggerated cartoon-like forms, her paintings are infused with a direct and deadpan humour, revealing the uncanny within the familiar and the grotesque and surreal undertones of human characteristics and behaviour. Known for her surrealist re-workings of archetypes of femininity, in this new body of work the artist expands from the intimate and subjective to broader themes of the individual and society. 
The exhibition's title, 'Monads and Dyads', identifies an organising principle connecting these vignettes. Terms found in mathematics, philosophy, sociology and mysticism, the monad (one) denotes the singular or the individual, self-contained and indivisible, and is represented by the circle: it is associated with the divine and can be found in the mandala and in the halo.  The dyad (two) is a doubling, potentially a generative coupling, but also implying binary systems and dynamics of opposition. These concepts find expression both thematically and formally in Curtiss' paintings, while, according to the artist's theory of number, the exhibition itself contributes a third strand, allowing them to be braided into one. Curtiss found that these concepts also resonated with her perception of contemporary society: its tendency to individualism and atomisation, even before the circumstances of the pandemic enforced physical isolation; and simultaneously, the increasing polarisation of identity and opinion into diametrically opposed encampments.
Curtiss' imagery has long fed on the dualities that fuel surrealist juxtapositions – male and female, attraction and repulsion, animate and inanimate. Twins, doubles and reflections – sometimes false – proliferate in her work. A strong central axis of symmetry in the elaborate terrazzo floor of Lobby (2020) demarcates a binary opposition of masculine and feminine, represented by the smartly-clad feet of mysteriously ranked men and women. States of Mind (2021), which shares a mid-century atmosphere, bar the anachronistic virtual reality headsets worn by its subjects, also sets up an expectation of twinning only to frustrate it, while Ghost (2021) plays a similar game with a deceiving mirror.
Curtiss connects dualities, complementary and in opposition, with Jungian thinking, which she encountered early in her art education and which has had a profound influence on her, particularly through the idea that image-making is connected with archetypes – the powerful universal patterns or roles arising from our shared unconscious. Carl Jung identifies four self-archetypes: the persona, or mask, that we present to the world; the shadow, our baser instincts and repressed desires, sometimes in beastly form; the anima or animus, which represents the feminine in the male psyche and vice versa; and the self, the union of conscious and unconscious, often represented by a circle. These archetypes provide a convincing alternative key to reading Curtiss' blank faces, the twinned selves, the occasional intrusion of fang or talon and the libidinous undercurrents in her imagery. 
Flat frontal composition, a clean, graphic style, and in some cases a strongly patterned background of tile or brick impose order on the narrative elements of the paintings. In Kitchen Counter (2020) it is as if a cool, geometric abstraction coexists with an allegorical mini-drama which shows burnished meat overflowing its container, appetite represented by the slavering jaws intruding from below. In Curtiss' painterly lexicon, hair is a frequent stand-in for flesh – human or animal.  The carcasses in her Coldroom 1 and 2 (2020) paintings are polished and glossy, the environment bloodless and clinical.  Curtiss is interested in our impulse to sanitise nature and our reluctance to confront the physical realities of our slaughter and consumption of animals, seeing it as part of our general unwillingness to embrace the messy reality of our own physicality and mortality. 
Shown alongside the paintings, a series of monochrome gouaches see Curtiss setting aside her precise sense of colour for the challenge of rendering the textures of hair, feathers or whipped cream simply by the interplay of dark and light. A small group of sculptures draw on the artist's fascination with 18th-century anatomical models as well as an encounter in Japan with the trade in fake food sampuru ('samples'), resulting in disquieting yet comical objects that conflate food and the body in classic Surrealist fashion. 
Julie Curtiss was born in 1982 in Paris, France and lives and works in Brooklyn, New York. She studied at the École Nationale Supérieure des Beaux-arts, Paris, during which time she undertook two exchange programmes; one at the Hochschule für Bildende Künste, Dresden and the other at the School of the Art Institute of Chicago. Curtiss graduated in 2006 with a BA and MFA. 
Recent solo exhibitions include 'Wildlife', Anton Kern Gallery, New York (2019); 'Altered States', Various Small Fires, Los Angeles (2018); and 'Soft Shells', 106 Green, Brooklyn, New York (2017). Group exhibitions include La Patinoire Royale – Galerie Valérie Bach, Brussels (2020); 'Good Picture', Deitch Gallery, New York (2020); 'The Seasons', Nassau County Museum of Art, Roslyn, New York (2019); Perrotin, Seoul (2019); Clearing, New York (2019); 'Dreamers Awake', White Cube Bermondsey, London (2017).  She has been the recipient of a number of fellowships and awards including Youkobo Art Space Returnee Residency Program, Tokyo (2019); Fellow of the Sharpe-Walentas Studio Program, New York (2018); Saltonstall Arts Colony Residency, New York (2017); Contemporary Art Center at Woodside Residency Program, New York (2013); VAN LIER Fellowship, New York (2012); Louis Vuitton Moët Hennessy's Young Artists Award (2004); and Erasmus European Exchange Program Grant, Hochschule für Bildende Künste, Dresden (2003).
Curtiss' work is represented in a number of museum collections, among which are Bronx Museum, New York; Columbus Museum of Art, Ohio; High Museum, Atlanta; Los Angeles County Museum of Art; Maki Collection, Japan; Museum of Contemporary Art, Chicago; Walker Art Center, Minneapolis; and Yuz Museum, Shanghai.
The artist's first monograph, including texts by Dr Erika Balsom, Reader in Film Studies, Kings College, London and Simon Baker, Director of the Maison Européenne de la Photographie (MEP), Paris, as well as a conversation between Curtiss and Susanna Greeves, Director, Museum Liaison, White Cube, is published to coincide with the exhibition.
Installation Views