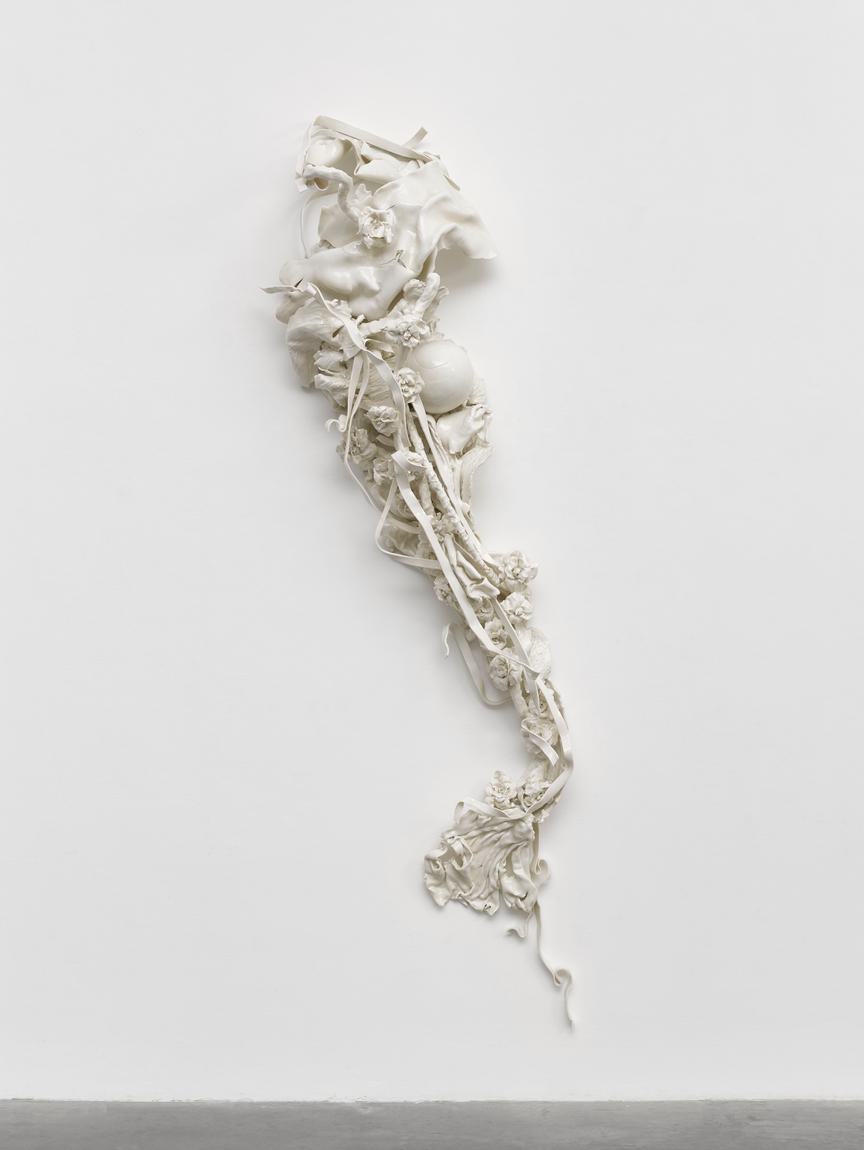 Rachel Kneebone
Lives and works in London


B. 1973
Rachel Kneebone's work addresses and questions the human condition: renewal, life cycles and the physical body. Working primarily in sculpture that embraces the unpredictable nature of its medium – porcelain - Kneebone focuses on ideas of movement and metamorphosis, transformation and suspension and the material manifestation of fluid physical states. Kneebone has stated that her work is 'concerned with inhabiting the body, what it is to be alive in the world'.
Kneebone began working in porcelain around 2002, initially drawn to it for its bone whiteness which is nascent and neutral in feel. Pushing the material beyond its boundaries – and long historical traditions – she works her 'clay body' to maximise its organic response, developing a symbiotic relationship to the medium that involves chance and the loss of overall control. This creative exchange, between artist and material and between the decisive acts of modelling and the unexpected results of the kiln, allows for a dynamic sense of movement in her sculptures where cracks and fissures – and occasional collapse – physically registers the passage of time.

Occupying a near-subliminal space, Kneebone's sculptures can oscillate between the conscious and the subconscious, the real and the imagined, everything and nothing. Densely worked, intricate forms emerge from undulating masses of clay; recumbent limbs stretch out into surrounding space and floral forms, spheres and ribbons interweave and conjoin together. Covered with a clear gloss glaze, light moves across their surfaces, creating dark areas of shadow and highlighting their tension of positive and negative form, motion and calm. This sense of shifting modes of perception is amplified in two of Kneebone's largest works: The Descent (2009) and 399 Days (2012-13), both of which combine composite parts to form large architectonic structures in which formal detail appears ever more magnified and visceral. In The Descent, for example, figures hover, spill and tumble into a central, circular abyss creating a visceral sense of unease, even fear. In 399 Days, a structure of immense size, Kneebone exploits its monumental height and vast expanse to create a sculpture poised in tension between form and fracture, whereby the sheer excess of layered elements across multiple tiles or 'tableaux' simultaneously creates narrative breakdown and visual dissolve.

'Stories are very important for my work. The creation of other worlds, other times, other spaces and other ways of being' Kneebone has remarked. Referencing the history of art – in particular old master painting and classical sculpture – she draws on several key motifs and themes across various series of works. In Still Life Triptych, 2011, for example, multiple forms spill over and emerge from three fractured, classical capitals, while in the Lamentations series (2010) she responds to historical renditions of the Pietà to explore the timeless themes of loss and grief. More recently, in the 'Raft of the Medusa' series (2021), she draws on Théodore Géricault's monumental painting The raft of the Medusa (1818) and its depiction of physical and existential crisis to consider, through the muscular medium of clay, the arc of human life: of hope and despair; birth and death.

Multi-directional and distinctly kinetic in feel, Kneebone's work has been described as 'sculptural choreography'. For the artist, dance can be considered a parallel universe which shares an experience of inhabiting the body. In 2018-19, Kneebone produced 'The Dance Project', a series of sculptures and a performance made in collaboration with the choreographer T.C Howard. 'I have always been fascinated by dance: how bodies meld and merge, how new forms are created by dancers, and how dance allows us to escape to a different space and language. My work is deeply concerned with movement, form and space.' she has said.

The experience of movement through space, of physical lightness, is exemplified in recent works such as Rib (2019) or Shell (2021), where Kneebone removes any support base and pushes her sculptural language to near dissolution. Appearing almost free-form, as if unravelling of their own accord, they incorporate increasingly un-modelled areas to allow the clay to act in its own physical manner.

In her drawings, which are produced alongside - rather than as preparatory studies for - the sculptures, Kneebone continues her enquiry into the human condition featuring the simultaneous building and removing of partial, connected and extended figurative forms which freely emerge as the artist rotates the paper while she draws. 'It's a shared way of looking, an active looking at and through things; line and shape and form and suggestion, hints or glimpses to follow, bring out or rub away. A movement to fuse things and create new form from a blurring or dissolve of boundaries...' she has commented.

Rachel Kneebone was born in 1973 in Oxfordshire and lives and works in London. Recent solo exhibitions include Serlachius Museum, Mänttä, Finland (2022); Yorkshire Sculpture Park, Wakefield, UK (2021); White Cube, London (2021); Touchstones, Rochdale, UK (2018); Victoria & Albert Museum, London (2017); White Cube at Glyndebourne, Lewes, UK (2017); The Foundling Museum, London (2017); and Brooklyn Museum, New York (2012). Selected group exhibitions include Hayward Gallery, London (2022); Bangkok Art Biennale, Thailand (2022); White Cube at Arley Hall, Cheshire, UK (2022); Freelands Foundation, London (2020); Museum Morsbroich, Leverkusen, Germany (2018); Sculpture in the Close, University of Cambridge, UK (2017); Maison Particulière, Brussels (2016); York Art Gallery, UK (2016); Galleri Anderson Sandstrom, Stockholm (2015); Bonnefantenmuseum, Maastricht (2015); Freud Museum, London (2014); 1st Kyiv Biennale, Ukraine (2012); Deutsches-Hygienes Museum, Dresden, Germany (2012); Busan Biennale, South Korea (2010); Barbican Centre, London (2010); 17th Biennale of Sydney (2010); Royal Academy of Arts, London (2008); Yvon Lambert, New York (2007); and Camden Arts Centre, London (2005). In 2005, Kneebone was nominated for the MaxMara Art Prize.
---
---
---
In Focus
Hannah Gruy on Rachel Kneebone's 'Shell' and 'Quill'
Hannah Gruy, Director at White Cube discusses Rachel Kneebone's works Shell and Quill, which were both featured in her 2021 exhibition at White Cube Mason's Yard.

In the Gallery
Rachel Kneebone, '399 Days'
Rachel Kneebone details the processes behind her exhibition '399 Days' at White Cube Bermondsey in 2014.
Beyond White Cube
Rachel Kneebone, 'The Dance Project' at Touchstones Rochdale
Rachel Kneebone talks about her exhibition at Touchstones in Rochdale, UK (2018 – 2019).
In Focus
Hannah Gruy on Rachel Kneebone's 'Shell' and 'Quill'
Hannah Gruy, Director at White Cube discusses Rachel Kneebone's works Shell and Quill, which were both featured in her 2021 exhibition at White Cube Mason's Yard.
Conversations
Rachel Kneebone and Catherine Morris
Rachel Kneebone in conversation with Catherine Morris about her 2012 exhibition 'Regarding Rodin' at the Brooklyn Museum.
---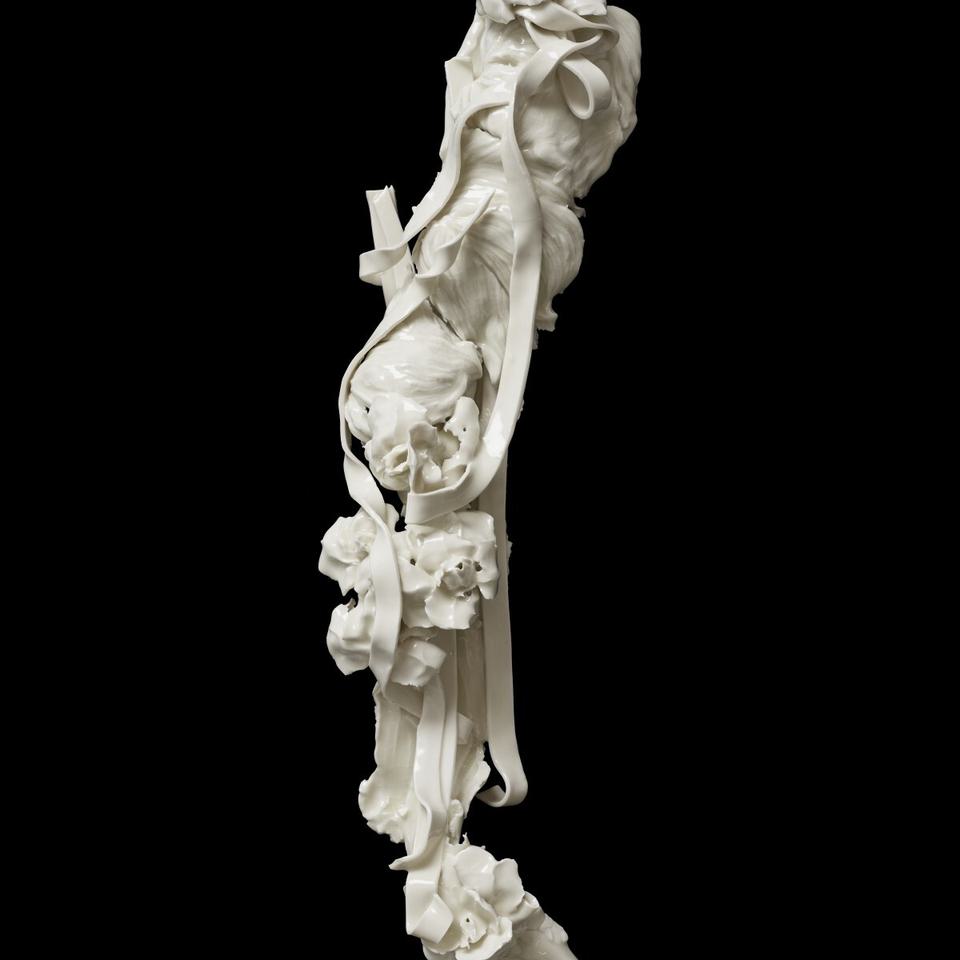 22 October 2022 - 23 February 2023 | Various venues, Bangkok
---
---