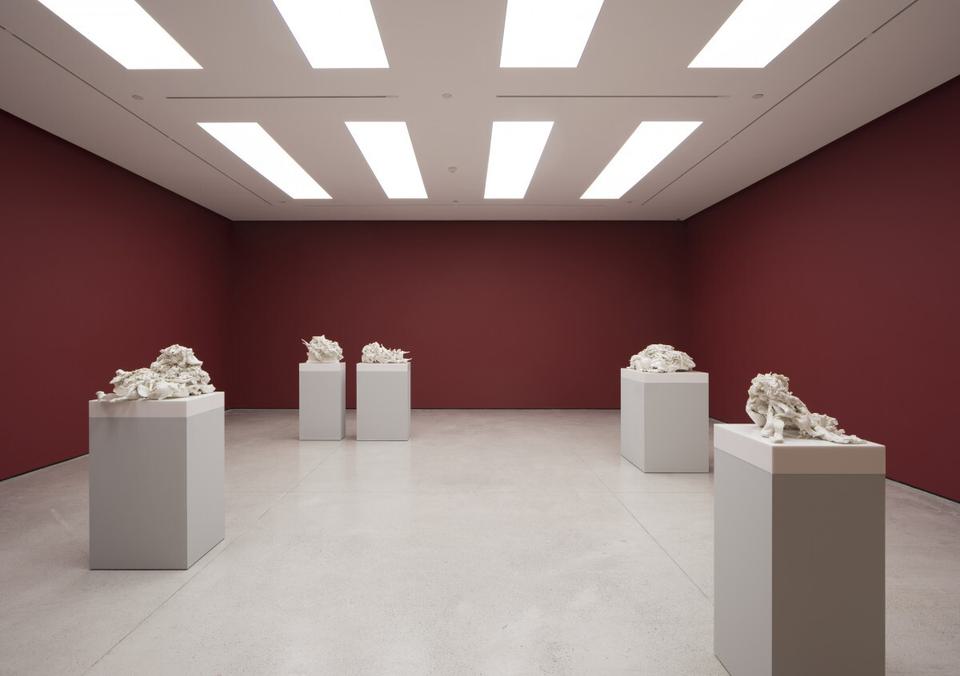 Dates
27 May – 19 August 2017
Location
50 Connaught Road Central
Hong Kong
White Cube is pleased to present 'Ovid in Exile', an exhibition by Rachel Kneebone. Her first in Hong Kong and China, it includes new sculpture and drawings which explore themes of transformation and metamorphosis. The exhibition follows on from the presentation of Kneebone's monumental work 399 Days at the Victoria and Albert Museum, London and her recently opened solo exhibition at White Cube at Glyndebourne, Sussex, UK.
Kneebone's work is concerned with the human condition, using porcelain to expose what has been described as the 'sublime echoes of life's cycle from emergence and ecstasy to mourning and loss.' Having developed a complex and highly personal sculptural language that references both classicism and surrealism, she combines intricately modelled organic, architectural and geometric forms to create detailed scenarios that constantly shift between figuration and abstraction.
In this new series of work, Kneebone draws and expands on themes from the poems of Ovid, exploring in particular ideas of evolution and desire, between the actual and the metaphorical, the real and the imagined and natural and modelled forms. Flowers, tendrils, body parts, spheres and more abstract elements are amassed and built up, appearing to merge and multiply, as if in a state of continuous flux or struggle.
In the work Pupa (2016), for example, extruded lengths of porcelain like larvae appear as if trying to emerge from a crown of flowers which twists and winds around them. Pointing equally to the beginning and end of life, the flowers take on the appearance of both fecund garland and funeral wreath. In other works, dense tangles of highly modelled legs, flowers and vegetation curve, bend and merge together either pushing upwards or dissolving into the support at their base, and spilling over and down the sides of a fractured classical-style pedestal, as in the diptych Metamorphoses (2016).
In Daphne (2016) and Narcissus (2016) Kneebone gives shape to perennial human concerns and anxieties; to what it means to exist with the knowledge of mortality, and to be bound by our cognitive and physical limitations. In Daphne, a mass of limbs stretch upwards, while in Narcissus, they seem to collapse, flattened into their support as if by of the weight of their own physicality. Kneebone expresses a sensuality through clay while emphasising the process of the works creation. In particular, she exploits the materiality of porcelain, positively embracing the cracks and fissures that occur in the firing process to highlight the relationship between structure and dissolve and an idea of continual renewal. Dynamic and highly worked, her sculptures suggest motion, contrary to the stillness and permanence that this material usually evokes.
The exhibition will also include a series of delicate pencil drawings, in which overlaid cascading limbs recall the movement of dance. Appearing as if they are arching or bending, these strange connected forms offer a feeling of weightless suspension, disconnecting then merging and reforming in rhythmic patterns across the paper.