Rachel Kneebone
Rachel Kneebone
5 February – 14 March 2021
Rachel Kneebone's work has been described as 'sculptural choreography', the expression of physical metamorphosis and dynamic movement.
This presentation of recent sculptures, each titled after a dance gesture, focuses on the fleeting moment of pause between stillness and movement. Expressed through her signature material of porcelain, in this trio of sculptures Kneebone captures bodies in transition and transformation. By mapping the body in motion, her work forms a dialogue with the artist Robert Morris, as well as with avant-garde dancers and choreographers including Mary Wigman and Merce Cunningham.
The sculptures are part of a series originally produced for The Dance Project at Touchstones, Rochdale, UK (2018–19), an exhibition and performance made in collaboration with the choreographer TC Howard. Howard and professional dancers Debbie Milner, Ellen Turner and Beth Payton worked on the project with a group of women from across the borough of Rochdale. Looking at and responding to Kneebone's work was the catalyst for the sharing of their personal stories and the dance became the means to express and explore these histories.

The body extending in space is a central motif in Kneebone's sculptures, the tactile surfaces creating a dynamic that leads the eye over and around the sculptures' complex, inter-relating visceral forms, at once erotic, elegiac and constrained. Recumbent legs, long winding tracts of ribbon, tendrils and floral forms are repeated, unravelling and interconnecting around a smooth large orb which sits in direct and graphic contrast to the elements piled around it.
Kneebone's fascination with the melding and merging of bodies recalls the work of Mary Wigman (1886–1973), who was one of the first dancers to use her own choreography. Wigman, who relied on improvisation, believed that dance was capable of giving 'profile and shape to the transcendental'.
In her pencil drawings Kneebone suggests movement and dance through the use of lithe limbs and body parts which multiply and mutate across the surface of the paper in fluid progressions. These stretched, taut limbs are truncated or double-ended, connecting together to create multiple interlocking configurations. Recalling Surrealist imagery, at once strange and familiar, in these drawings Kneebone reimagines her dancing subjects – and the spatial interplay between them ­– as one continuous graphic movement.
"I have always been fascinated by dance: how bodies meld and merge, how new forms are created by dancers and how dance allows us to escape to a different space and language. My work is also deeply concerned with movement, form and space."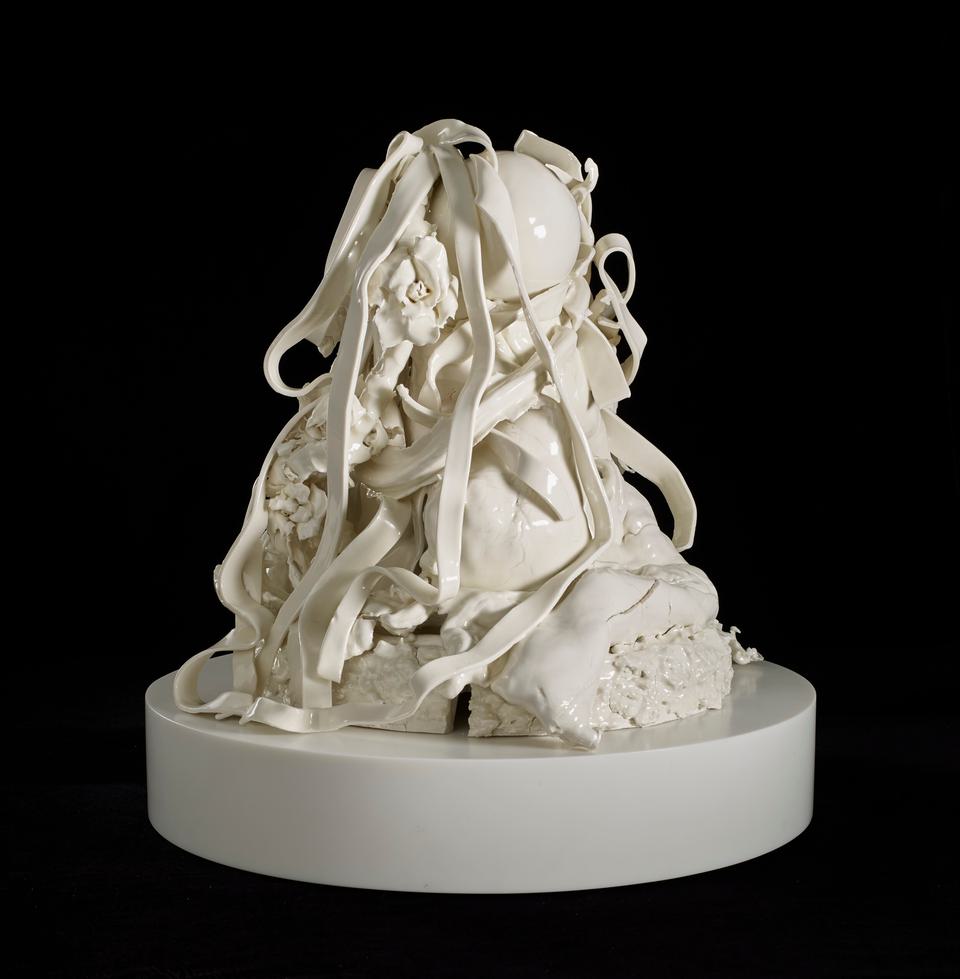 Rachel Kneebone
Rise, 2017
Using chance and random occurrence as creative tools, Kneebone choreographs the porcelain body, staging compositions with forms that will metamorphose; bend, fold, crack and 're-form' when subjected to the heat of the kiln. The notion of chance – and of movement in suspension ­– continues a thematic thread within Modernism. Here it creates an overlap of methodology between Kneebone's porcelain and Robert Morris' felt sculptures where the plasticity of material results in an 'anti-form', a relinquishing of control to natural gravitational forces.

Morris' Untitled (Tangle) (1967) and Kneebone's Rise (2017) are both expressions of a powerful ambiguity; unclear if their forms are in the process of unravelling or being built up, they are poised between disintegration and transformation. The malleable properties of their materials seem heightened through this ambiguity: the felt used in Morris' sculpture is resolutely heavy and soft in appearance; Kneebone's hard, vitrified porcelain is at the same time milky and translucent with its shiny, pooled surface glaze.
Kneebone's sculptures enact a dual tension of contracting and expanding, their complex forms stretching inwards to shadow and outwards to space. This sense of dialectical movement resonates with much avant-garde dance, and in particular with the work of Merce Cunningham, who foregrounded the notion of 'spatial awareness', whereby bodies extend and move simultaneously in multiple directions to occupy all possible surrounding space. Cunningham also welcomed chance and random occurrence as a creative tool; his choreography is characterised by a balance between rigorous process and unexpected rupture, which liberates it from the constraints of tradition.
"...the deeply rhythmed movements of poetry, of music, of love, of dance, have the power - to capture - and endlessly recapture the moment that counts, the moment of rupture, of fissure."
---