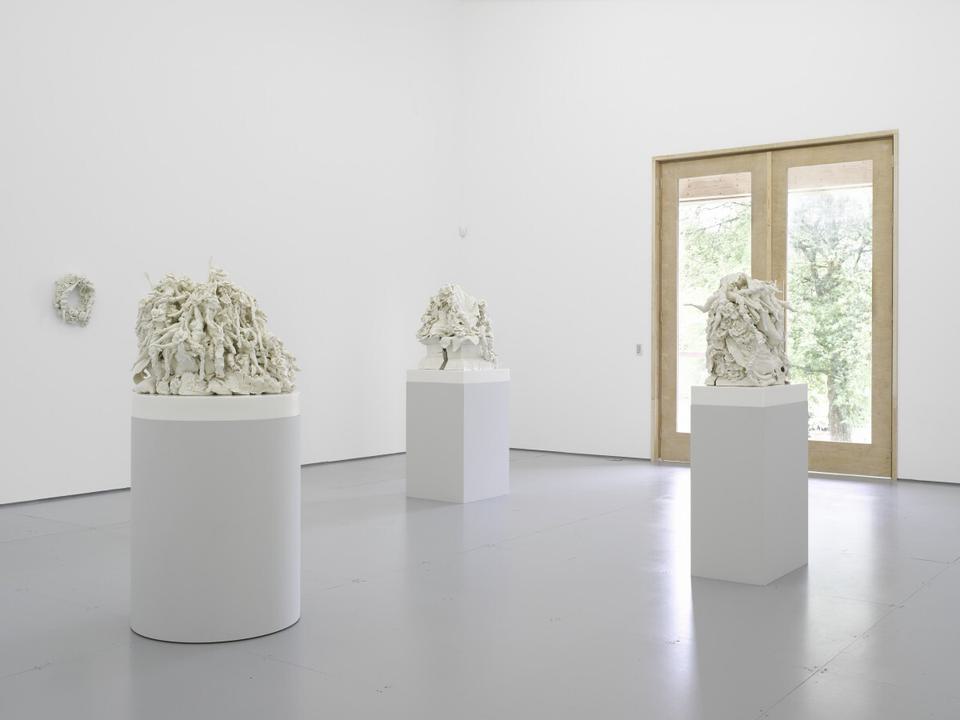 Dates
20 May – 27 August 2017
White Cube is pleased to present an exhibition of new work by Rachel Kneebone, as part of 'White Cube at Glyndebourne', now in its third year. This exhibition includes three major sculptures and a wall-based cartouche in the artist's signature material of bone-white glazed porcelain as well as a series of drawings, presented in the custom-designed gallery within the grounds of the Sussex opera house.
Responding to this year's opera programme and to the beauty of Glyndebourne's pastoral location, Kneebone's new sculptures address notions of identity, sexuality, life and death. Built up from many separate elements, they combine to create an explosion of floral motifs and body parts, juxtaposing these highly modelled elements with more abstract areas of clay. Limbs and flowers, such as delicate roses and tangled vines, as well as spherical shapes and other more amorphous forms converge, blurring the boundaries between form and formlessness; slipping effortlessly between figuration and abstraction.

Similar to her earlier series of works, here Kneebone fuses beauty and horror, allowing an initial sense of bucolic euphoria to give way to shocking and excessive abandon. Perfectly formed flowers, for instance, and a profusion of garlands, could perhaps evoke a mood of celebration or equally something distinctly morbid, reminiscent of funeral wreaths. Structure gives way to chaos and at certain points the complexity of the sculpture appears to have taken on its own centrifugal driving force.

Exploiting the unpredictable reaction of porcelain when fired in a kiln, the resulting fissures and cracks are joined or pushed apart further by the application of an overall white glaze. Even delicate shavings of clay, traces of sculpting at the biscuit stage, contribute to the final surface texture, left to pile up and then smothered with a thick pool of glaze. This sense of undoing is further emphasised in the work Act II (2016), which sits on a classical plinth that has been rent apart, like some kind of archaeological ruin. Buckling under the sheer weight of forms it supports, this collapsed structure adds a sense of heightened materiality, exposing how the porcelain is pushed to its limit.

In her drawings, Kneebone overlays delicate limbs and torsos to create other mysterious anatomical forms. Arching or bending, they suggest the movement of dance or the beats of music, offering the feeling of weightless suspension and a process of delicate, amorphous connect and disconnect.