White Cube News
White Cube announces new Charity Editions by Tracey Emin, Antony Gormley and Harland Miller
Posted: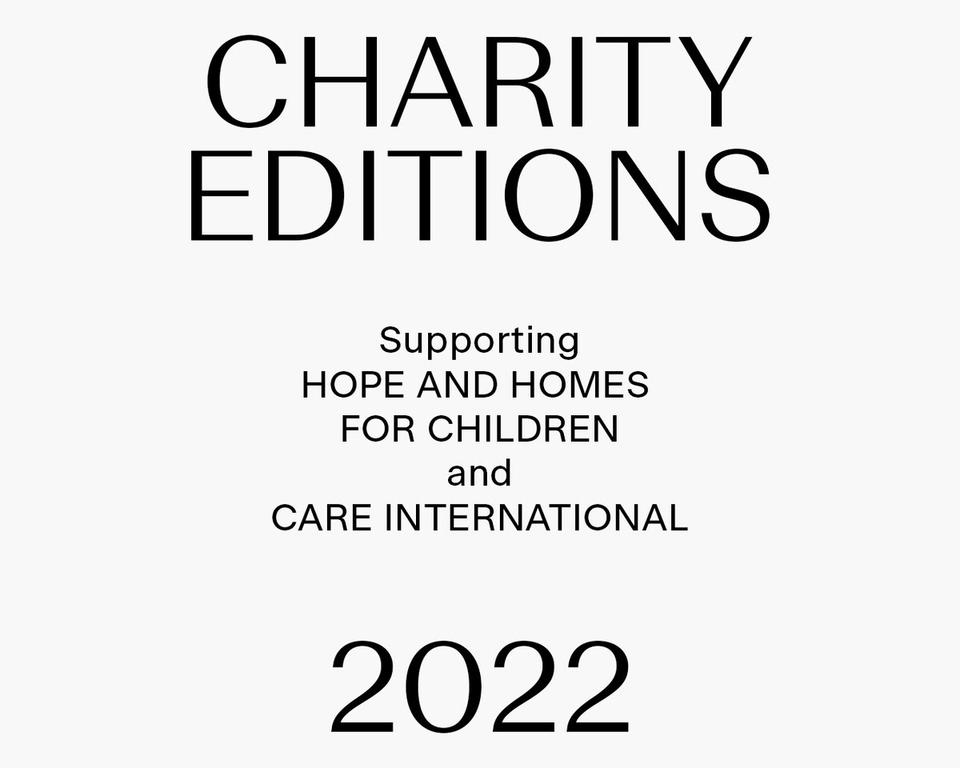 White Cube Charity Editions are being created by Tracey Emin, Antony Gormley and Harland Miller to raise funds for charities who work with refugees and vulnerable people who have been affected by the crisis in Ukraine.
In 2020, White Cube Charity Editions raised over £2.5m for COVID-19 relief charities in Africa, Asia, Europe and the US. Launching with a Limited Edition by Antony Gormley titled Stand Up for Ukraine (2022) White Cube's latest initiative will support two new charities, Hope and Homes for Children and Care International.
Tracey Emin said: There are atrocities happening all over the world, we should help whenever we can. I hope this work helps the people from Ukraine.
Antony Gormley said: Having visited Kyiv many times and having exhibited there twice – when I received the warmth, hospitality, and friendship of many Ukrainians – I wanted to express in a simple way the solidarity I feel with their bravery and resistance to injustice. This is the space of a standing man in a changing field that confines and extends him. It expresses my empathy for the bravery and sacrifice of all those Ukrainians defending their lives and land and I hope it will touch the empathy of others here and encourage them to help in whatever way they can.
Harland Miller said: It was ten or more years ago when I was first in the Ukraine – and one thing I recall as I wandered around the capital city of Kyiv – with spring weddings going on all around me, was being stopped several times for directions, in fact this kept happening and while I couldn't help, I figured I must look like a local and this conferred on me a faux sense of belonging to the place. As a stranger it was just something I remembered.
Apart from sightseeing I was in Kyiv for the opening of the Pinchuck Art Centre – named after its founder Victor Pinchuk; it was to be his gift to the people of the Ukraine – and I, along with many other artists in the collection had been invited to participate in the week of events surrounding its inauguration… Since writing that last line – I realise some time has passed in which memories of that trip – positive memories, now interspersed with war, seem impossible! In fact they don't really feel like memories anymore, more like juxtapositions; they're also probably irrelevant apart from serving as a way into talking about what I'm doing here – I mean with the print edition I'm making here.
Hate's Outta Date
I have made two separate versions of this edition – not because it's worth saying twice – although it is, but more evidently to do with the colours of two paintings I made on the same subject: one blue, one yellow.
I made them some years ago now, experimenting with how colour changes the way in which you read a text: pink for instance suggests levity, same subject in green has more gravity. These of course are primal responses to colour, but hopefully the colours in these editions will combine to create their own context – be it obvious, in which or under which, y'know like a flag, you'll read the painting in the intended way… And while flags suggest collectivity, the text will have personal associations… of course. And without contradicting myself I hope we can come together here as individuals to say, 'OK, looks like hate may not be out of date. But this, this is how we feel about it.'
About the charities:
Hope and Homes for Children is working with Ukrainian authorities to ensure institutionalised child evacuees are monitored, tracked, recorded, and cared for in a safe environment. In the southwestern border nations of Moldova and Romania, the charity is helping to replenish resources at emergency relief, registration and reception centres, and ensuring the safe evacuation of children, their carers and their families.
Care International is helping to provide vital food, hygiene and medical support inside Ukraine, as well as essential supplies, psychosocial support and livelihood training in neighbouring countries for refugees who are fleeing over the border. The charity is also providing life-saving support to those in crisis in other areas around the world affected by conflict and crises, including Yemen, Afghanistan, Syria and Ethiopia, with a particular focus on the needs of women and girls.