Press Release
White Cube announces exclusive global representation of Isamu Noguchi
Posted: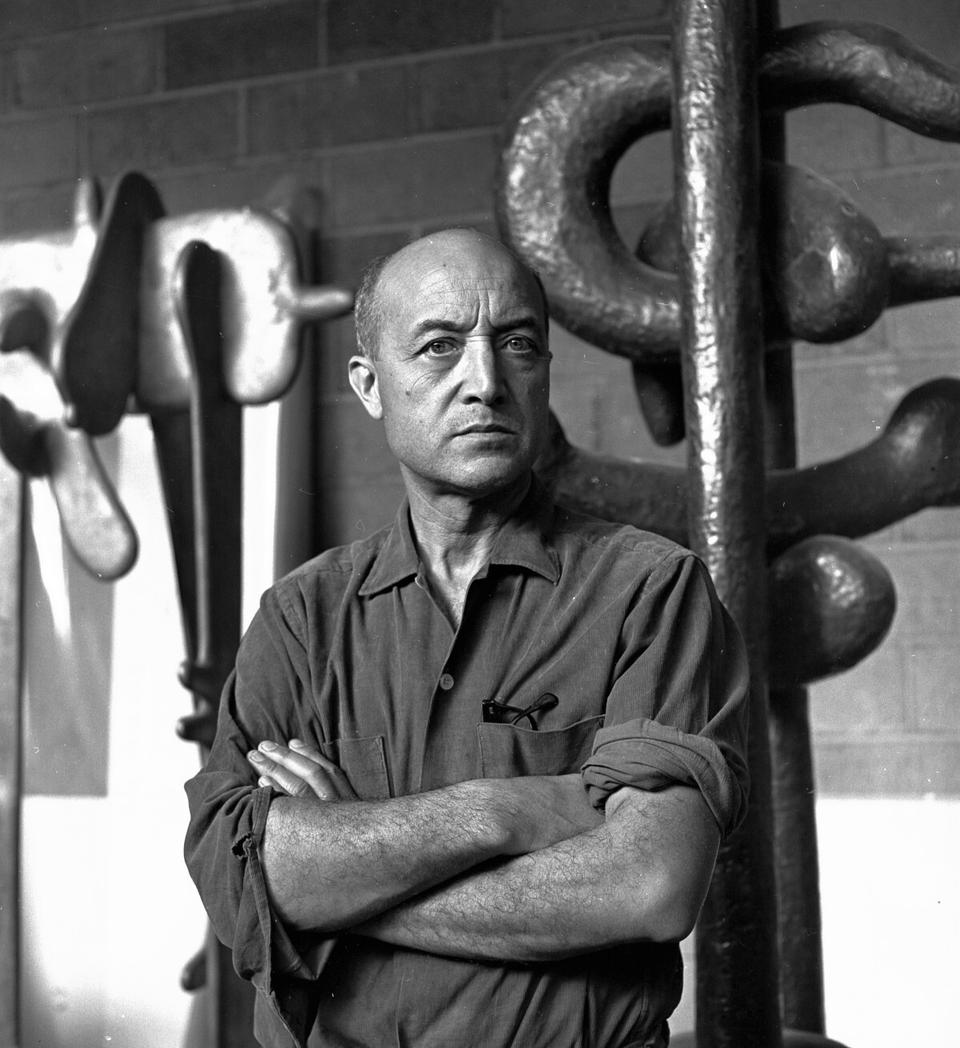 White Cube is pleased to announce representation of Isamu Noguchi (1904–1988) in a collaboration with The Isamu Noguchi Foundation and Garden Museum in New York.  
One of the most significant artists of the 20th century, Noguchi was a future-focused idealist whose timeless work blended the ancient and the modern. An itinerant cultural synthesizer, he consistently defied categorisation, advocated globalism, and anticipated the social practice of art by several decades.
Noguchi began his career as a sculptor, yet his resolute redefinition of the art form led to a multidisciplinary practice spanning gardens, playgrounds, public projects, furniture, lighting and set design. Irrespective of the medium or platform, all of Noguchi's works are informed by a deep connection to nature and space.
Born in 1904 in Los Angeles to a white American mother and an Asian Japanese father, Noguchi stated that a strong impetus for his artistic evolution was an early life spent straddling continents and cultures, and negotiating perceived dichotomies between 'East' and 'West'.  
In the mid-1920s, he worked in Paris as the first and only assistant of Constantin Brancusi. Later, in New York, he met dancer and choreographer Martha Graham, with whom he would collaborate on set designs for the next 40 years, and architect, inventor and social revolutionary R. Buckminster Fuller who would remain a lifelong friend and mentor. 
The furniture and lighting that Noguchi produced throughout his career are now recognised as classics of modern design. They include the bent and folded aluminium 'Prismatic Table', an interlocking wood and glass-topped coffee table for Herman Miller, and Akari light sculptures, crafted in Gifu, Japan, from washi paper, bamboo, steel and iron. Noguchi's many patents are a testament to his unusual conception of what it meant to be a sculptor and an American artist in particular.
Upcoming exhibitions and projects 
To mark the collaboration between White Cube and The Isamu Noguchi Foundation and Garden Museum, the gallery will show a focused presentation of Noguchi's sculpture and design at Art Basel Hong Kong from 21 – 23 May 2021; the first physical iteration of the fair in two years. The presentation will also be available to explore online at Art Basel Live: Hong Kong and White Cube Online.  
From 3 – 28 August 2021, sculpture by Noguchi and Antony Gormley will be exhibited in dialogue at White Cube's new project space in Aspen, Colorado. Gormley, who chose the Noguchi sculpture to be shown alongside his own, has spoken of his admiration of the artist's work.
A solo exhibition of Noguchi's work will take place in February 2022 at White Cube Bermondsey, London.
Upcoming exhibitions at The Isamu Noguchi Foundation and Garden Museum in New York include: 'Noguchi: Useless Architecture' from 19 May 2021 – 8 May 2022 (click here to access press kit) and 'Noguchi's Memorials to the Atomic Dead' from 2 June – 5 September 2021.
At the Tokyo Metropolitan Art Museum, 'Isamu Noguchi: Ways of Discovery' runs until 29 August 2021. Click here to find out more.
Jay Jopling, Founder and CEO of White Cube said: 'Isamu Noguchi's extraordinary oeuvre places him among the masters of Modern sculpture. His ideas continue to have a profound influence on today's artists, including many from White Cube's roster – Cerith Wyn Evans, Theaster Gates, Antony Gormley, Gabriel Orozco, Doris Salcedo and Danh Vo – to name a few. His expansive vision makes him a thrilling addition to the White Cube programme. 
'We are excited to be working with The Isamu Noguchi Foundation and Garden Museum under the dynamic leadership of director Brett Littman and look forward to collaborating with senior curator Dakin Hart to present wide ranging exhibitions that will take a fresh look at this amazing artist's work across all mediums.'
Malcolm C. Nolen, Board Chair of The Isamu Noguchi Foundation and Garden Museum said: 'We are delighted to have Isamu Noguchi join the roster of artists at White Cube. As stewards of his legacy, we not only maintain his museum, the first and only in the United States to be founded by an artist in their lifetime and devoted to their work, but also have an important role to keep the extraordinary breadth of Noguchi's artistic production vital in the broader international art community.
'White Cube's creative, open-minded approach and global reach make them the ideal partner, and we believe they will integrate, amplify and expand on the programmatic initiatives and strategic directions the Museum has taken in recent years and plans to take into the future.'