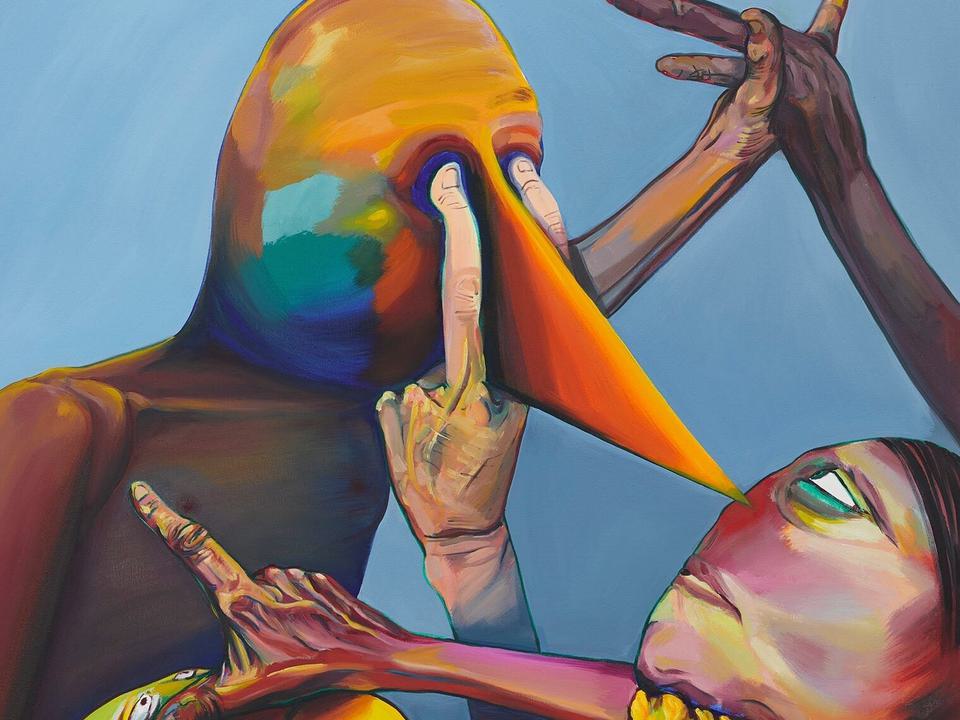 Introductions | Emma Cousin
Introductions | Emma Cousin
22 January – 9 March 2021
Emma Cousin's figurative paintings feature dynamic, carnivalesque scenarios that explore the space between realism and fantasy, felt experience and communication.

Responding to the limitations of language when used to articulate the complexities of human experience and emotions, Cousin considers how we might interact without it, in pre- or post-linguistic states. Taking this idea of 'the failure of language to the ultimate point', she imagines how the gestures of the body would now take over.

'Introductions | Emma Cousin' is curated by Capucine Perrot, Associate Director, Artist Liaison.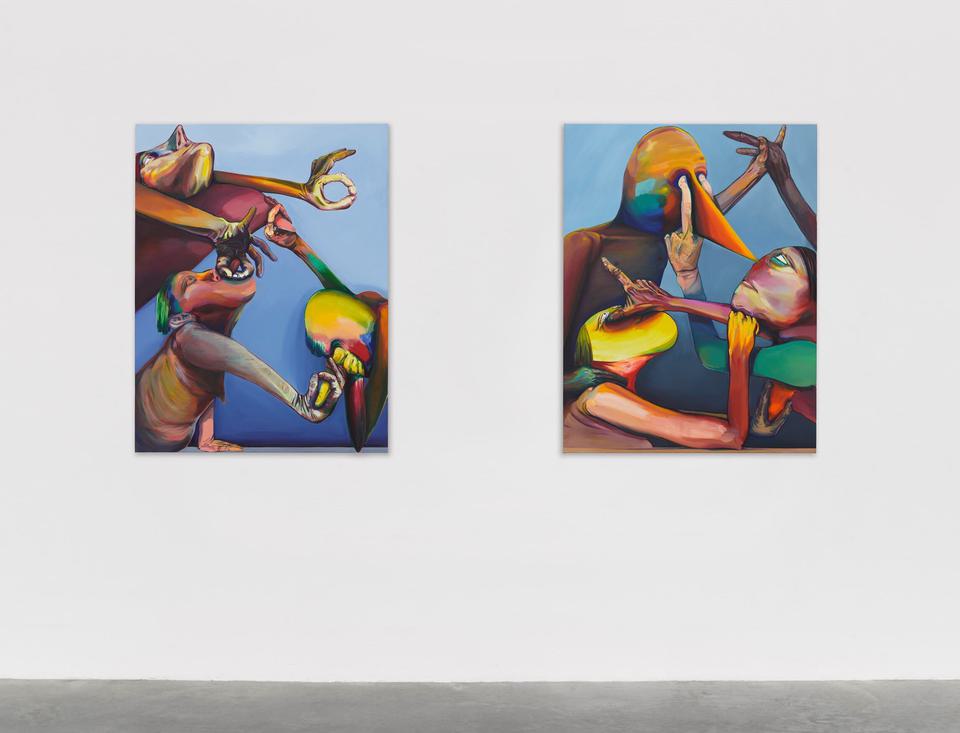 In Cousin's work, narratives are ambiguous, often double-edged, suggesting multiple potential interpretations of their mises-en-scène. Fluid and entropic, the human forms appear both erotic and sinister, merging and mutating in a sequence of primal interactions. Vividly coloured limbs stretch, contort and conjoin in endless permutations and the body, automaton-like, is transfigured into an assemblage of fleshy tools.

These layered compositions, with their interweaving human forms, imply a breakdown of social structure, suggesting a more animalistic order. Tension is built by what Cousin has termed the 'proximity to obscenity', through figures that are at once cartoonish and menacing.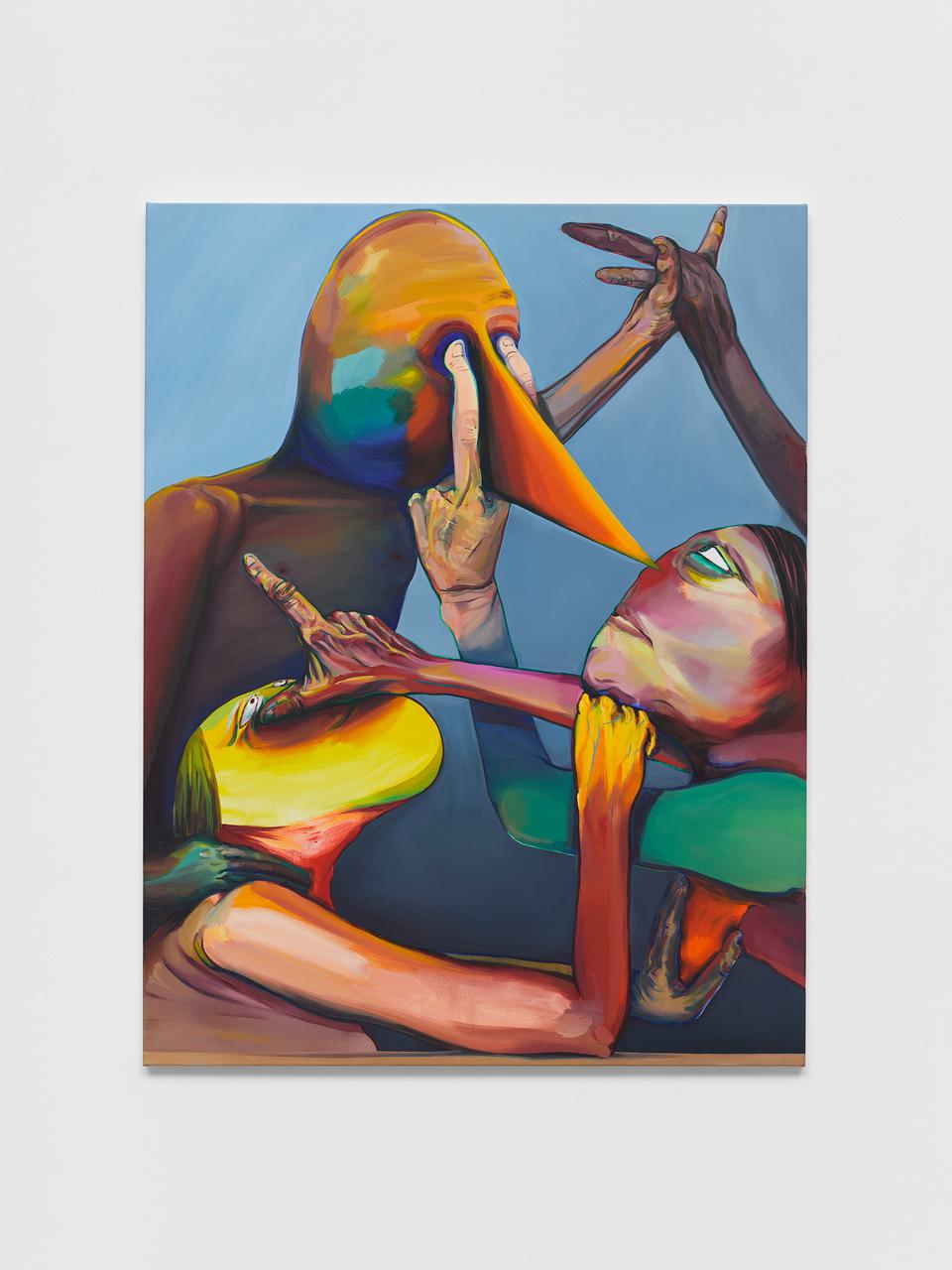 Emma Cousin
Velcrow, 2020
Fowl Mouth (2020) and Velcrow (2020) use offensive hand gestures, reworking these familiar signs to investigate the real power behind their meaning. In Velcrow, hands make an 'L' shape – signifying both 'loser' and, when pointed forward, a gun. Here, however, the signs are rendered mute since they encounter bodies in their path, now becoming futile jabs into skin rather than clear modes of non-verbal communications.
'I started making gestures, making shapes with my hands and face and fingers. Then I started to fill them in – these openings or gaps or holes presented a way to complete a circuit.'

- Emma Cousin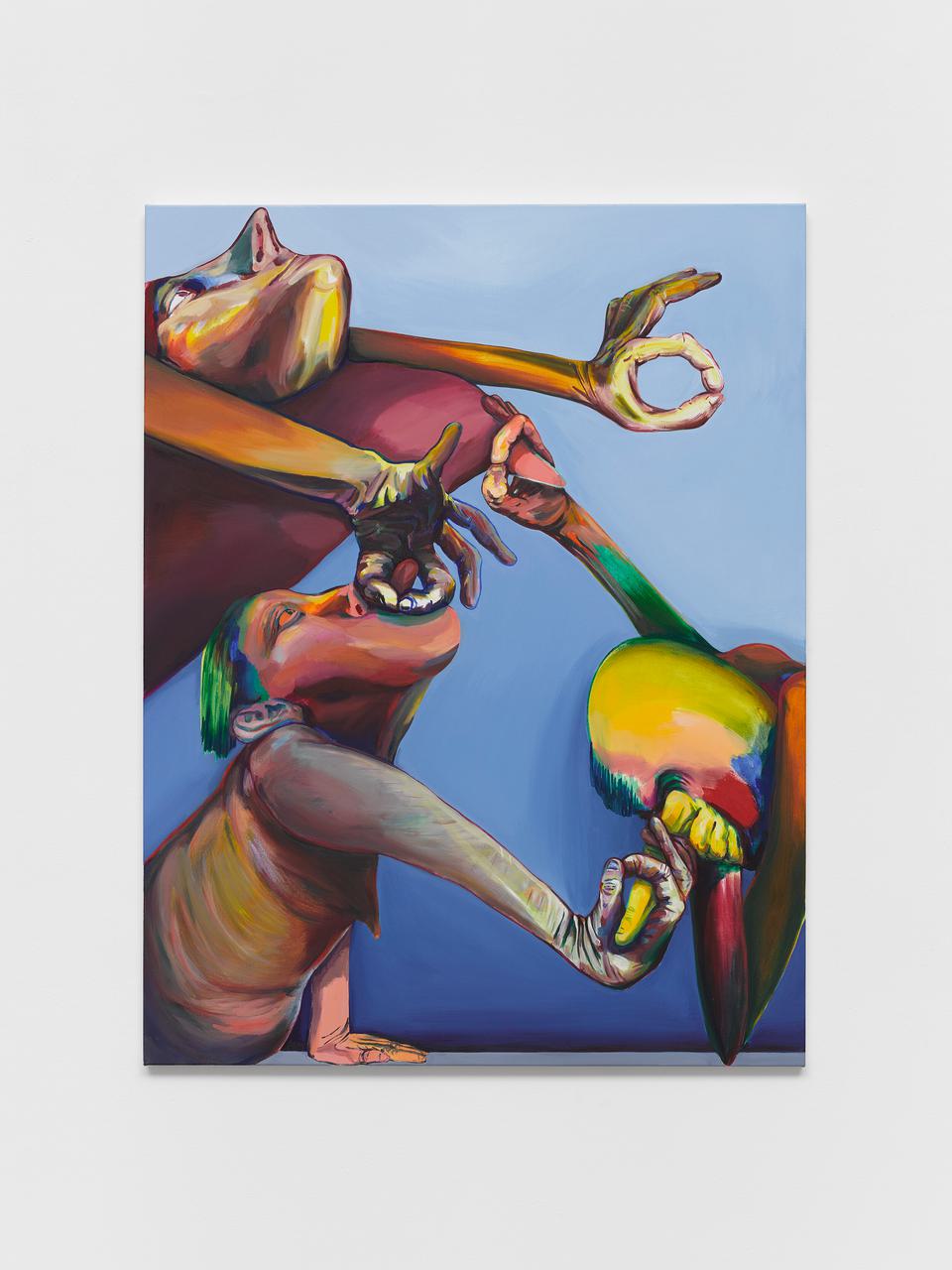 Emma Cousin
Fowl Mouth, 2020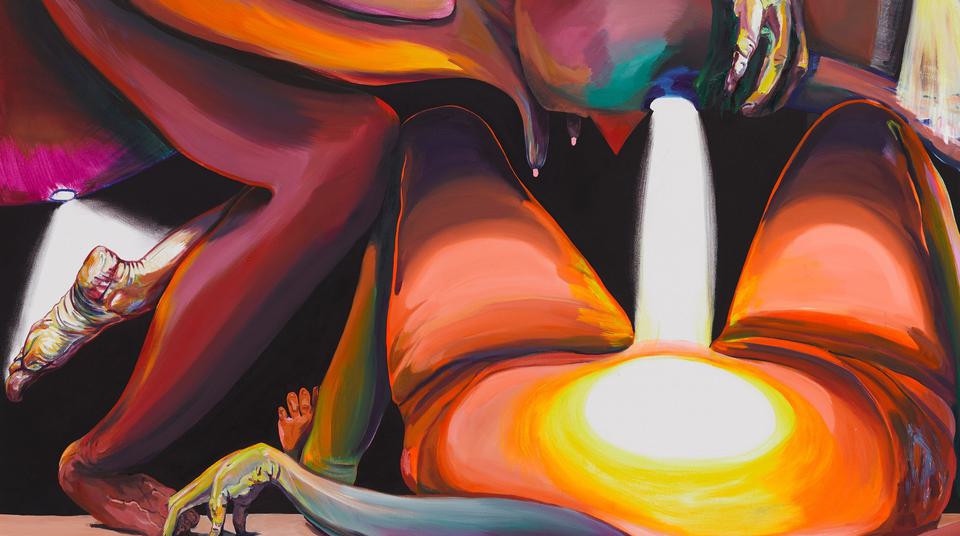 In Base Camp (2020), a group of partial figures are tightly packed against a dark background, their bodies emitting a glowing light, an effect rendered by allowing the painting's raw primer to shine through. At the same time the perspective is skewed so that the ground is turned upright, as if we are inside a tent, peering down and into this confined space.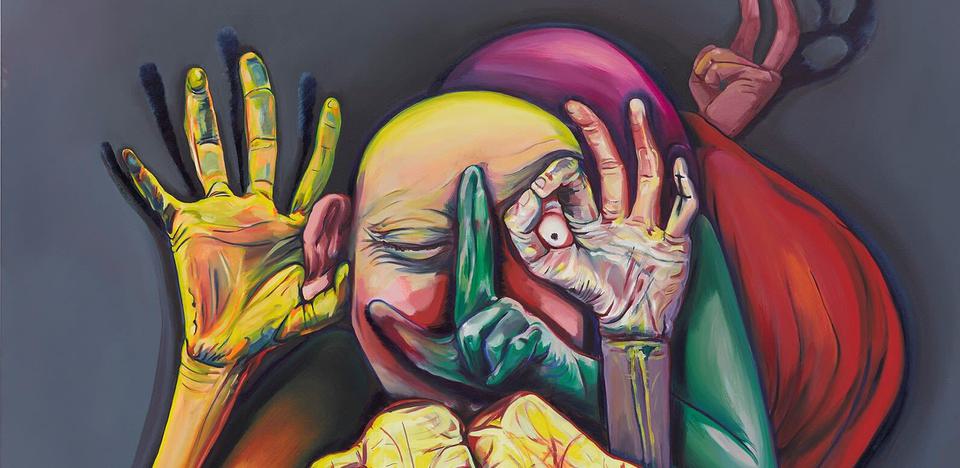 Beginning with drawing, usually directly onto the canvas surface, Cousin's works retain a strong, graphic quality, with the figures sharply delineated to anchor their place within the composition. Infilled with a palette of bold, pungent colours, the paintings have an insistently hallucinatory presence. Flesh takes expressly unnatural, incandescent tones — from rosy pink, to jaundiced yellow, with areas of deep purple or puce green invoking a sense of near noxious decay.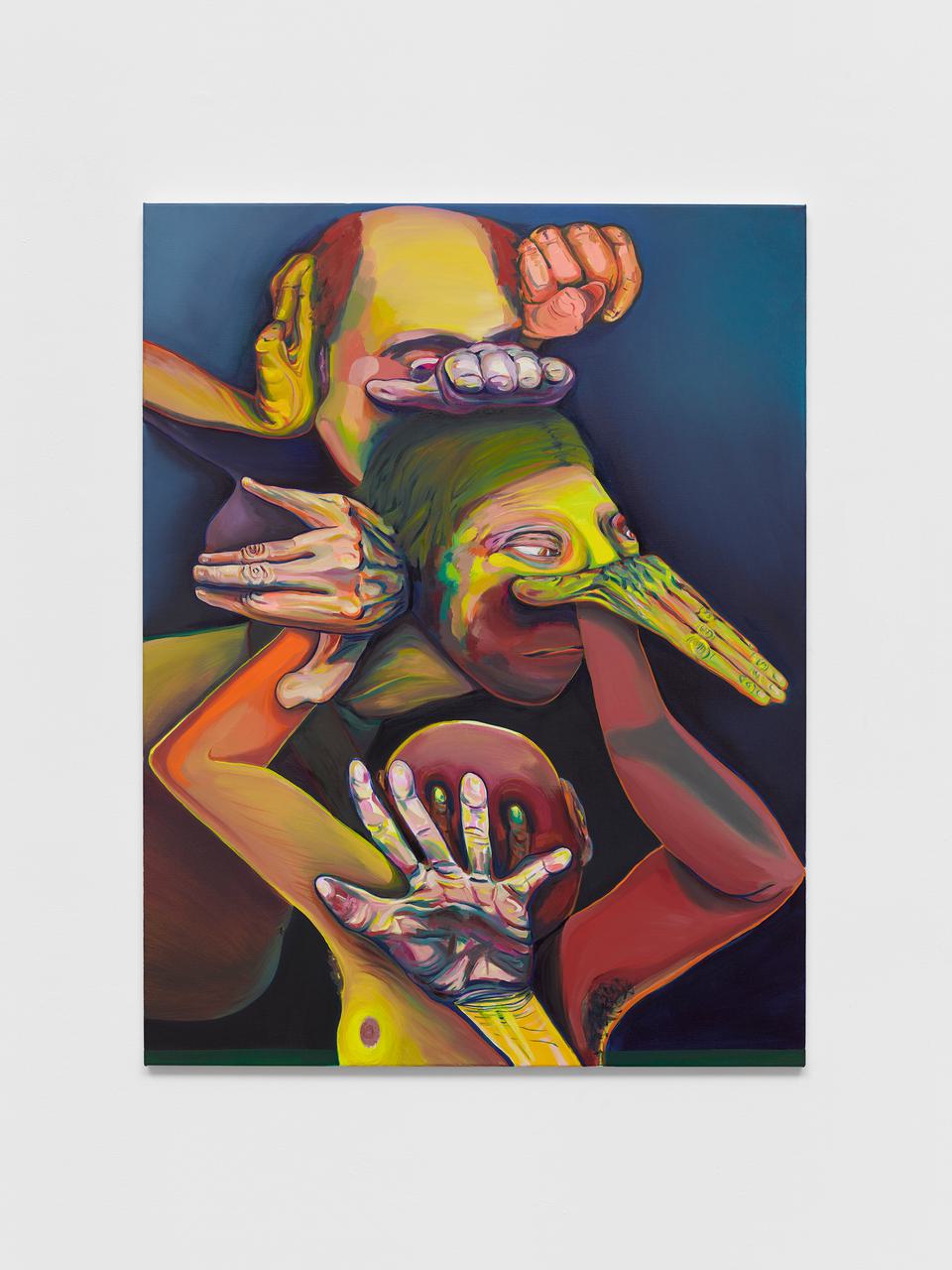 Emma Cousin
Rhubarb Rhubarb Rhubarb, 2021
'There's something glow-in-the-dark about the flesh colours, maybe from an underground light source, but maybe a little nuclear too.'

– Emma Cousin
Knock Knock (2020) refers to the common joke format beginning 'Knock knock, who's there?', which involves an audience response to deliver its punchline. In this work, a mêlée of limbs, heads and hands, in lurid orange and yellow tones appear to double, like a Rorschach image emerging from the central axis of the painting. Oversized hands signal towards the viewer; meaningless and ineffectual signs they seem to be pushing against the edges of the canvas, threatening to intrude our space.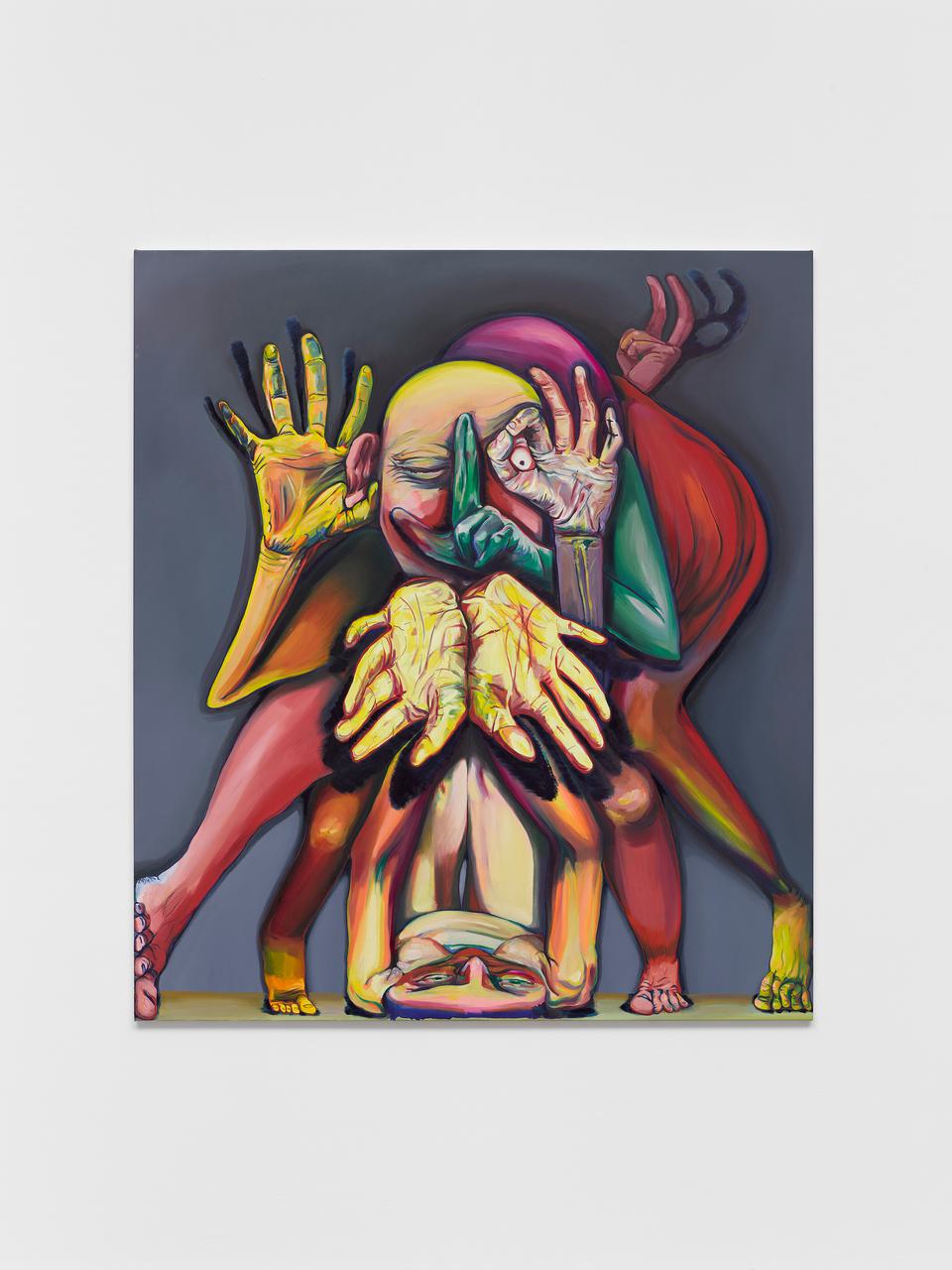 Emma Cousin
Knock Knock, 2020
'There is a sense of claustrophobia from bodies wedged in against the edges of the canvas, like the characters are fiddling with the frame.'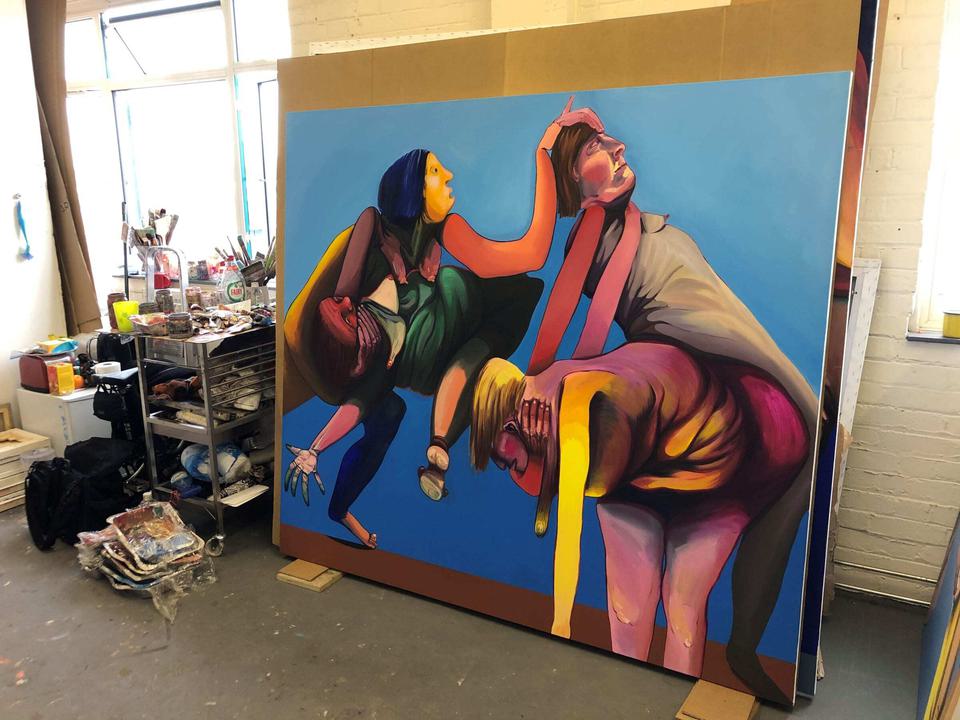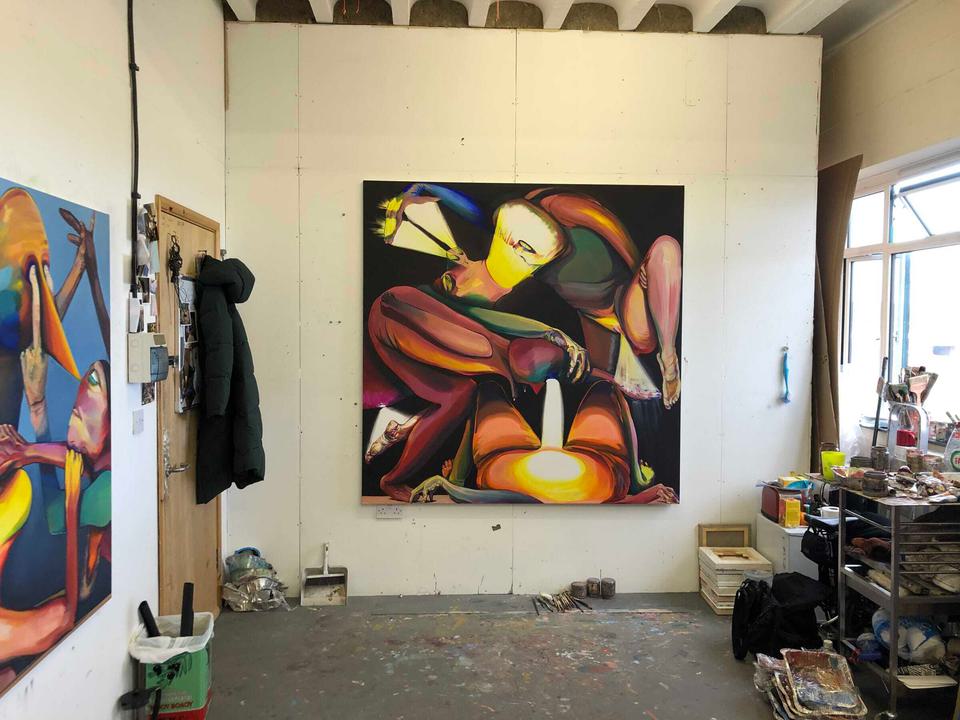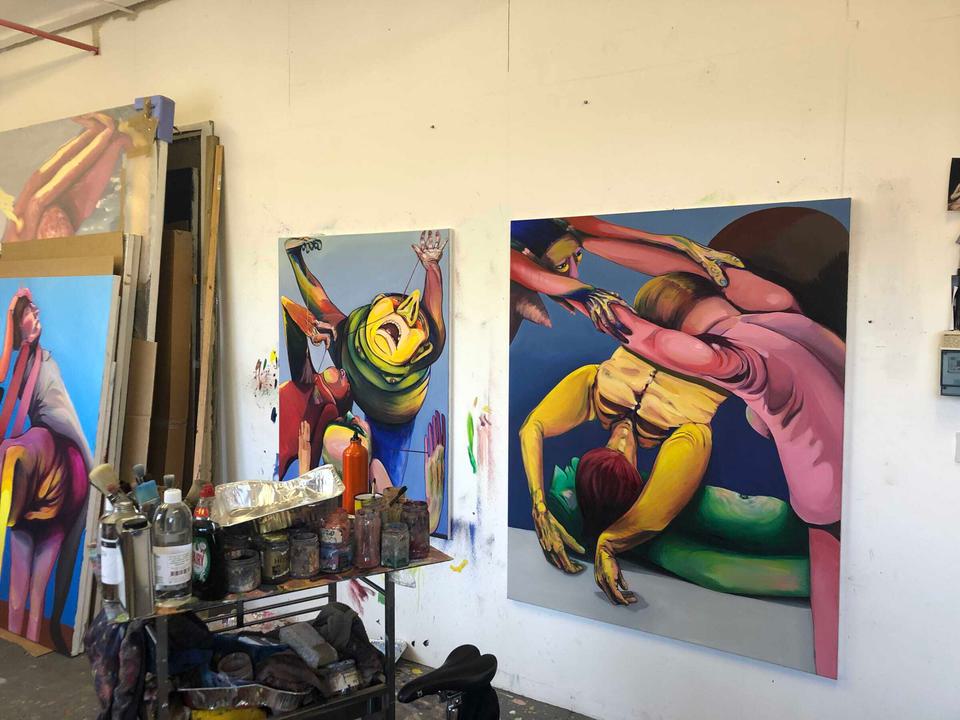 Gestures, in Cousin's paintings, always have a dialectic potential: caressing becomes violent prodding, holding switches to pushing, so that affection and aggression are malleable conditions. The figures in Vaseline (2019), for example, seem curious yet remote, their actions intimate yet mechanical.
A theatrical sense of alienation is heightened by the use of single-coloured, graded backgrounds, rendered in shades of blue, grey or black to elongate shadows and provide a luminous backlight. These add to the notion of an apparition, of ungrounded figures without any specific details identifying time or place. Renaissance painting, the 18th century still lifes of Luis Egidio Meléndez, and the 'body conscious' paintings of Maria Lassnig, are among the many reference points for these new works.
'All of the backgrounds in these paintings are graduated to suggest depth – the figures are not trying to get out of the painting, they're trying to get further in.'
---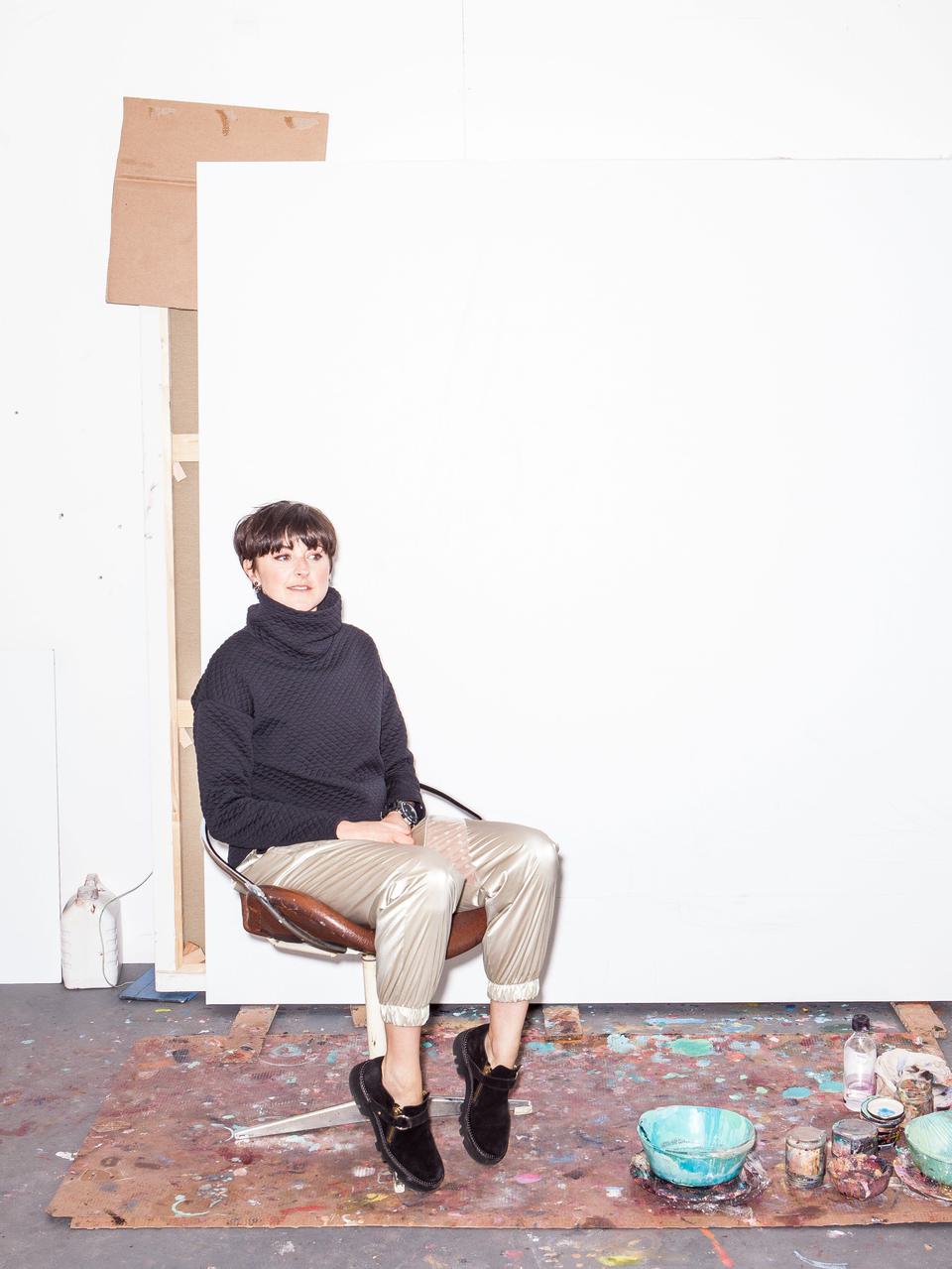 Emma Cousin
Emma Cousin was born in Yorkshire, UK, in 1986 and is currently based in London. Recent solo exhibitions include Goldsmiths CCA, London (2020); Milton Keynes Art Centre, UK (2019); Lewisham Arthouse, London (2018); and Dolph Projects, London (2017). Recent group exhibitions include 'Soft Bodies', Castlefield Gallery, Manchester, UK (2020); Jerwood Arts exhibition 'Survey' at Baltic Centre for Contemporary Art, Gateshead, UK, The Bluecoat, Liverpool, UK and G39, Cardiff, UK (2019); 'Ridiculous', Elephant West, London (2020); and 'Ultra', J Hammond Projects, London (2019).
Visit Artist Page
---