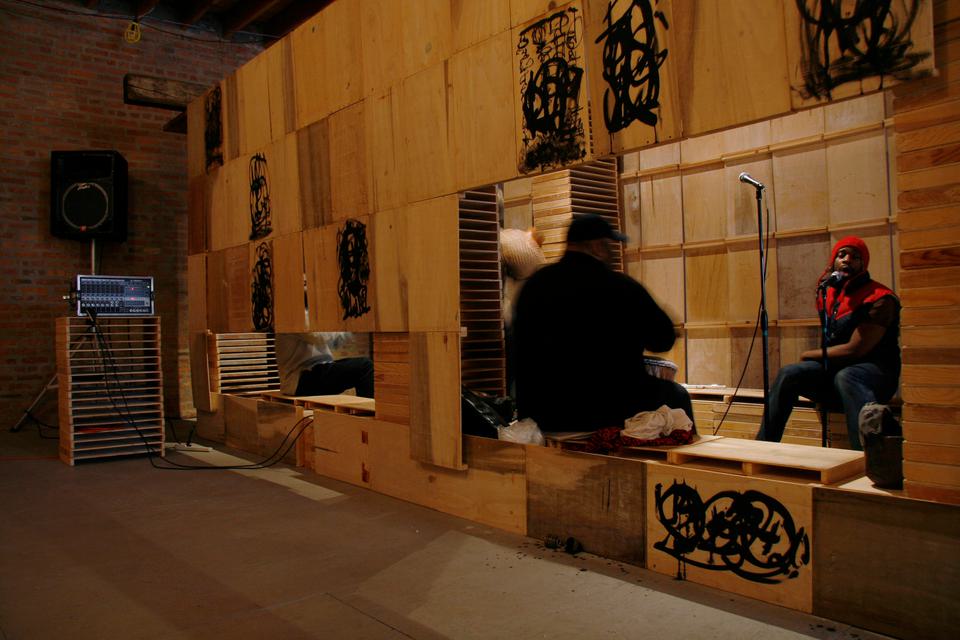 2 July 2023
Arles, France
Min I Mon marks the beginning of the artist's residency at LUMA Foundation, during which a series of projects will manifest in spaces across Arles over several years.

An homage to the artist's interest in cultural hybridity, Min I Mon draws inspiration from Japanese ceremonies, rituals and art forms, while also investigating various definitions of Black space. Within La Grande Hall, a 20-foot sake bar entitled Temple utilises materials from Gates's earlier exhibitions to create a space informed by his concept of 'Afro-Mingei' – a blending of the Japanese philosophy of mingei alongside the 'Black is beautiful' movement. The term embodies Gates's ongoing examination of his own adjacency to non-American cultural legacies.

Adjacent to the bar is a DJ booth activated with Gates's personal archive of over 2,500 albums of Soul, Funk and R&B records, bridging Japanese craft traditions with the vitality of Black music and contemporary American culture. A highlight of the installation is the launch of MON, a meticulously crafted brand of Kara Kara sake produced by Gates in partnership with the Hakurou company in Tokoname, Japan, the city where he first studied Japanese ceramics and frequently returns. The label embodies Gates's exploration of craft techniques and pays tribute to Japanese listening bars.

The artist's prints, including Summer Tones for a Fall Situation and Kitsch Italian Design on the Backs of Blacks, highlight the significance and beauty of the Black image. Drawing from the artist's research of photographic prints from the extensive image archive of Johnson Publishing Company, the prints line the exterior walls of the hall and contextualise the material of 20th-century Black culture through a contemporary lens. In sculptural works such as Sweet Chariot, Madonna in Pink and The Grind, Gates gives form to concepts of labour, origin, value and material.

In Min I Mon – min meaning 'people' and mon 'gate' – Gates expresses the notion of pathways, transforming the space into a fusion of life, art and culture.