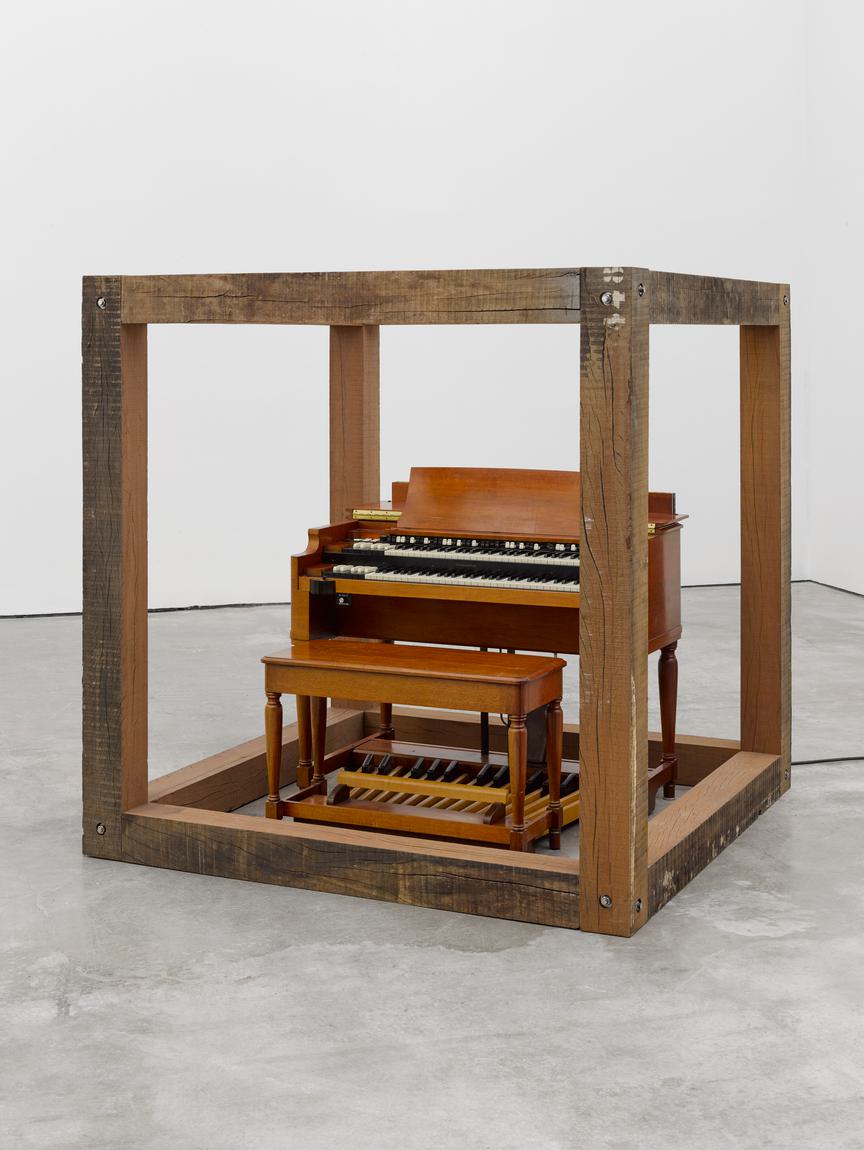 Theaster Gates
Lives and works in Chicago


B. 1973
Theaster Gates's practice includes sculpture, installation, performance, urban intervention and land development. Through his work as an artist, archivist, and curator, Gates seeks to instigate the creation of cultural communities by acting as catalysts for social engagement that leads to political and spatial change.
Gates trained as both a sculptor and an urban planner, and his practice contends with the notion of Black space as a formal exercise, defined by collective desire, artistic agency, and the tactics of a pragmatist. Gates's 'Civil Tapestry' series, tar paintings and roofing works, all engage with found or discarded material from his neighbourhood in Chicago. He specifically seeks out materials that have a historic and iconic significance in order to repurpose them through his own artistic lens and within the context of modernist art historical tropes.

In his 'Civil Tapestry' works, lengths of decommissioned fire hose are carefully arranged, stitched, and bound to create large-scale 'paintings' which feature bands of softly undulating coloured hose. Tactile and sensuous objects in themselves, the hoses have special iconic significance in relation to the Civil Rights struggles, in particular with regard to the hosing of peaceful demonstrators in Birmingham, Alabama in 1963.

Other works like his tar paintings feature swathes of black tar or other roofing materials, which Gates employs to create monochromatic paintings. In referencing Modernist abstract painters while employing the innate formalism of tar (and roofing) as a material practice, Gates extends the canon of art history beyond its familiar parameters. In using everyday materials associated with construction – particularly the safety, security and stability of home dwellings – Gates elevates their value whilst at the same time opening up to creative experimentation.

Gates's relationship with clay has been a focal point of his practice since studying pottery in Tokoname, Japan in the late 1990s. For Gates, clay is a metaphor for his ability to take on greater challenges in the world; as he has said, 'I think that studying clay helped me understand that ugly things, muddy things, or things that are unformed are just waiting for the right set of hands.'

Recent vessels extend Gates's celebration of clay and craft, linking conceptual practices to physical making. It is a place where he is able to return to simple forms – to receptacles that he can place within the context of contemporary art – and to a rediscovery of the potency of craft. Serving as an archive of hand gestures, Gates's pots allow him the freedom to move across time periods and cultural influences in his search for nuanced forms.

The Black Monks, formerly The Black Monks of Mississippi, have been a constant presence in Gates's artistic practice. The group was conceived as an experiment around the specificity of Black sound and a means of giving life to the everyday objects that Gates collects. Their music is rooted in Black music of the South, including the blues, gospel and wailing, as well as to ascetic practices, related most closely to Eastern monastic traditions. The Black Monks often function as 'amateur historians, skilled guides, and bootleg preachers' as they expound the word of art alongside the word of God.

In June 2018, Gates unveiled his multi-part project spanning four European institutions, entitled 'Black Madonna'. The exhibitions examined both the Black Madonna's significance in the history of religion as well as its aesthetic and metaphorical tenor. The project comprised a series of exhibitions and performances, which drew from a range of sources, from influential depictions of the Madonna in European churches and museums to the extensive print archive of the Johnson Publishing Corporation, the Chicago-based publisher of Jet and Ebony magazines.

In early 2019, Gates opened a major solo exhibition at the Palais de Tokyo in Paris which toured to Tate Liverpool in December 2019. Titled 'Amalgam', this large-scale project explored social histories of migration and interracial relations using a specific episode in American history – that of Malaga Island in Maine in 1912 – to address larger questions of Black subjugation. A new sculptural language was born out of Gates's research, whereby historic objects and archival materials were combined with sculptures made by the artist in clay, cement, brick, wood and tar.

Perhaps Gates' most ambitious projects are his social practice entities in Chicago, including The Stony Island Arts Bank, Rebuild Foundation, St Laurence School, Dorchester Art and Housing Collaborative (DAHC), Chicago Arts and Industry Commons and B.A.R. (Black Artist Retreat). Many of these projects use vacant buildings in Chicago as sites of community transformation and gathering in a bid to reverse the trends of social and economic fragmentation in the city.
Theaster Gates was born in 1973 in Chicago where he lives and works. He is a professor at the University of Chicago in the Department of Visual Arts and serves as the Special Advisor to the President for Arts Initiatives.

Gates has exhibited widely, including solo exhibitions at New Museum, New York (2022); Serpentine Pavilion, London (2022); Frederick Kiesler Foundation, Vienna, (2022); Whitechapel Gallery, London (2021); Victoria & Albert Museum, London (2021); TANK Shanghai (2021); Prada Rhong Zhai, Shanghai (2021); Spelman College Museum of Fine Art, Atlanta (2020); Tate Liverpool, UK (2020); Haus der Kunst, Munich (2019); Walker Art Center, Minneapolis (2019); Martin Gropius Bau, Berlin (2019); Palais de Tokyo, Paris (2019); Fondazione Prada, Milan (2018); Kunstmuseum Basel (2018); Sprengel Museum, Hannover (2018); National Gallery of Art, Washington, D.C. (2017); Art Gallery of Ontario, Toronto (2016); Fondazione Prada, Milan (2016); Kunsthaus Bregenz, Austria (2016); Museum of Contemporary Art, Chicago (2013); Whitechapel Gallery, London (2013); Seattle Art Museum, Washington, DC (2011); Museum of Contemporary Art, Los Angeles (2011); Milwaukee Art Museum, Wisconsin (2010); and St. Louis Art Museum, Missouri (2010).

Gates has participated in many group exhibitions including the 18th International Architecture Biennale, Venice (2023); Brooklyn Museum, New York (2023); Punta della Dogana – Pinault Collection (2023); Sharjah Biennial 15, UAE (2023); The Metropolitan Museum of Art, New York (2022); Aichi Triennale, Tokoname City, Japan (2022); Mississippi Museum of Art, Jackson (2022); New Museum, New York (2021); Virginia Museum of Fine Arts and Crystal Bridges Museum, Arkansas (2021); San Francisco Museum of Modern Art (2020); Whitney Museum of American Art, New York (2017); 14th Istanbul Biennial (2015); 56th Venice Biennale (2015); Prospect 3, New Orleans (2014); Documenta 13, Kassel, Germany (2012); and Whitney Biennial, New York (2010).

Gates is the recipient of numerous awards and honorary degrees including the Isamu Noguchi Award (2023); Friedrich Kiesler Prize for Architecture and Art (2021); the Royal Institute of British Architects (2021); the World Economic Forum Crystal Award (2020); J.C. Nichols Prize for Visionaries in Urban Development (2018); Nasher Sculpture Prize (2018); Sprengel Museum Kurt Schwitters Prize (2017); and Artes Mundi 6 prize (2015). In April 2018 Gates was appointed the first distinguished visiting artist and Director of Artist Initiatives at the Lunder Institute for American Art, Colby College, Waterville, Maine. He was the visiting artist in residence at the American Academy in Rome (2020); and was inducted into the American Academy of Arts and Letters in 2021.
---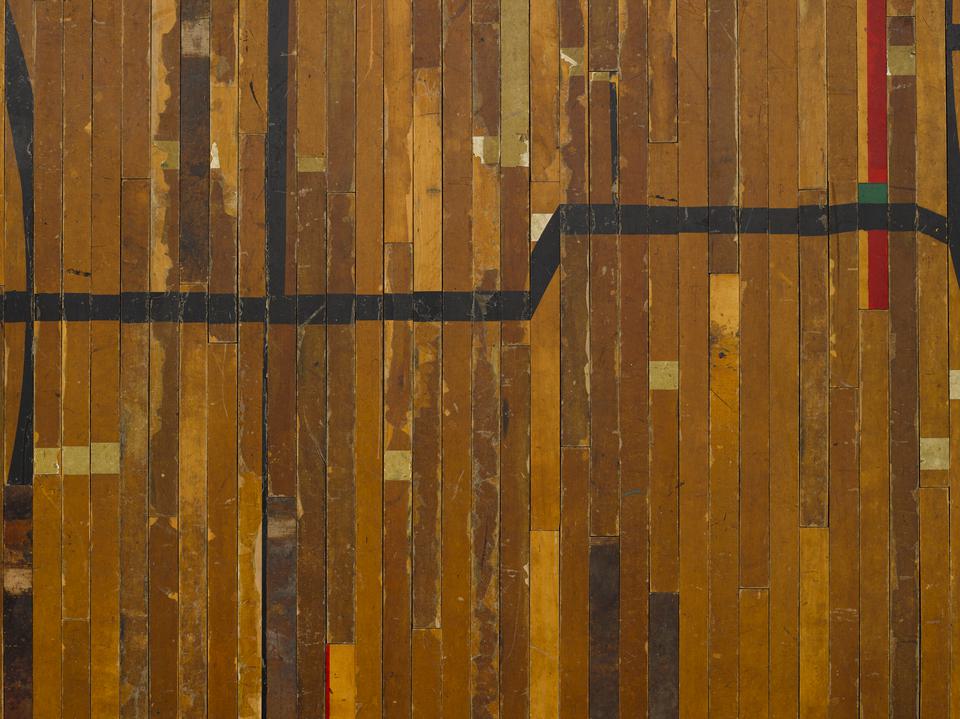 Contact us about available Theaster Gates works
Enquire
---
---
---
In the Gallery
Theaster Gates on 'Oh, The Wind Oh, The Wind'
Theaster Gates discusses aspects of his 2021 exhibition 'Oh, The Wind Oh, The Wind' at White Cube Mason's Yard, the importance of clay and the Japanese ceramic teachings he received in Japan and Korea.
In the Gallery
Theaster Gates on 'Oh, The Wind Oh, The Wind'
Theaster details aspects of his 2021 exhibition 'Oh, The Wind Oh, The Wind' at White Cube Mason's Yard, the importance of clay and the Japanese ceramic teachings he received in Japan and Korea.
In the Gallery
Theaster Gates, 'My Back, My Wheel and My Will'
Theaster talks about the production of his work in the exhibition 'My Back, My Wheel and My Will' at both White Cube Hong Kong and White Cube São Paolo in 2013.
Beyond White Cube
Theaster Gates, 'Black Madonna'
Theaster on his exhibition 'Black Madonna' at Kunstmuseum Basel and Sprengel Museum, Hannover.
Beyond White Cube
Katell Jaffrès on Theaster Gates' 'Amalgam'
Curator Katell Jaffrès explores 'Amalgam' by Theaster Gates at Palais de Tokyo in 2019.
In Focus
Theaster Gates on W.E.B Du Bois
Theaster discusses works from his 'Black Madonna' project and the influence of W.E.B Du Bois.
---
---