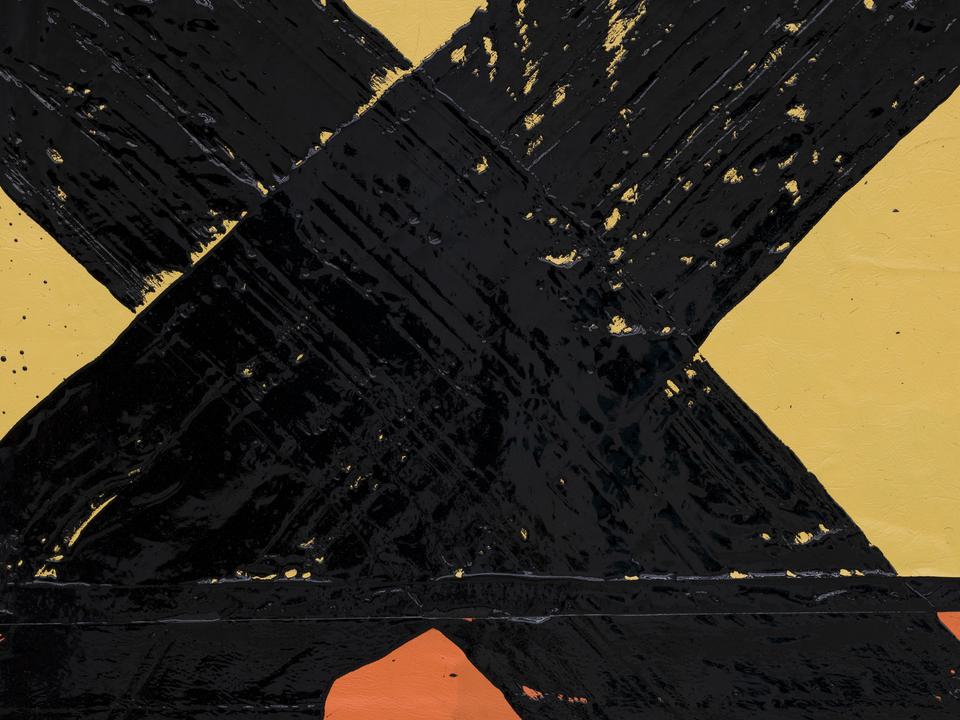 Tarry Skies and Psalms for Now
Theaster Gates
Tarry Skies and Psalms for Now
Dates
21 March – 20 May 2017
Location
50 Connaught Road Central
Hong Kong
White Cube presented an exhibition of work by Theaster Gates. 'Tarry Skies and Psalms for Now' included new series of sculptures and paintings that incorporate the processes and materials of roofing. In these works, Gates explores the condition of labour through a physical engagement with materials, interrogating in turn notions of society, class and race.
In Gates' new sculptures, flat, disintegrating sections of roof, collected from a derelict school near to his home and studio in the south side of Chicago, are cast in bronze. Patched-up and highly textured, these geometric ready-made forms are then covered with tar which is poured or brushed on. Following the same method as that of tarring a roof, the result is a highly reflective, unctuous black glaze that can partially cover the sculpture or completely obscure it. Formed by the vicissitudes of weather and wear, the roofs have a mineral-like encrusted presence lent new life through their transformation as sculptures. In this way, the works point to themes of home and community and the possibility of rehabilitation through the values of restoration and beauty. At the edge of each sculpture, small square supports – casts of the gating system used during the sculpting process – are deliberately left intact, reflecting an intrinsic, fluid connection between material, process and artwork that is direct and honest. This trace of labour or making is important for Gates since the activity of roofing is both personally and politically significant: he learnt the skills from his father, a builder and roofer by trade, who used the profession as a form of activism.

Roofing techniques are also adopted in the new series of paintings, which combine tar with coloured plastic sheeting, known as Naugahyde, to create compositions that make a reference to Modernist abstraction. 'I'm reading about abstraction,' Gates has said. 'And now I have these things that are absolutely familiar and absolutely black in my life. My question was, could what my dad taught me trump established artistic practices?' Unlike his previous series of tar paintings which were solely monochromatic, in these new works the inclusion of a material not associated with roofing distances the work from an indexical link to their subject matter.
In revising his approach to their making, by both incorporating new materials and allowing for a greater freedom of production, Gates has opened up new dialogues, evident in the visual and formal links to work by painters such as Mark Rothko, Josef Albers or Ellsworth Kelly. Bold compositions are created in the work through coloured fields of sheeting, adhered to the canvas in overlapping layers and combined with viscous tar, brushed or poured on to the canvas surface. In Study for halves and halves (2017), for example, arcs of yellow sheeting appear like a succession of rising suns while in another work, strips of turquoise sheeting are covered with applications of tar to create a dynamic pattern of repeat stripes. Gates works the tar with speed, since it demands a quick response before it cools and solidifies at which point bubbles, bumps and small indentations appear on its skin. This gives a sense tactility, either through the visible, visceral brushstrokes which emphasise the trace of the artist's hand or, if poured, a feeling of arrested motion, of a halted, dripping viscosity. The process itself of making the paintings reflects not only the effort of the labour but above all what Gates has identified as, 'an index of an archive of time in my body.'
Installation Views