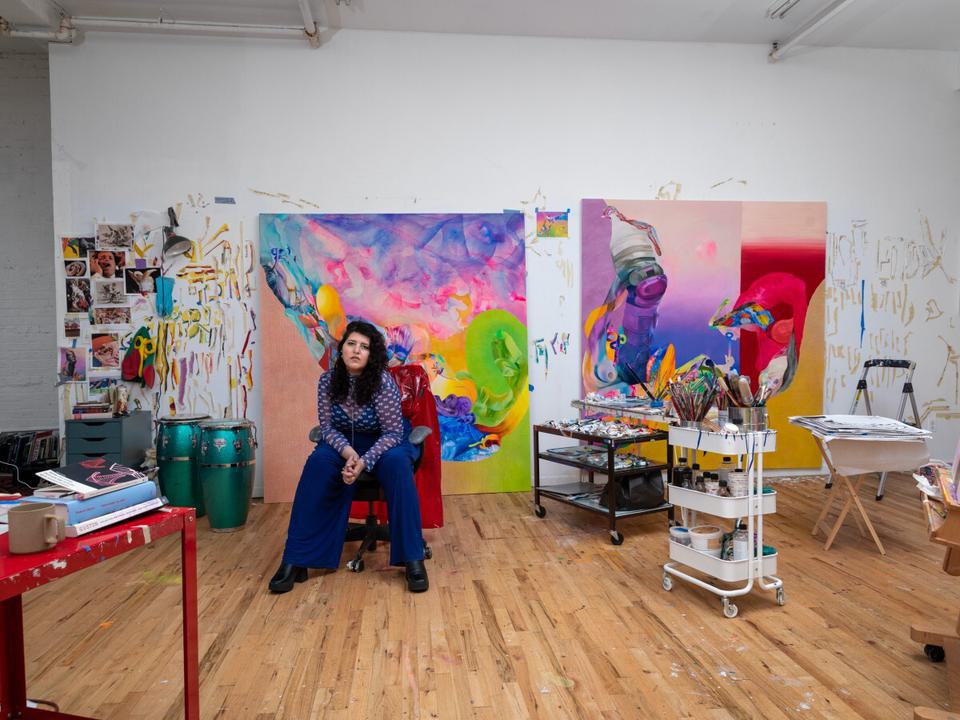 White Cube is pleased to announce representation of Ilana Savdie (b. 1986, raised in Barranquilla, Colombia).
In her vibrant, large-scale figurative paintings, Savdie explores themes of performance, transgression, identity and power, aiming to dismantle ideas of binary and fixed identity. The artist assembles, blends and merges disembodied fragments into finely detailed compositions characterised by dreamlike illusion and a direct relationship to the body.
Now living and working in New York, Savdie was raised in Barranquilla and draws extensively on the city's tradition of Carnaval, a week-long display of transgressive excess. For Savdie, the Carnaval characters are fluid and unrestricted, embodying the queer notion of performance as a potentially transformative tool.
Visually recalling the colourful abstract works of Helen Frankenthaler or the extenuated figuration of Francis Bacon, Savdie also draws on the drama of Baroque painting, as well as horror films and science fiction. Beginning with drawing, the artist blends fragments of digital collage with acrylic, oil and beeswax into finely detailed compositions that evoke a delicate harmony between the euphoric and the grotesque.
Savdie's first exhibition at the gallery will take place at White Cube Bermondsey from 6 July – 11 September 2022.
Ilana Savdie (b. 1986, raised in Barranquilla, Colombia) lives and works in Brooklyn, New York. In 2008 she received her BFA from the Rhode Island School of Design, Providence, USA, and in 2018 she received her MFA from Yale University, New Haven, USA. Her work has been exhibited in numerous international exhibitions, including at the Museum of Contemporary Art, San Diego (2021); Kunstraum Potsdam, Germany (2021); Museum aan de Stroom, Antwerp (2019); and the B3 Biennial, Frankfurt (2017). In November 2022 she will become one of the inaugural Artists-in-Residence at Horizon Art Foundation, Los Angeles.
The artist is jointly represented by White Cube and Kohn Gallery.