Museum Exhibition
Darren Almond participates in a group show hosted by Parasol unit in Venice
Posted: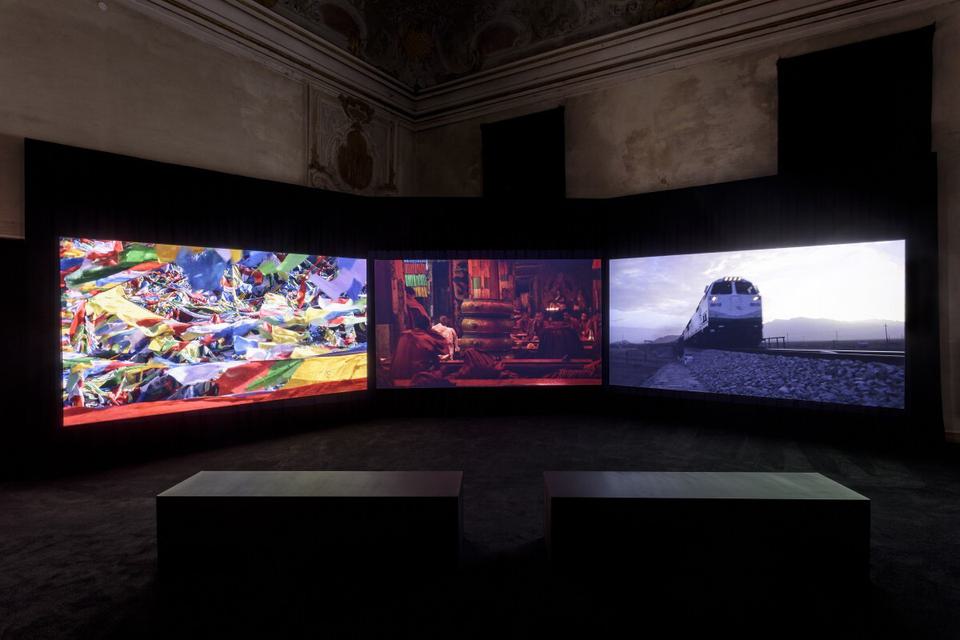 23 April - 27 November 2022
Darren Almond presents his video installation In the Between (2006) in a group exhibition at the Conservatorio di Musica Benedetto Marcello, a collateral show to the 59th Biennale Arte di Venezia. Organised by Parasol Unit and titled 'Uncombed, Unforeseen, Unconstrained', the exhibition loosely hinges on Rudolf Clausius's mathematical concept of entropy, bringing together eleven artists whose work visualises systems reaching a state of combustion and vulnerability to external influence.
Filmed in 2006 on the Tibetan Plateu, In the Between captures high-speed trains on the Qingzang railway, which connects the commercial, western Chinese city of Xining to Lhasa, Tibet. This footage is shown alongside documentation of Tibetan Buddhist monks in the Samye Monastery of Lhasa, their ritual chanting reverberating against the rhythmic clanking of the train. By juxtaposing the natural beauty of Tibet with the cacophony of the railway, Almond invokes the political undercurrents and environmental implications of the track's construction and expansion, while also reflecting on Buddhist notions of relativity and states of in between.