White Cube News
About Noguchi's 'Ceiling and Waterfall' installation from the White Cube Bermondsey exhibition 'Isamu Noguchi: A New Nature'
Posted: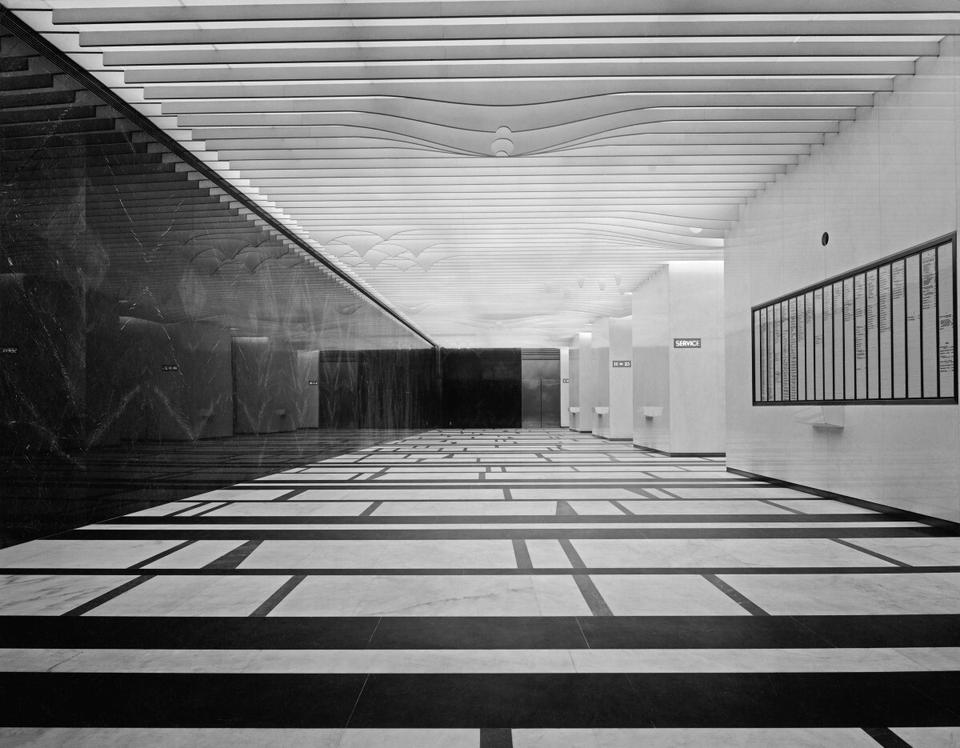 10 November 2021 - 3 April 2022
A statement from The Isamu Noguchi Foundation and Garden Museum on 666 Fifth Avenue Ceiling and Waterfall:
In 1955 the architect Robert Carson contacted Isamu Noguchi about a design the sculptor had conceived for an unrealized bank project in Texas, suggesting that it be reused for the Tishman Building that Carson was designing at 666 Fifth Avenue, New York City, across the street from the Museum of Modern Art. The construction of this building was documented in Shirley Clarke's film 'Skyscraper' (1960).
Noguchi reimagined his original concept, which had been for a wall, as a ceiling, and added a second major element, a waterfall. The combined ensemble was meant to transform the patterned hardscape of the marble lobby. Sound from the waterfall subsumed the steady stream of traffic noise from Fifth Avenue, while the 114 ranks of shaped aluminum louvers (covering more than 6,000 square feet) reshaped the ceiling into a shifting sky, a "landscape of clouds." 
In the intervening years, as the building changed ownership and requirements for office towers changed, several renovations altered the work. Ultimately, in fall 2020, Ceiling and Waterfall, 666 Fifth Avenue, New York was permanently removed from the building. As stewards of the artist's legacy, The Isamu Noguchi Foundation and Garden Museum strongly advocated for two years for the work to remain in the lobby, even though it was compromised by previous renovations. However, the owner of the building and the work elected to exercise its right to remove it.
Ceiling and Waterfall were documented, deinstalled, and catalogued under the oversight of The Isamu Noguchi Foundation and Garden Museum, and the components of these installations were donated by the owner to the Museum without restriction.
We believe that Ceiling and Waterfall should have the opportunity to find a new life in the public sphere, which, in our view, is preferable to their complete disappearance. As Noguchi once explained, "I don't compromise, I adapt," and if you want to have a legacy in the built environment, that is really the only conceivable perspective.
The Isamu Noguchi Foundation and Garden Museum is looking for a team working on a new or existing building who recognize an extraordinary opportunity in the challenge of adapting Ceiling and Waterfall to a new space, together or individually, with the Museum's participation and official blessing, guided by Isamu Noguchi's original premises and intent. While Noguchi's original work was destroyed by its removal from its context, The Noguchi Museum will be responsible for ensuring that what is done recognizes, honors, and in some real way perpetuates the legacy and understanding of this important artwork, an iconic piece of New York City's architectural history.