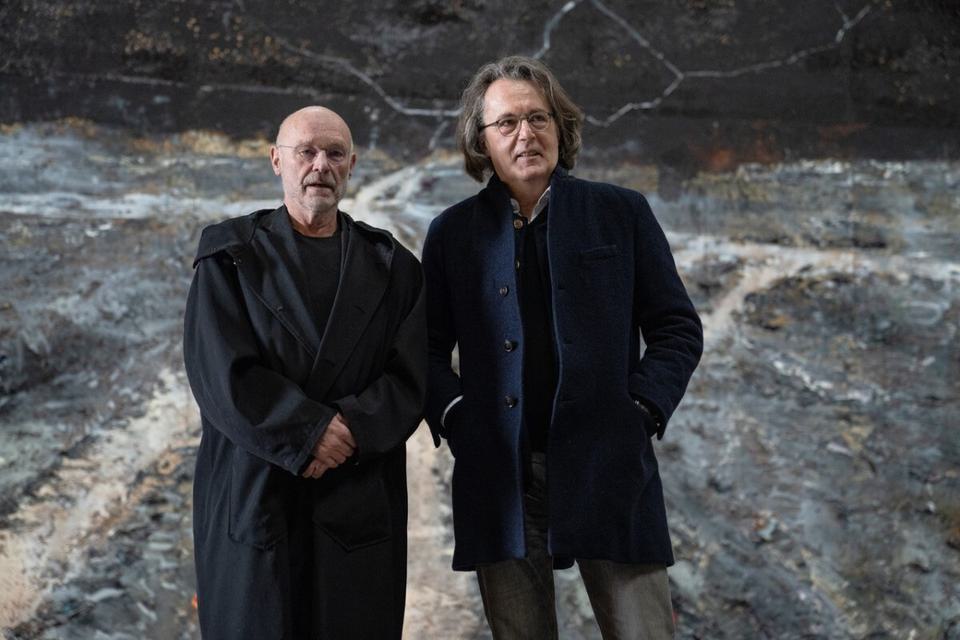 Anselm Kiefer has produced a new series of work for the Panthéon in Paris, including two monumental paintings and a permanent installation comprised of six vitrines. Together with a composition by the French contemporary composer Pascal Dusapin, it forms an ensemble of new works commissioned by French President Emmanuel Macron. It is the first such commission for the Panthéon since 1924 and coincides with the 'Panthéonisation' of the French writer, poet, and WWI veteran Maurice Genevoix (1890-1980) on Armistice Day, 11 November 2020.
Genevoix's celebrated book Ceux de 14 (1949), an account of his experience fighting in the trenches during the First World War, served as inspiration for Kiefer. As the artist notes, Genevoix saw "nature as a beautiful counterpart to evil," a counter-image ready and available for his poetry even "in the greatest misery". This correlation between destruction and life, misery and beauty, is made visible in the materials of the works: lead, cement, barbed wire, gauze, rope, branches, wheat, poppies and gold leaf.
Inscribed in some of the vitrines are lines from Genevoix; along with citations from Paul Celan, Arthur Rimbaud, and Henri Barbusse. The two paintings, which have been "massacred, beaten, sometimes put outside in the rain or even burnt" are installed face-to face, in the nave of the building. In a direct reference to the title of Genevoix's work, Kiefer's painting Ceux de 14 – l'Armée noire – Celles de 14, salutes the role of women in the war who served both at the front and behind the scenes, in the hospitals and factories of France and the 500,000 soldiers who joined the war effort from French African colonies. La Voie sacrée refers to the "Sacred Way", the road connecting Bar-le-Duc to Verdun in France which played a pivotal role during the Battle of Verdun in World War I.