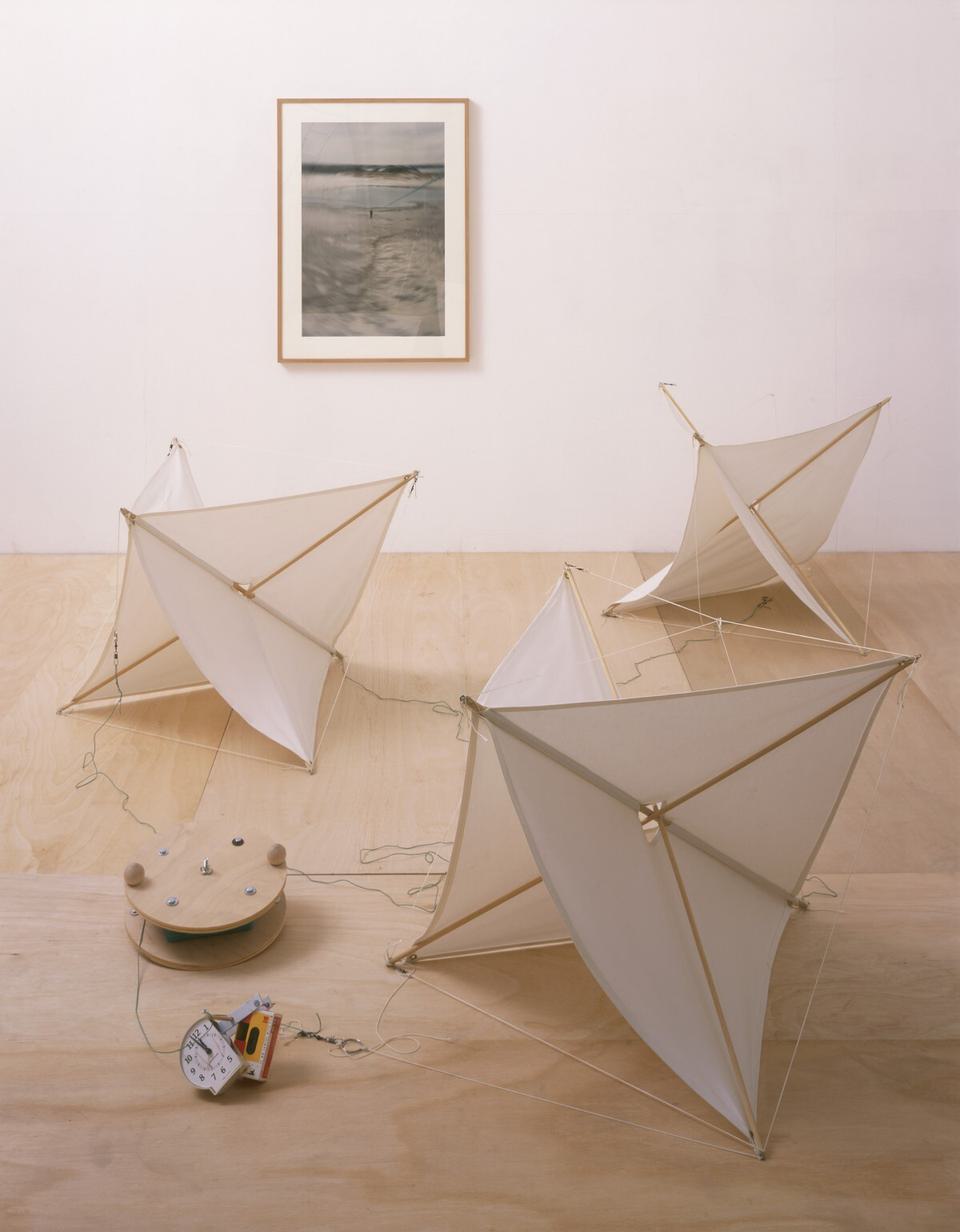 The work of New York artist Paul Ramírez-Jonas derives from a fascination with prototypes. In his exhibition at White Cube, Ramírez-Jonas showed three kite models based on the designs of turn-of-the-century American inventors, such as Alexander Graham Bell, Walter Brooks and Samuel F Cody, who worked in the then nascent field of aviation. 'I'm interested in technology that is just at the cusp of becoming,' Ramírez-Jonas explained; 'I love the has-beens, all those people who wanted to make planes but didn't, all those weird geometric shapes that never made it.' Despite their frequently complex structures, these whimsical, delicate forms—made of raw canvas, string and wooden rods—have a touchingly fragile, low-tech appearance.
Ramírez-Jonas subjected these three constructions to a single test flight. Since the process of experimentation is central to his work, the exhibition featured a photographic record of this event; the images were taken by a disposable camera that was mounted on each kite, and triggered by a simple alarm-clock mechanism. By recreating early experiments in aerodynamics, Ramírez-Jonas resurrected obsolete relics that testified to a bygone era of human ingenuity. The works resonate with nostalgia, recalling childhood hobbies and weekends spent tinkering in garage workshops. By presenting replicas of historical objects as artwork, the artist calls into question notions of authorship and originality.

The benefit of hindsight lends the work pathos, because subsequent advances in aviation technology made by the Wright Brothers caused these designs for flying machines to fade into obscurity. Looking into the history of flight and invention, Ramírez-Jonas chose to champion the underdog, presenting an alternative view in which failure is valued over success, in which the human investment placed in making something is deemed as important as its degree of success as a finished product.
Ramírez-Jonas exhibited in the adjoining space, 100 (1995), an unfolding book-project comprising one hundred portraits of individuals. Solicited on a Manhattan street corner, together these portraits represent all ages between one and one hundred years old.