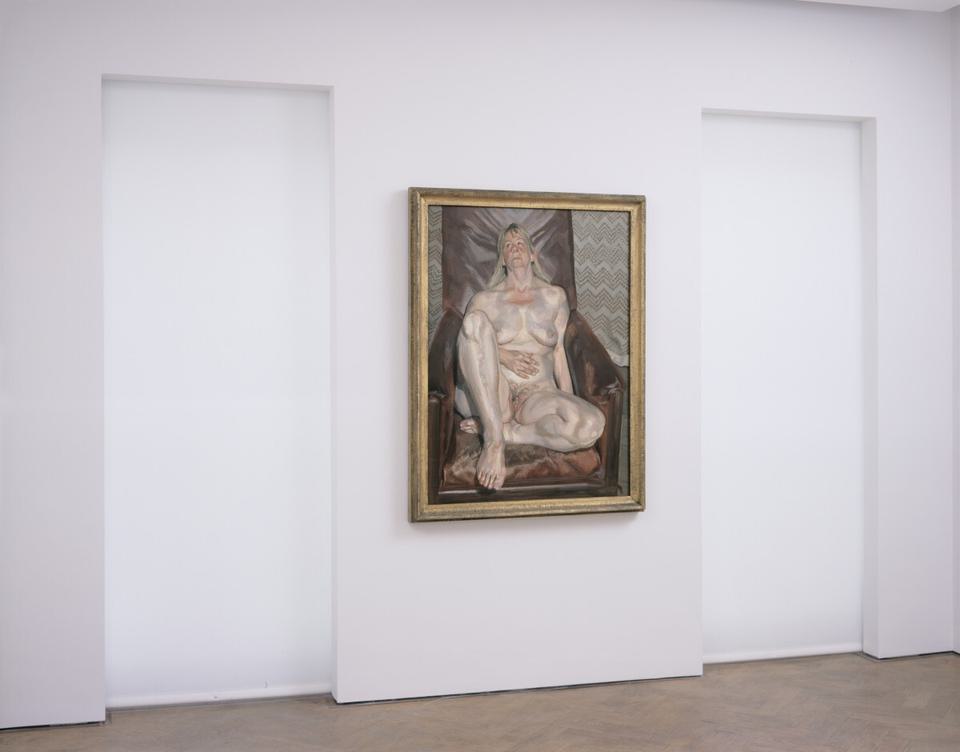 Dates
3 May – 1 July 2000
Lucian Freud exhibited a single painting, entitled Naked Portrait (1999), that hung between the two windows of the gallery. This portrait presents a naked middle-aged woman, sitting, with her legs drawn up, on a large, straight-backed armchair—with its strong vertical geometry, it both frames and contains the figure. This pyramidal nude subverts the ideal nude of the Western tradition by recording the awkward truths of the undressed body: the genitals, the sagging breasts, and the folded flesh that, in places, stretches over bone. The woman is presented in a posture so intimate and close-up, that her body appears pushed up against the viewer, one foot seeming to project forward out of the picture plane.
In Naked Portrait, the paint texture adds a tangible sense of physicality to the person represented, and the woman's flesh is rendered in so truthful a way, that there are even hints of blood-filled veins and fatty tissue that lie beneath her skin. Freud has said, 'As far as I am concerned, the paint is the person. I want it to work for me just as flesh does.' He uses coarse hog's-hair brushes that allow for a looseness and painterliness in the work, as do the accumulations of heavy, granular pigment the artist reserves for the painting of flesh.

Paradoxically, this painting combines intimacy with distance, because at the same time as the viewer is being invited into a contemplation of her flesh; the model's personality is withheld. She is kept at a distance, her head appears receded, diminished, disproportionate, and her face is turned upwards and away from, it seems, her own physicality, the body that grounds her. Freud has pointed out that, 'although we are familiar with our faces from seeing them reflected in mirrors every day; it is only occasionally we view our bodies. We are most distant from them.'
In the adjoining space, Freud presented a new etching entitled After Chardin (2000), possibly his most worked to date, and based on a painting by Jean-Siméon Chardin in the National Gallery in London, of a young schoolmistress and her pupil.