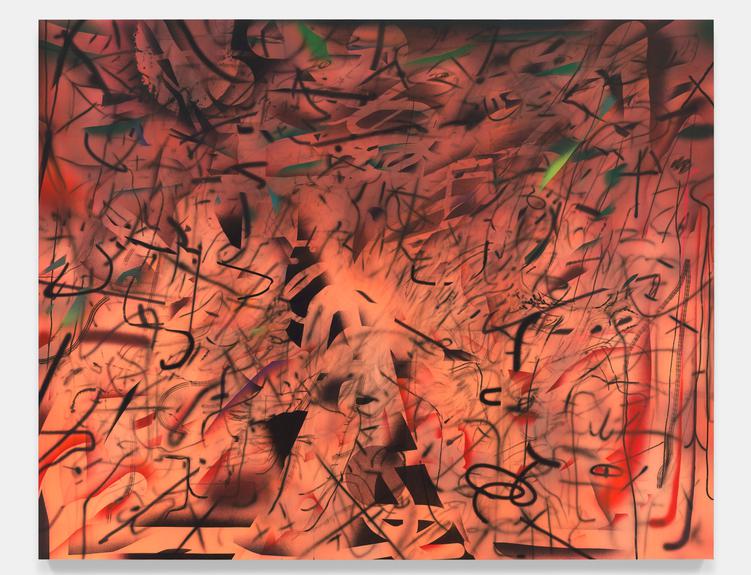 Julie Mehretu
Lives and works in New York


B. 1970
Ideas of time, space and place are enmeshed in the work of Julie Mehretu. Drawing is fundamental to her practice, whether in works on paper, painting or printmaking. The artist's dextrous mark-making comes together in a characteristic swirl, an act of assertion in response to social and political change. 'As I continue drawing,' she says, 'I find myself more and more interested in the idea that drawing can be an activist gesture. That drawing – as an informed, intuitive process, a process that is representative of individual agency and culture, a very personal process – offers something radical.'
One of the most influential artists of her generation, Mehretu's layered, calligraphic language is acutely attuned to the disorientating and constant transformation of the political moment. Using ink and paint, the artist smudges, erases and overwrites through layers of transparent medium, both visualising the accrual of history and committing her own response. Paintings are layered with an acrylic mixture, which dries to leave a transparent ground ready for another set of marks to be trapped, with varying focus and opacity. Abstracted images of natural disasters, crises or terrains – teeming with incident – are infused with dynamism.

Born in Addis Ababa, Ethiopia, Mehretu lived through the build-up to the devastating civil war. About to turn seven, she was airlifted out with her mother, a teacher from America; her father, an Ethiopian professor of economic geography, followed, and the family settled in East Lansing, Michigan. Repercussions can be traced in the young artist's desire to 'make sense of who I was in my time and space and political environment'. As a student in the mid-1990s, her imagery had a cartographic quality, and she thought of her drawings as 'indexes of migration, settlement, and even extinction' as in one of her charts, Timeline Analysis of Character Behaviour. Migration Direction Map (1996), for example, features arrows and bubbles made by laying translucent mylar (a transparent polyester film) over ink drawings. Mehretu's purposefully reductive language of 'characters', comprising crosses, dots and dashes, among other marks, seemed to mimic contours, waves or the moves of a military campaign. As a fellow in the CORE Programme, Museum of Fine Arts, Houston, in 1997, she had access to a shop with a compressor for spraying, which enabled an expansion in the size of her work, and started using architectural plans as source material for her painting's underlayers. The introduction of aerial, cross-section, curvilinear and isometric perspectives variously create a feeling of three-dimensionality and invite the viewer to navigate the picture from different viewpoints. She started the last body of work that relied on architecture as its basis in the aftermath of the Arab spring. Mogamma (A Painting in Four Parts) (2012) – meaning 'complex' or 'collective' in Arabic – refers to the 1949 Egyptian government administration building on Tahrir Square, which was the focus of protests in 2011, but also draws on other sites of revolution: Meskel Square, Addis Ababa; Zuccotti Park in Lower Manhattan (Occupy Wall Street); Zocalo in Mexico City; and Tiananmen Square in Beijing.

By 2013, Mehretu had begun using images from current affairs as her starting point by blurring colour and form, and using digital methods as a tool for abstraction. News photos of rallies in Charlottesville, Hurricane Sandy, the Syrian civil war, the Grenfell Tower fire are subsumed in paintings that articulate the simultaneous and interconnected nature of seemingly disparate events. These found images are digitally blurred and altered, and then airbrushed onto canvas, a process that Mehretu calls 'melting' the image. To this base layer, she adds and erases using screen printing, ink and acrylic paint. Hineni (E. 3;4) (2018), for example, represents the Californian wildfires at the same time as the burning of the Rohingya homes in Myanmar: an inferno of red and amber is shot through with charcoal-black marks of varying densities that evoke charring or falling ash, and agitate to the edges of the canvas.

Mehretu's lexicon is fuelled by printmaking, especially intaglio. Prints are often presented in framed groupings, creating bigger works where the grid effect contrasts with the improvisational relinquishing of control in the printmaking process. In Epigraph, Damascus (2016), for example, a vast landscape-format image is formed by lining up six vertical framed prints. Impressions, including fluid, velvety lines and broader mottled background areas, are achieved by aquatint and open bite technique. The series Six Bardos (2018), in part inspired by the artist's visit to the Mogao Caves in China, harnesses the dissenting aesthetic of graffiti and fly-posting, Abstract Expressionism and automatic writing – a crescendo of marks that seem to be only just contained by the limits of the paper.

Moving between studios in New York and Berlin, Mehretu makes work on a scale that takes on the major concerns of public life. At 90 feet, Mural (2009) was created for the lobby of Goldman Sachs, Manhattan; in this setting, the dazzling horizontal synthesis of shapes and colours appears to articulate the twisting, inextricable routes to the 2008 financial crisis. She has created soaring upright canvases in an empty church in her neighbourhood in Harlem, ascending and descending on scissor lifts. The artist started painting HOWL, eon (I, II) just days after the 2016 presidential election, and it was unveiled in 2017 as a major, long-term installation occupying either sides of the lobby of the San Francisco Museum of Modern Art. The two panels – each measuring 27 feet by 32 – surround the viewer in a disorienting cloud of colours and nascent forms, inspired by funerary friezes and traditions of American landscape painting to explore legacies of westward expansion. To me,' the artist has said, 'that incomprehensibility, that blur, was something I was more interested in at this scale.'

Julie Mehretu was born in Addis Ababa in 1970 and lives and works in New York. She has exhibited extensively including a travelling mid-career survey at the Los Angeles County Museum of Art (2019), travelling to High Museum of Art, Atlanta, Georgia (2020); Whitney Museum of American Art, New York (2021); and Walker Art Center, Minneapolis, Minnesota (2021). Other solo exhibitions include Kettle's Yard, Cambridge (2019); Serralves Museum, Porto, Portugal (2017); Centro Botín, Santander, Spain (2017); Gebre Kristos Desta Center, Addis Ababa (2016); Solomon R. Guggenheim Museum, New York (2010); Deutsche Guggenheim, Berlin (2009); The Detroit Institute of Arts, Michigan (2007) touring to Williams College Art Gallery, Williamstown, Massachusetts and North Carolina Museum of Art, Raleigh (both 2008); Museo de Arte Contemporáneo de Castilla y León, Spain, touring to Kunstverein Hannover, Germany and Louisiana Museum of Modern Art, Humlebaek, Denmark (2006–07); St. Louis Art Museum, Missouri (2005); and Walker Art Center, Minneapolis, touring to REDCAT, Los Angeles and Albright-Knox Art Gallery, Buffalo, New York, (2003–04).

Selected group exhibitions include the 58th Venice Biennale (2019); Performa 17, New York (2017); 12th Sharjah Biennial (2015); 10th Gwangju Biennale, South Korea (2014); Document 13, Kassel, Germany (2012); 15th Biennale of Sydney (2006); 26th Bienal de São Paulo (2004); 54th Carnegie International, Pittsburgh (2004); Whitney Biennial, New York (2004); and 8th Istanbul Biennial (2003).

In 2005 Mehretu was the recipient of the MacArthur Fellows Award and the American Art Award from the Whitney Museum of American Art. In 2015 she was awarded the US Department of State Medal of Arts Award. Mehretu is a member of the American Academy of Arts and Letters, the American Academy of Arts and Sciences and The National Academy of Design.
2016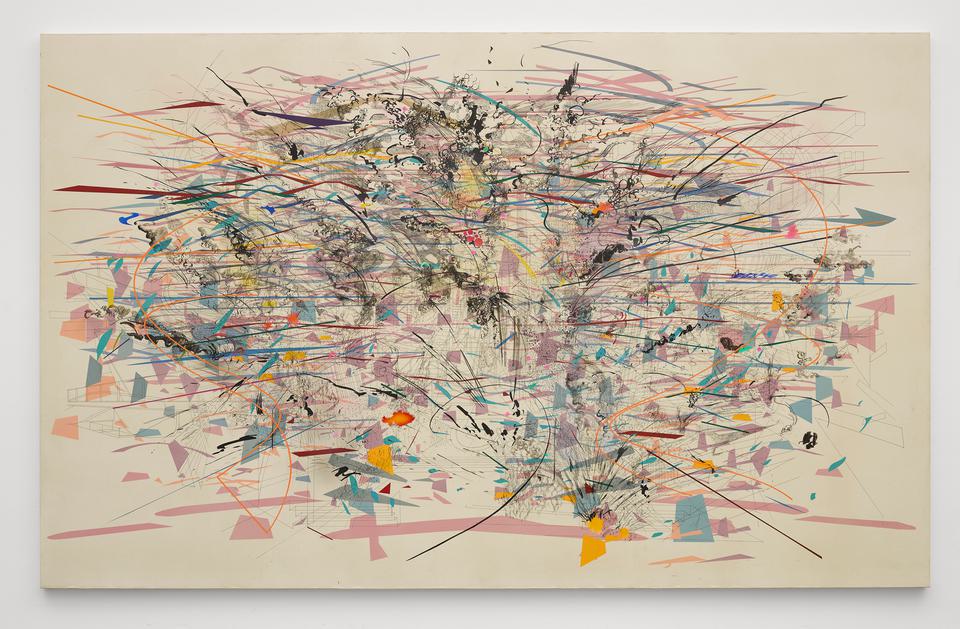 2002
---
Contact us about available Julie Mehretu works
Enquire
---
---
---
In the Studio
Julie Mehretu
Julie Mehretu discusses her process and painterly methods with Tim Marlow.
In the Gallery
In the Gallery: Julie Mehretu on 'The Mathematics of Droves'
Julie Mehretu discusses her exhibition 'The Mathematics of Droves' at White Cube São Paulo in 2014.
In Focus
Susanna Greeves on Julie Mehretu's 'SEXTANT'
Susanna Greeves, Director and Museum Liaison at White Cube explores Julie Mehretu's exhibition, 'SEXTANT' at White Cube Mason's Yard in 2018.
Beyond White Cube
Andrew Nairne on Julie Mehretu's 'Drawings and Monotypes'
Andrew Nairne, Director of Kettle's Yard talks through Julie's exhibition 'Drawings and Monotypes' in 2019.
Conversations
Julie Mehretu and Briony Fer
Julie Mehretu talks about her exhibition at Kettle's Yard, Cambridge with Briony Fer.
In the Studio
Julie Mehretu
Julie Mehretu discusses her process and painterly methods with Tim Marlow.
---
---
---