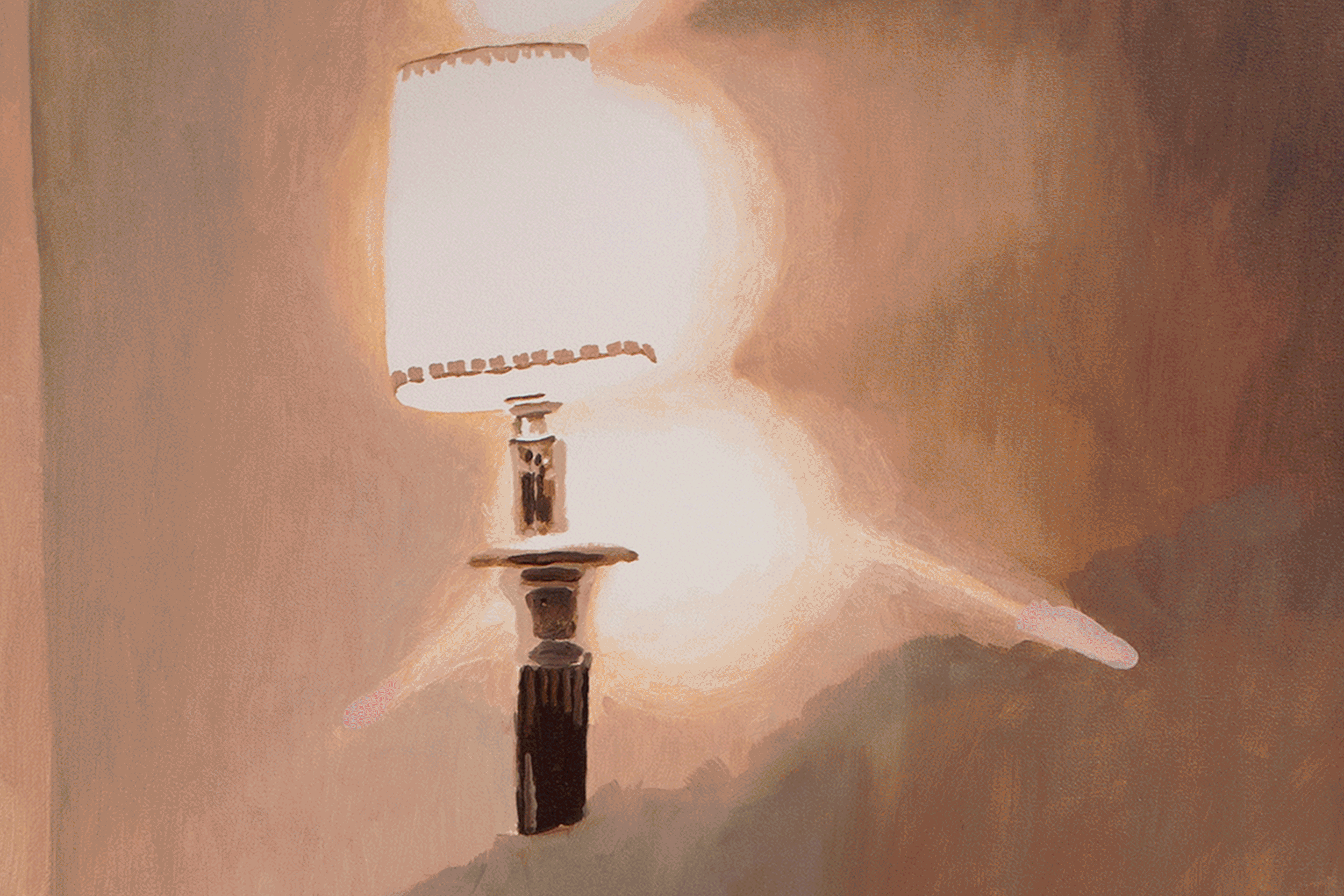 Introductions | Margaux Williamson
Introductions | Margaux Williamson
Margaux Williamson's practice centres on painting but incorporates books, text and film projects, often in ways that connect and inform each other.
Her figurative paintings frequently begin with writing, a way of sketching with words that offers an unconventional path to pictorial themes, accessing what she has termed the 'natural order of your random imagination.'

'Introductions | Margaux Williamson' is curated by Capucine Perrot, Associate Director, Artist Liaison.
Focusing on the quotidian – the unremarkable scenes and landscapes of contemporary, everyday life – her paintings depict recognisable subjects, skewed through an intuitive and collaged vision. The corner of a domestic setting, an urban front door or the dark interior of a bar, all point to the already 'seen' but are rendered in a way which disrupts coherent visual order and any linear path towards meaning.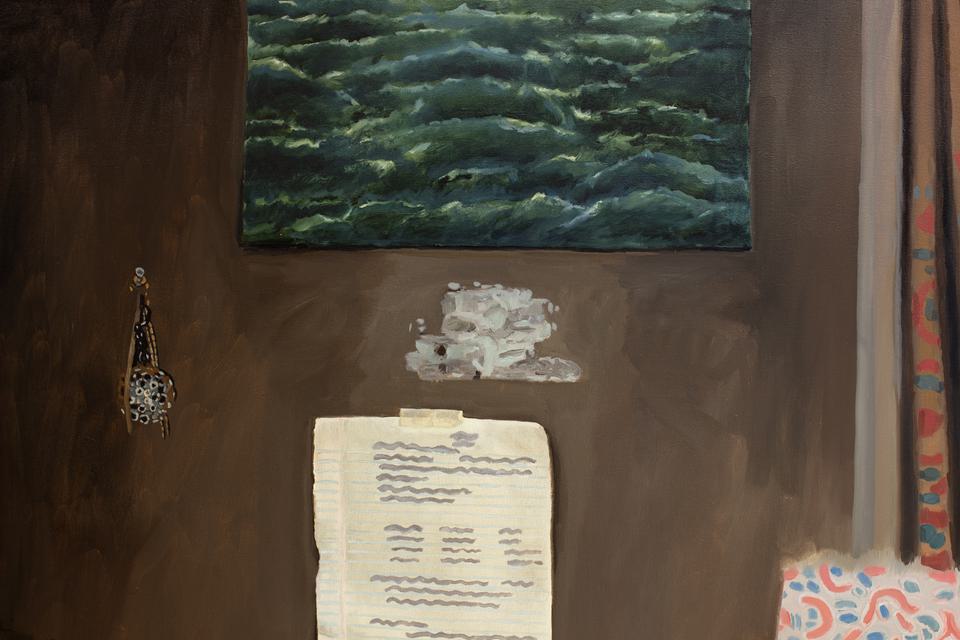 Williamson builds her compositions from distinct, constituent parts, combined to form unexpected resolutions. Qualities of light and degrees of luminosity can change across the canvas surface, suggesting an indeterminate time or place. By painting one scene in a particular condition of light or time of day and then adding to it with an altogether different mood, she attempts to inscribe time through paint. 'I had always loved paintings, as they could provide more space, but how great to see that they could also provide more time,' she has remarked. Creating a sense of detachment, this process of 'construction and rearrangement' shifts the painting away from pure figuration and towards a state of near-abstraction.
Front Door (2021) features a typical type of North American vernacular architecture; a glass-sectioned wooden door and scrubby patch of garden, in various shades of beige and brown. The feeling of urban decay is emphasised by the inclusion of several discarded bottles, papers and old books and a mound of dry leaves – tactile, almost audible – illuminated by a direct source of light hidden from view. The overall neutral tone of the image is relieved by an incongruent patch of brightly coloured flowers in various states of bloom. A perfectly erect red poppy, a short but monstrous sunflower, weed trees, sweet peas and an iris stand above a tiny patch of putrid-green lawn, as if Williamson is overlaying another image, something that isn't but could be there.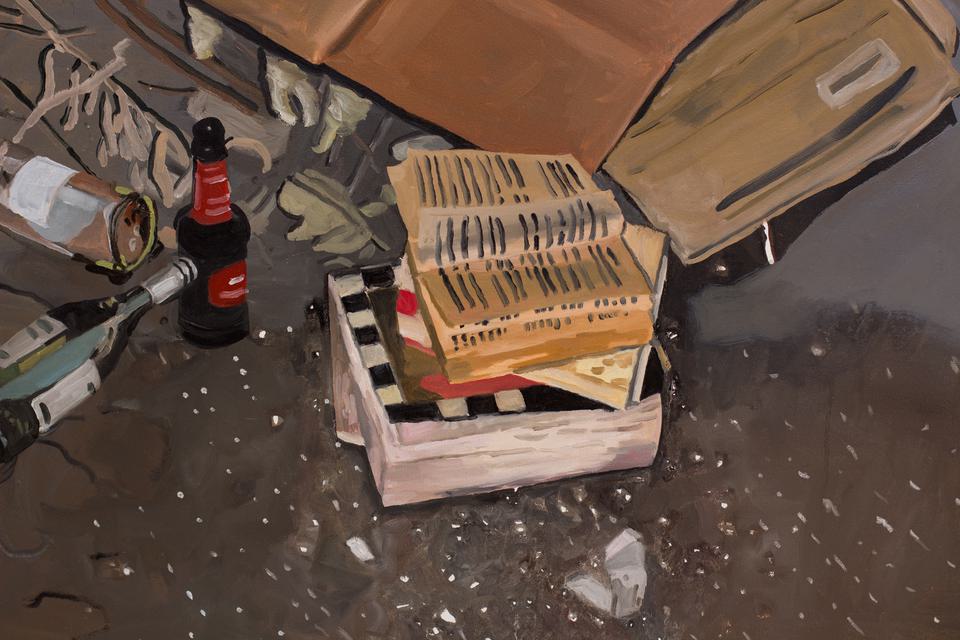 As with many of Williamson's paintings, the potential for narrative is emphatically present, yet visually excluded from the composition. A sense of incidence, past, future or present, yet outside of our field of vision, along with switches in scale and perspective all contribute to the surreal, hybrid composition.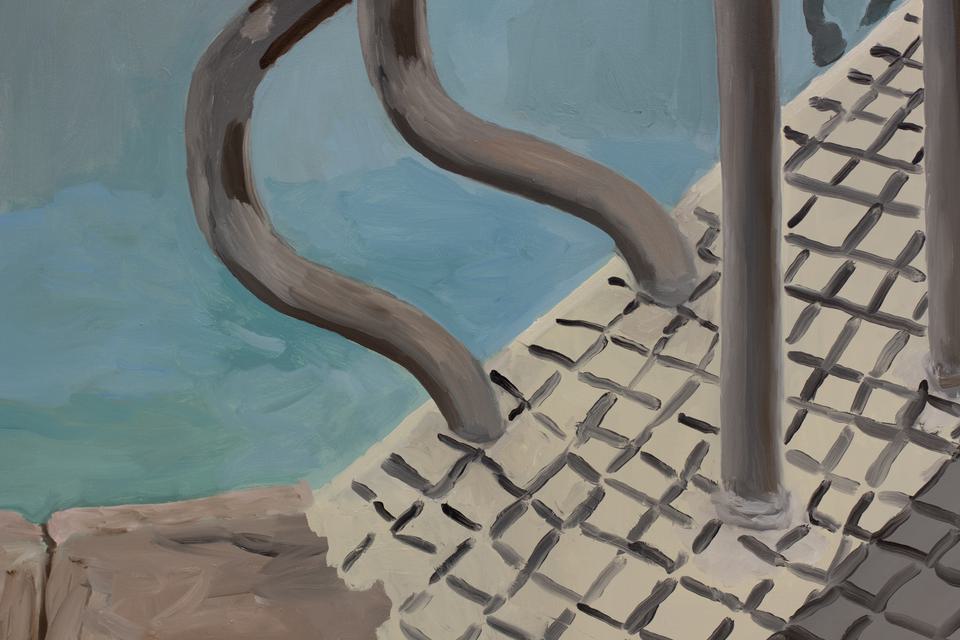 'The paintings are always a little ahead of me, especially the deeper I am in my craft, the more lost I can get. It seems to make the work a bit more surprising and it is good, as the maker, to be surprised.'
Fire (2021) began not with its titular subject, but with two folding chairs with pale blue seats; objects in the artist's own possession and used for guests when they gather around the fire outside her studio. Added at a later date, the fire is a ball of flame at the painting's centre, composed from a number of abstract gestures, resolving and dissolving.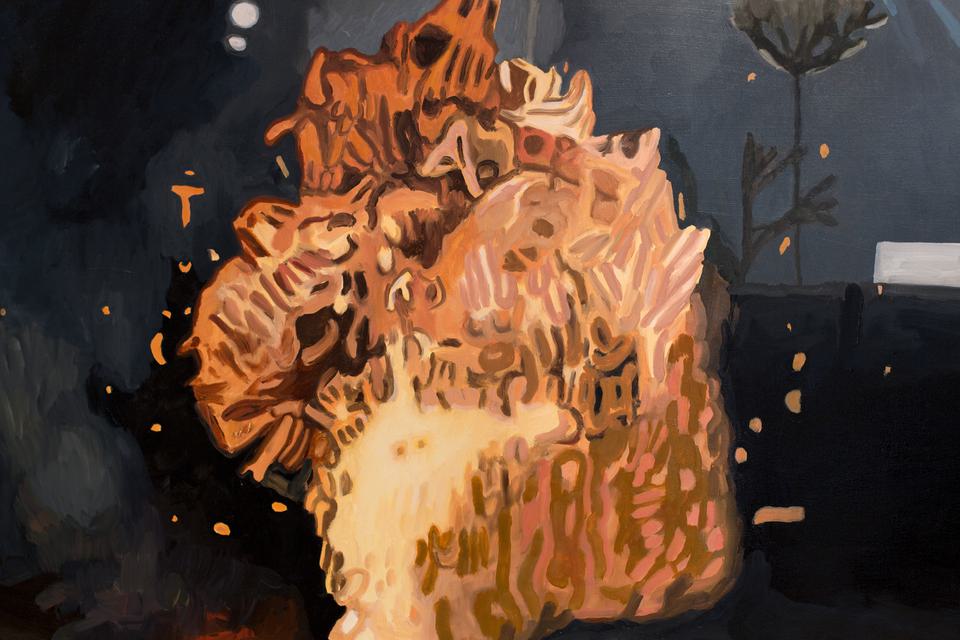 Abrupt changes in spatial and textural treatment and uneasy object relationships characterise Bed (2021). This intimate mise-en-scène depicts an un-made bed, chair, shelving and an array of items including books and a mobile phone. Williamson's rendering of her subject matter alternates between acute detail and dissolving liquidity, promoting a sense of something in flux or ungrounded. A floor lamp merges into the wall behind it, and bookshelf and chair are pushed a little too close to the bed, which itself appears almost upright. In the painting's foreground, a patterned carpet seems flattened out, its motifs hovering and separated from their plush background and a mysterious black object, possibly a small heater, sits resolutely in the centre.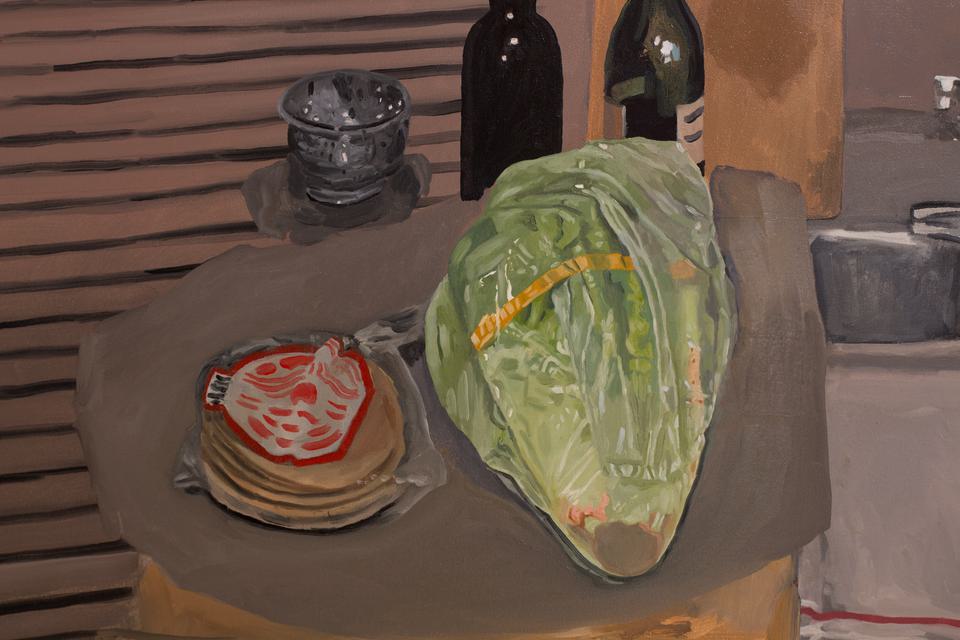 Likewise, the apparent banality of the scene in Kitchen (2021), is rendered charged and compelling. Bathed in electric light, perspectives are skewed; the vegetables on a chopping board, for example, are tipped almost vertical for the viewer's perusal. This treatment recalls the work of Philip Guston - a point of reference for the artist, whose influences also include Francisco Goya, Marcel Duchamp and Luc Tuymans. Williamson has stated that her subject matter was simply 'what was on there that day,' part of a chain of decisions that allow a seeing 'beyond' what is directly on view. 'I make the table a window since there is nowhere else to go,' she has said. 'I turn the solids and the negative space into matter as dense as concrete.'
In Waterfall Painting (2021), the interior of a bar, devoid of people, features an extended wooden bar front or table, making up half of the composition. Several glasses, bottles and tea-lights suggest people are present, but just outside the frame and behind the bar a large, blank mirror – an abstract rectangle of near-solid grey – makes an oblique reference to Édouard Manet's A Bar at the Folies-Bergère (1882). Numerous other objects, common to any bar scene, including rows of bottles and spirits, a stereo and a sketch of a waterfall, denote a warmth which seems to have all but disappeared from the room on view.

Suspended between a myriad of viewpoints, Williamson's paintings allow us to simultaneously look at, above and over her subject matter, offering an abstracted and individualised mode of looking. 'I am the painter and this is what I am seeing,' she has remarked.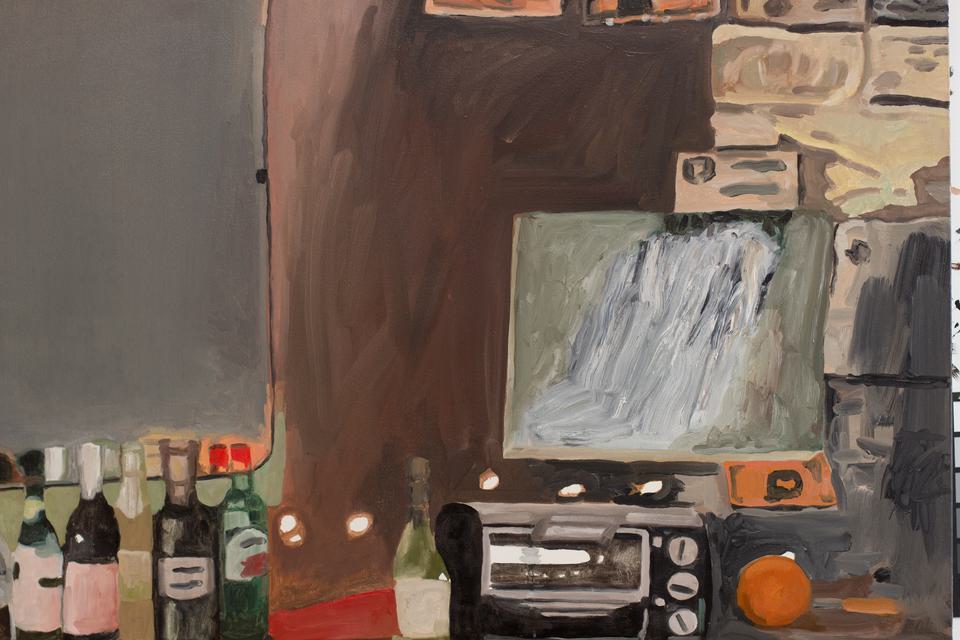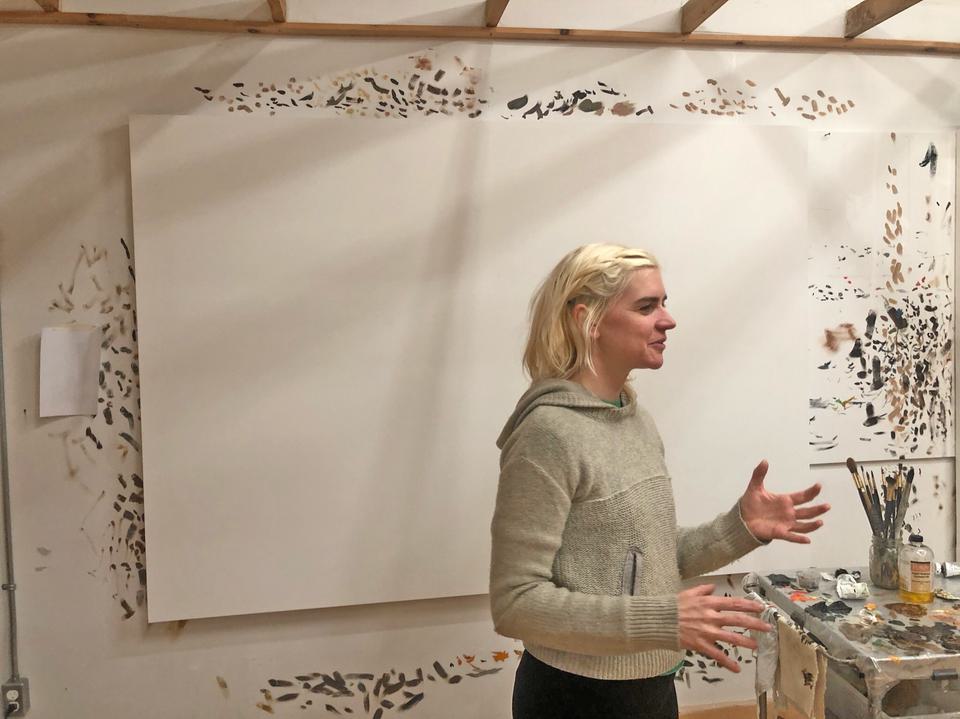 Margaux Williamson was born in 1976 and is an artist based in Toronto. Her last series of paintings was made into a book called I Could See Everything, published by Coach House Press. She has been artist-in-residence at MacDowell in New Hampshire, the Art Gallery of Ontario in Toronto and the Klondike Institute in the Yukon. McMichael Canadian Art Collection, Kleinburg, will be hosting an exhibition of her work from the last ten years, in September 2021.

Recent solo exhibitions include: Parisian Laundry, Montreal (2017); Mulherin + Pollard, New York (2014); Marvelli Gallery, New York (2007); and Katharine Mulherin Contemporary Art Projects, Toronto (2006). Recent group exhibitions include: Montreal Museum of Fine Arts (2020); Art Museum at the University of Toronto (2016); Agnes Etherington Art Centre at Queen's University, Kingston, Canada (2016); Frith Street Gallery, London (2014); Museum of Contemporary Canadian Art, Toronto (2007).
---