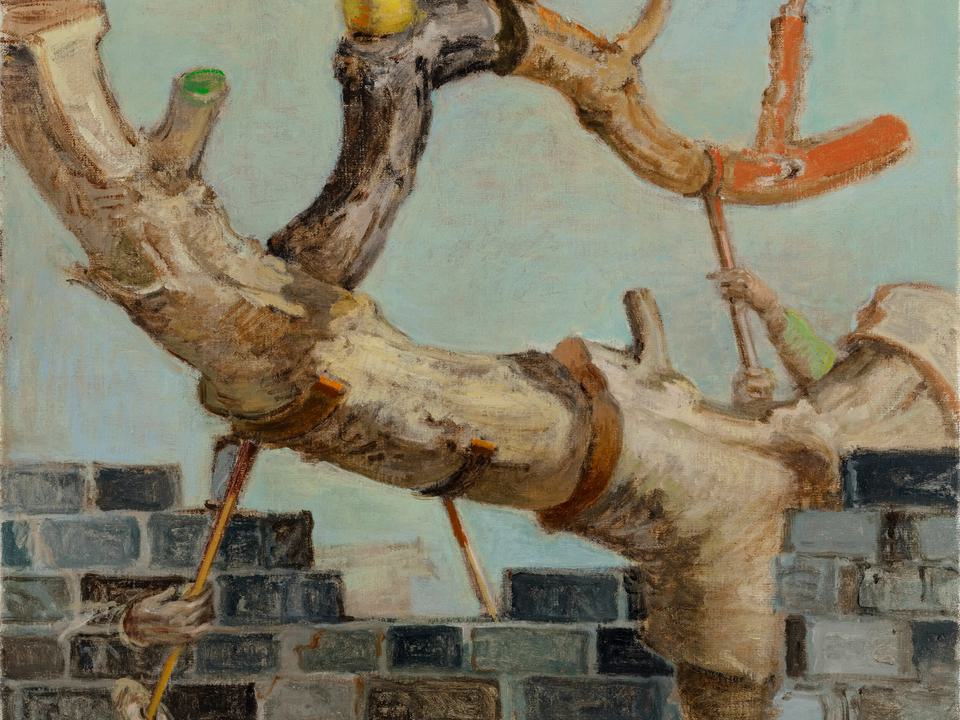 Introductions | Chen Ching-Yuan
Introductions |
Chen Ching-Yuan
'The Brick and Timber'

Chen Ching-Yuan's oil paintings weave surreal visions with sensate realism, featuring scenes from everyday life that appear voyeuristic and psychologically charged. Intimate in scale and muted in palette, they explore the contrasting dimensions of the natural and the manmade, of claustrophobia and repetition with notions of growth and expansion.
Prioritising a constructed image over a cognitive one, Chen's work in the past has investigated the weight of history and social convention as it pertains to individual identity. In these paintings, the dreamlike images and focus on themes of construction and demolition invoke not only the recent sense of lost physical connection, but perhaps also our increasingly distanced relationship to wider, metaphysical values.
Chen Ching-Yuan
The Blocks I, 2021
Chen sets up several contrasting spatial parameters in his paintings – of life on the street or reality 'outside the wall', of the wall itself and of our interior daily life 'behind' that wall.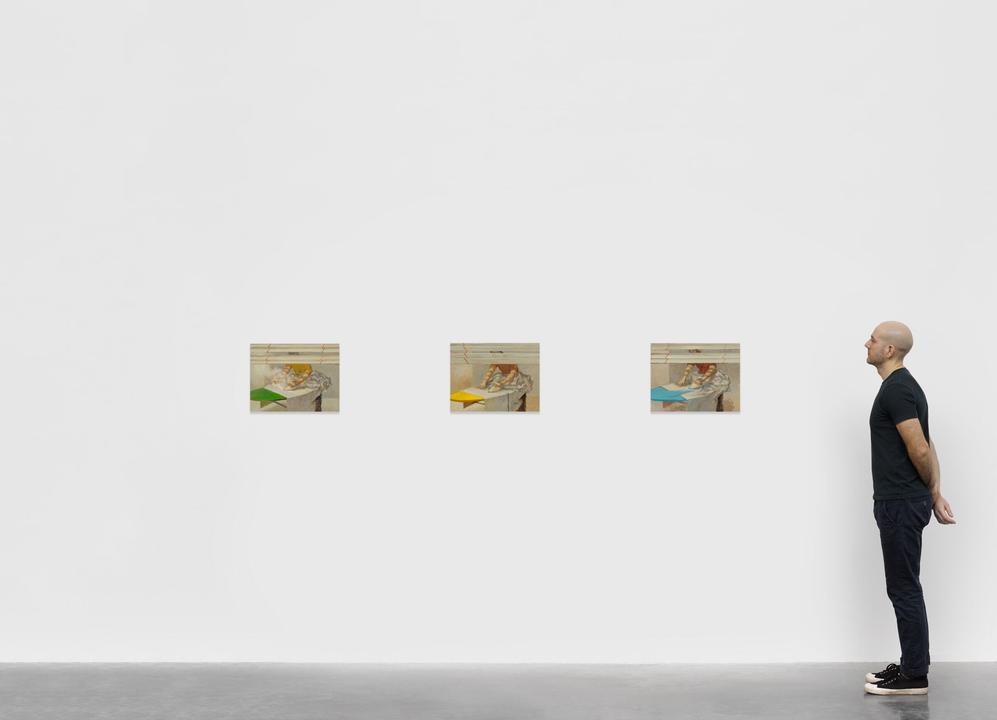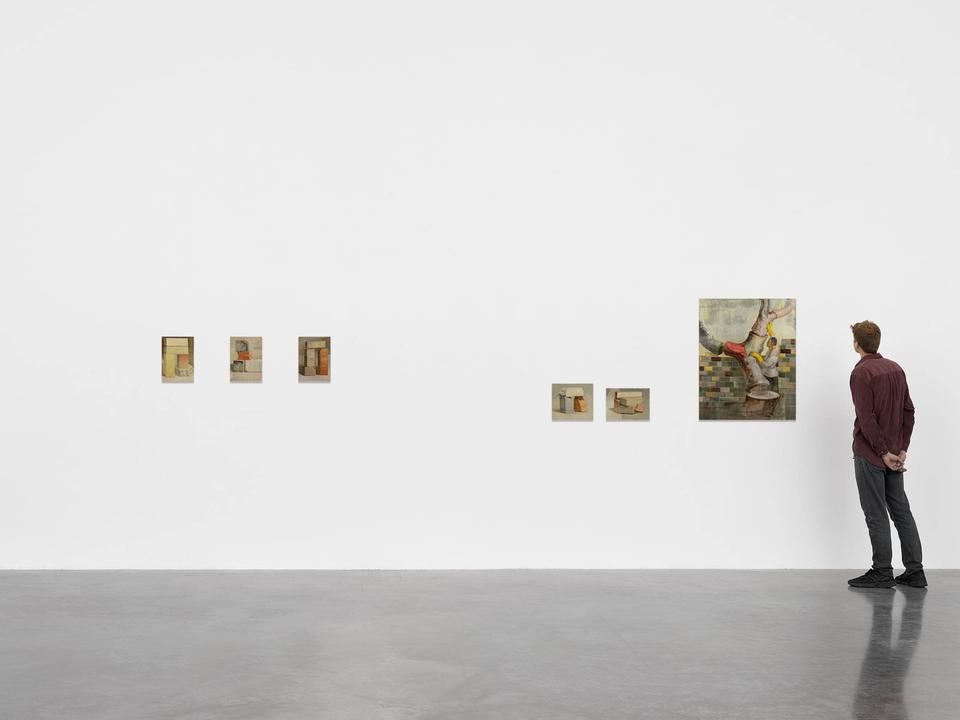 In the series titled The Blocks, the artist explores the idea of bricks (or blocks) as carriers of multiple meaning; of building and demolition, or construction and obstruction. Recalling the subtle, powdery tones of Giorgio Morandi's still lives, they are directly inspired by the improvised roadblock devices used in recent social protests and draw from Internet images which the artist gathered while on a residency in Paris during 2020.
Featuring small groups of bricks – some intact, some broken – constructed into arches or 'buildings', they appear carefully studied from life; a picture of the ordinary and the close at hand while symbolically pointing elsewhere: to the beginnings of architecture, to improvised shelters, blocks and barricades. Having the ability to both build and destroy, to be stacked together or thrown, these sketchily rendered, shadowy forms make quiet reference to the brick as a symbol of 'silent protest.'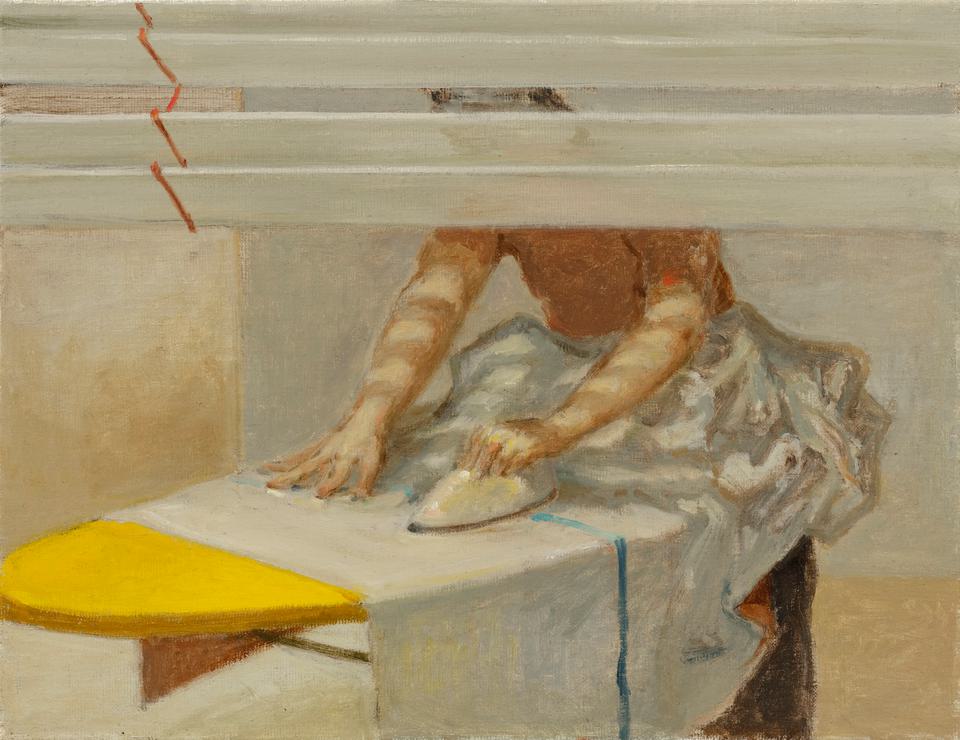 'What attracts me in these bricks, is that they are constructed by people into structures that are akin to installation-like landscapes.'
Themes of resistance, destruction and reorganisation inform a series of works depicting composite, fractured tree trunks, formed from roughly patched together sections of trees, whose branches and roots have been truncated. Made structurally infirm by their formal collapse, they seem lifeless, bearing, in some paintings, a few leafless branches like articulated prosthetic limbs. Recalling folk tales or children's stories, their uncanny, fantastical atmosphere is emphasised by pastel colours and bright blue skies, all of which is suggestive of an unnatural force driving their compositions.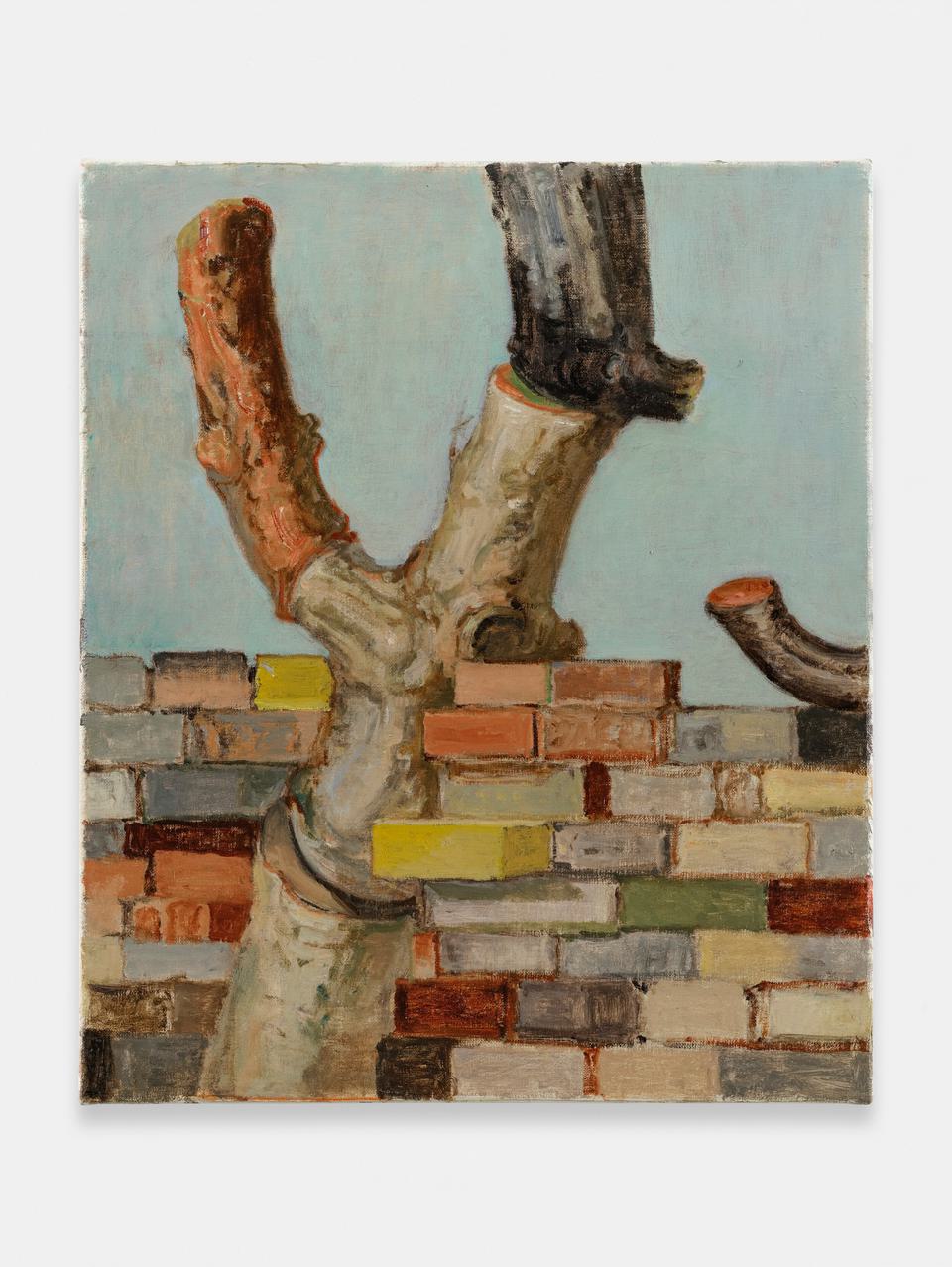 Chen Ching-Yuan
Brick and Timber II, 2021
In Brick and Timber II (2021), a multi-coloured trunk appears to push through and destroy a multi-coloured brick wall. At first glance an image of nature bursting forth, it becomes apparent that the driving force does not originate in the ground but is manmade; the rootless tree more an idea or metaphor. In Limb Replantation (2021), burly workmen appear in the process of 'fixing' the tree trunk, the figures themselves exhibiting a guileless innocence at the futility of this laborious task.
'I like to structure as a whole the artworks' brushstrokes, colours and corresponding relationship between image and viewfinder. Imagining the void that connects them together, for me, is like watching a theatre.'
Chen's paintings often embrace a sense of déjà vu, through allegorical or symbolic motifs that haunt the scenarios. Placing the viewer either close-up to his subjects or at a great distance, the scale is erratic and disjointed, as if the scene is divorced from spatial or temporal reality. A sense of intrusion is emphasised through the motif of shutters or blinds, which act to both obscure and reveal: a physical division between the viewer and the viewed, the object and its comprehending subject.
The confinement of lockdown, the seemingly endless repetition of daily tasks and the discerning sense of melancholy engendered by the pandemic is addressed in Study of Flattening I, II and III (2021) which feature female figures ironing swathes of white material on bright-coloured ironing boards. Enveloped in steam, the scene seems distant, as if a memory, while the thick horizontal bands of the venetian blind, which run across the top of each painting, suggest we the viewer are close-up, peering through a window. Partially obscured by the blind, the woman is faceless, impersonal; an abstracted vision.
In The Shutters (2021), a man in a bedroom, half-dressed in a blue shirt, peers through the gaps of a broken blind, the bleary look on his face illuminated by warm morning light. The painting's palpable atmosphere of isolation and claustrophobia – of physical entrapment – is accentuated by the neat, slanting shadows of the blind thrown onto the adjacent wall, which recall the bars of a prison cell.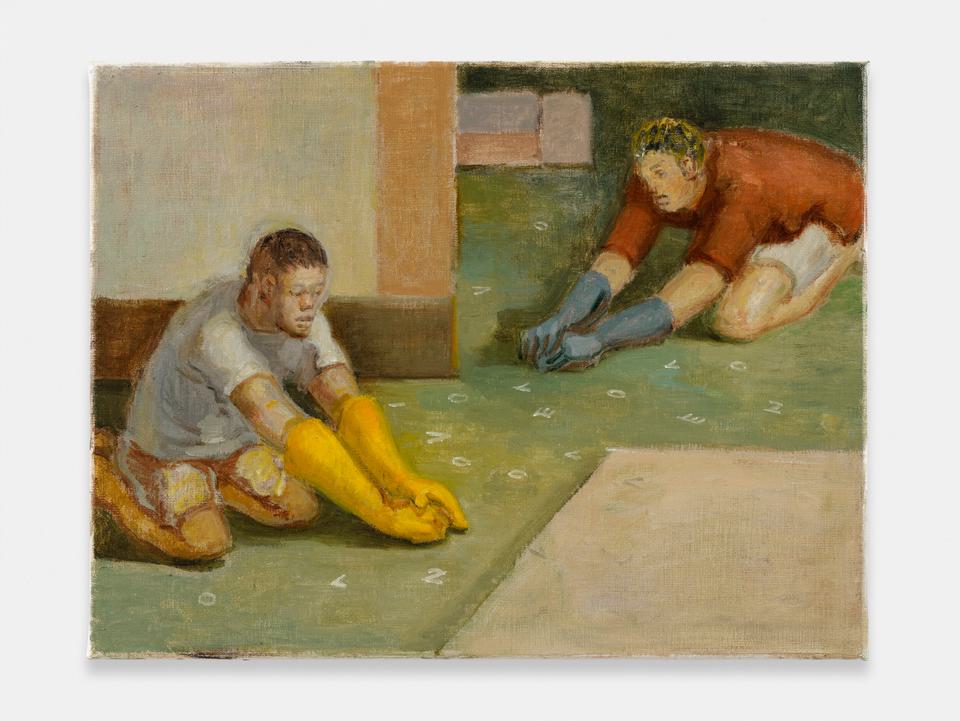 Chen Ching-Yuan
The Gloves I, 2021
In The Gloves I and II (2021), similar domestic chores appear freighted, and the sense of internal isolation – and distance from outside 'reality' and hence an accepted 'truth' – is further heightened. In both works the gloves serve to not only protect the wearer but also to create distance: a literal barrier to physical contact.
Capturing changing scenarios, Chen's paintings evoke the continuum of time, each work offering a partial glimpse into a larger narrative.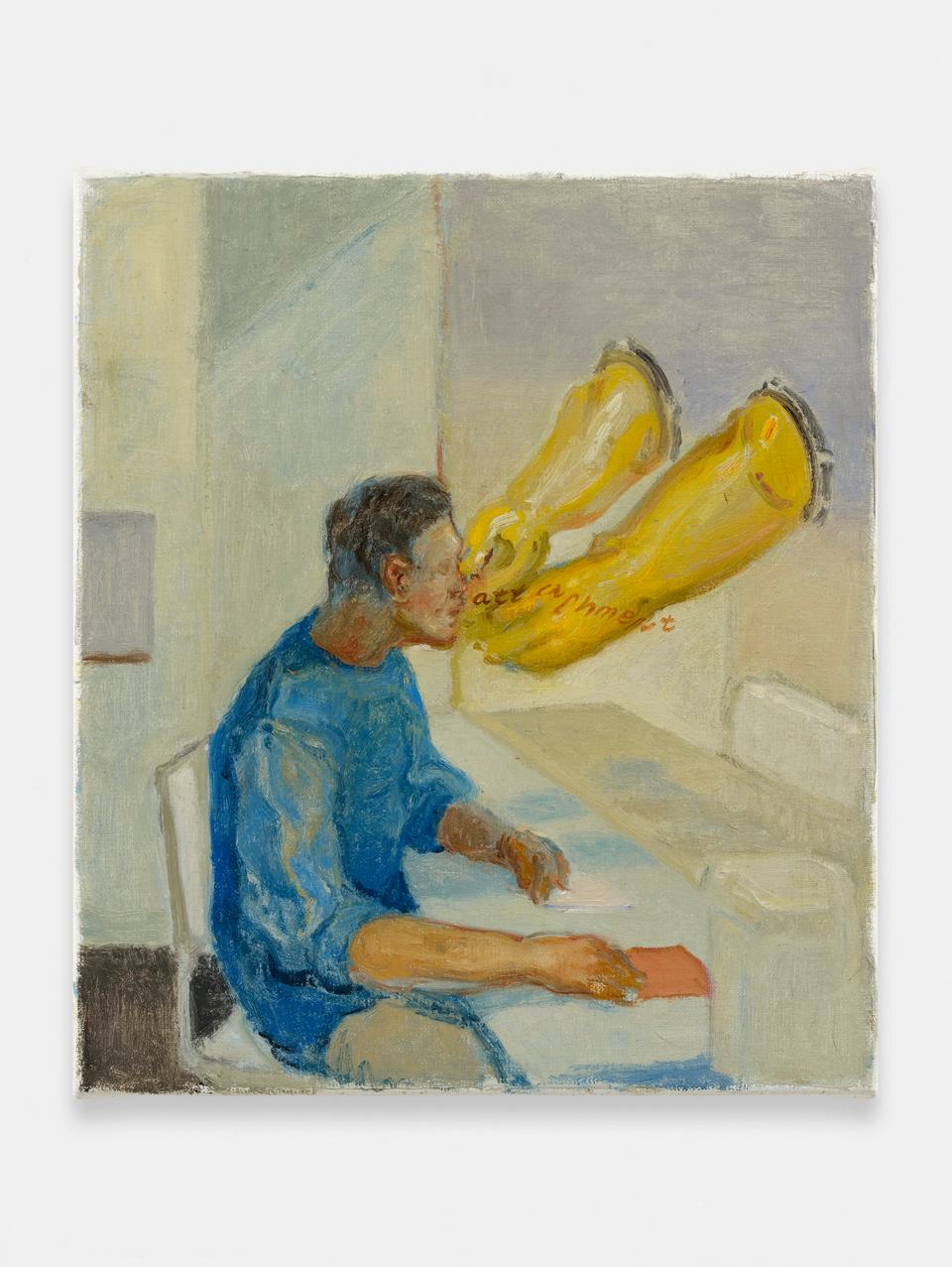 Chen Ching-Yuan
The Gloves II, 2021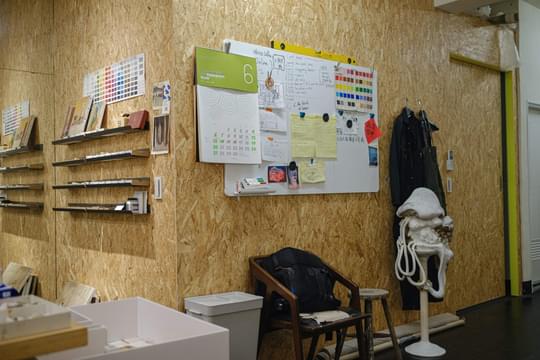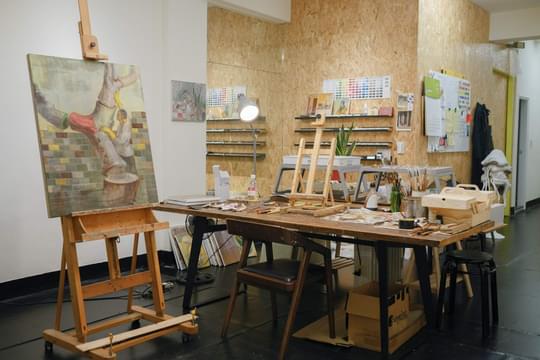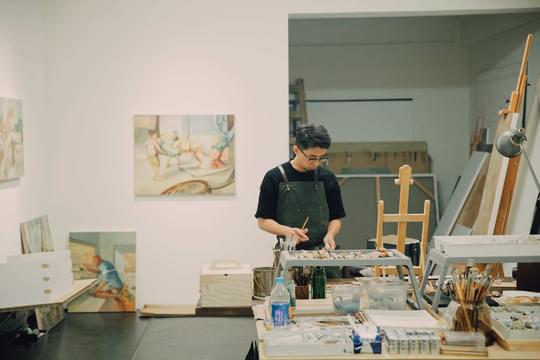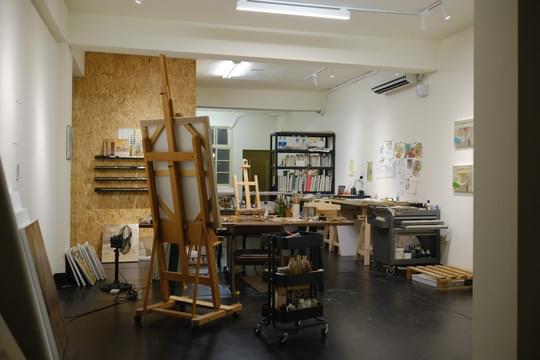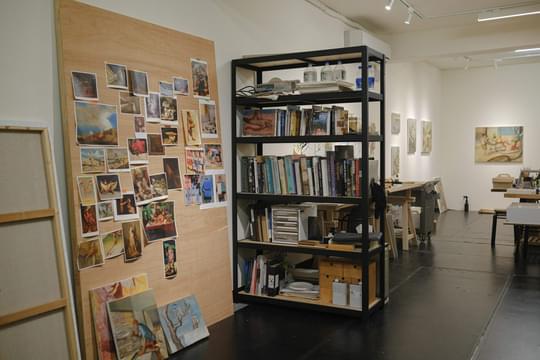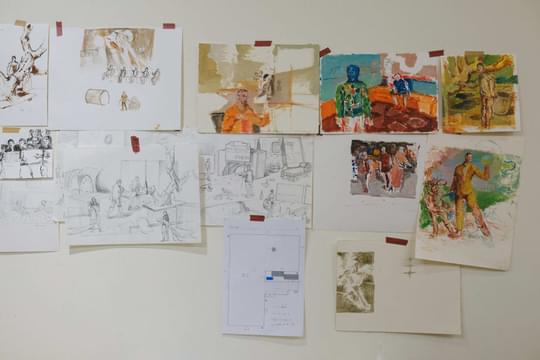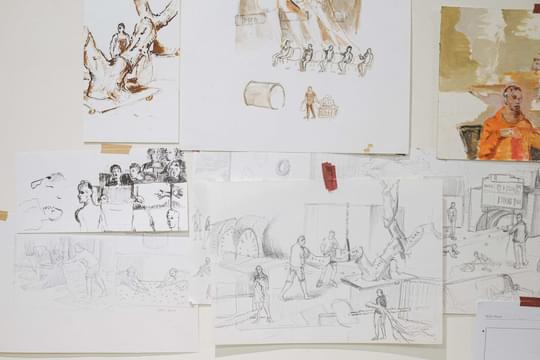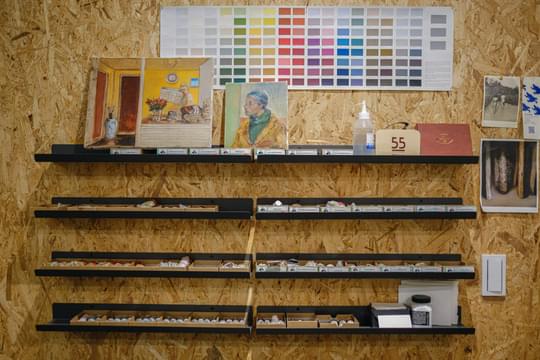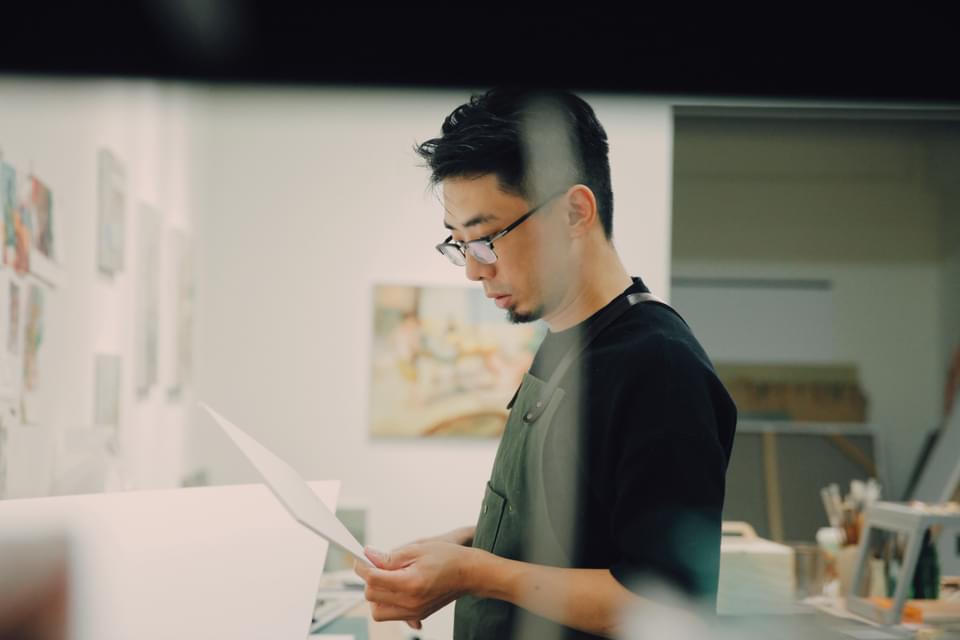 Chen Ching-Yuan was born in Tainan, Taiwan, in 1984 and is currently based in Taipei, Taiwan. He received his MFA in 2013 from the School of Fine Arts of the Taipei National University of the Arts. Chen's notable solo exhibitions include 'Card Stunt', Mor Charpentier, Paris, France (2019); 'The Spider on Ship', ITPARK, Taipei, Taiwan (2017); 'What am I ? If I can't be yours', TKG+, Taipei, Taiwan (2016); 'Un title', ITPark, Taipei, Taiwan (2015); 'Gestos — Até os olhos da ilha', Logo Gallery, São Paulo, Brazil (2014); '(flare-s) Chen Ching-Yuan × TKG+ Projects', TKG+ Projects, Taipei, Taiwan (2013); 'Staggering Matter', TKG+, Taipei, Taiwan (2011), and 'The LiQUiD STATE', VT Artsalon, Taipei, Taiwan (2009). He has exhibited internationally, including the 8th Asia Pacific Triennial of Contemporary Art, Queensland Art Gallery | Gallery of Modern Art, Brisbane, Australia (2015); Asia Triennial Manchester, Manchester, U.K. (2014); and 7th Busan International Video Festival, Space Bandee, Busan, Korea (2010).
---