Introductions | Antonia Showering
Introductions | Antonia Showering
18 August – 3 September 2020
The gulf between accurate recollection and false memory is explored in the richly toned and layered paintings of Antonia Showering (b. 1991). Combining elements of her cultural heritage with personal experience, the paintings' fluid forms, both figurative and abstract, point to the deeply-subjective nature of representation.

'Introductions | Antonia Showering' is curated by Susan May, Global Artistic Director.
---
Showering's process begins with the application of distemper onto raw canvas placed flat on the floor, loosely brushed across the surface. The first coats of paint pigment react with this ground, creating fluid, abstract forms in pools of colour. Rather than work against these, Showering uses them as the basis for scenes that emerge through subsequent layers; sometimes suggestive of landscapes that meld her Swiss and Chinese heritage, at others, evocations of domestic scenes or events.
Pentimento – the visible trace of earlier marks that have been painted over – becomes the organising principle for the works, with Showering also rotating the canvases throughout the process as a way of de-familiarising herself with the imagery and a means to find harmony and balance in the colour relationships. Narratives then materialise, of 'stacked recollections', in which a simple motif with a particular association or kinship, is overlaid with new motifs, to build the scene as a whole.
'The ups and downs of a mountain-scape remind me of a lifeline, or heartbeat, beating up and down.'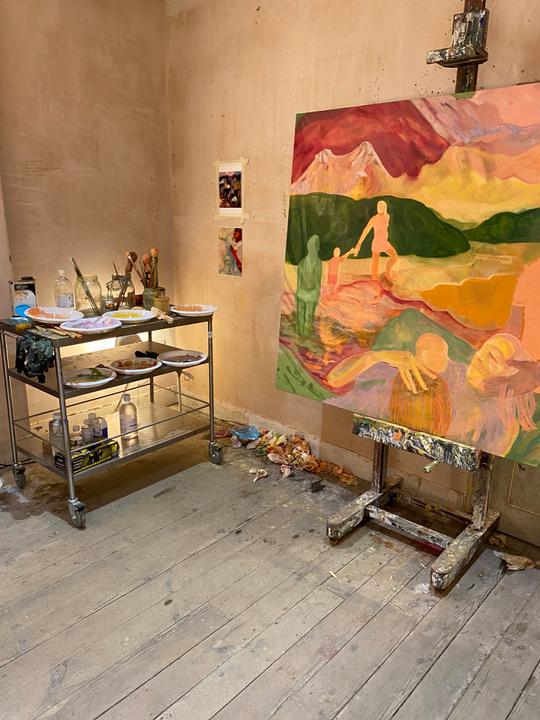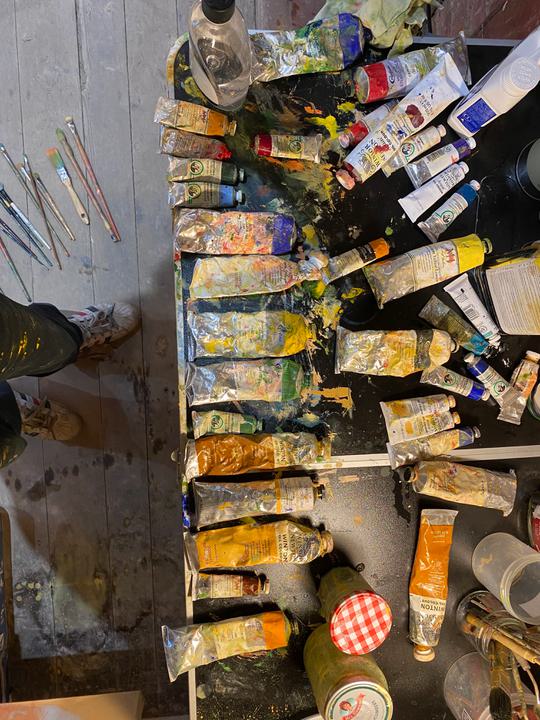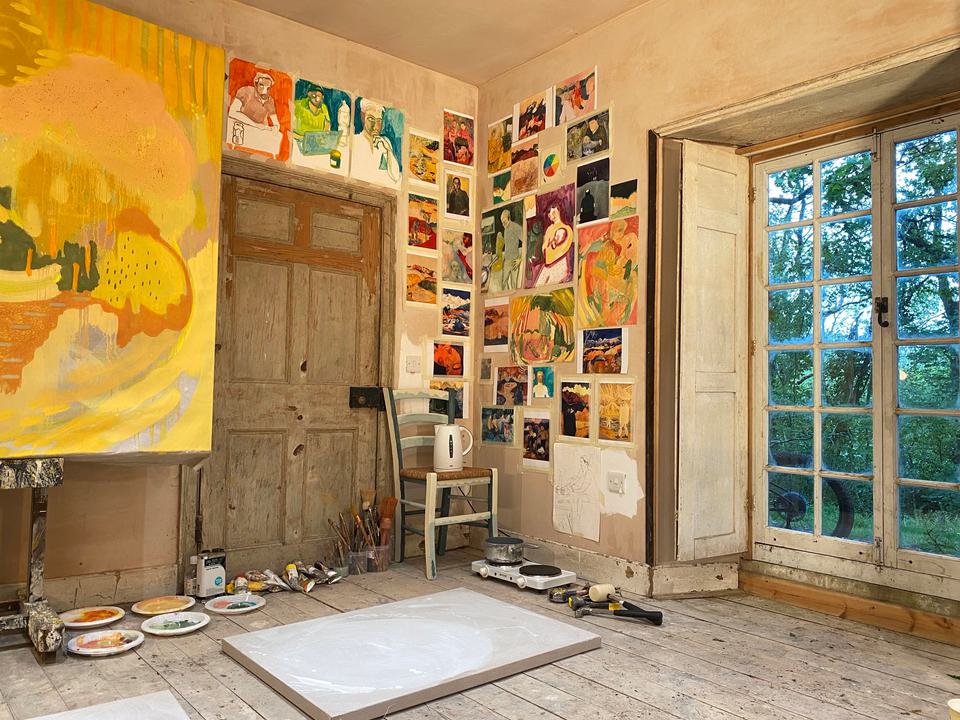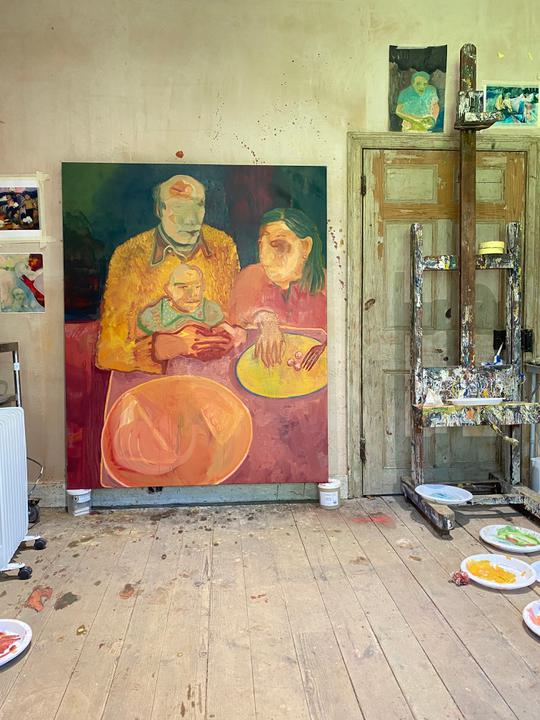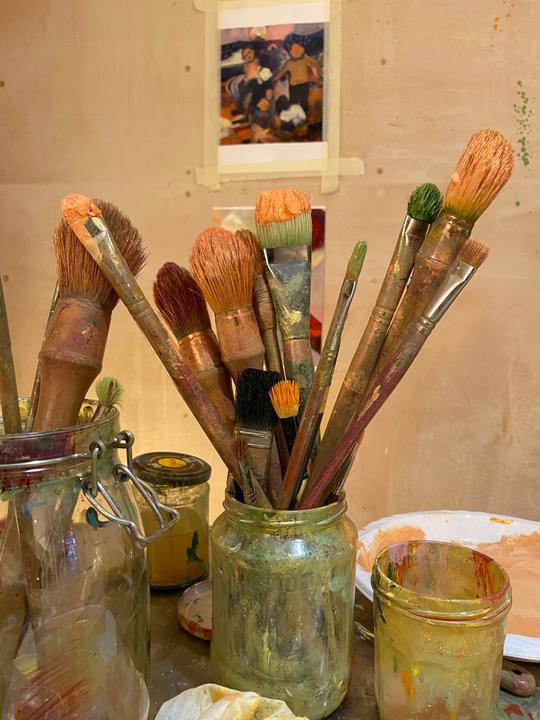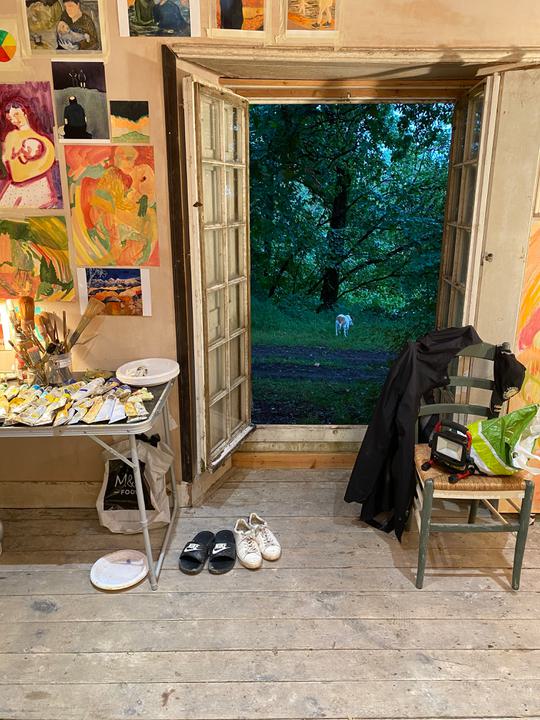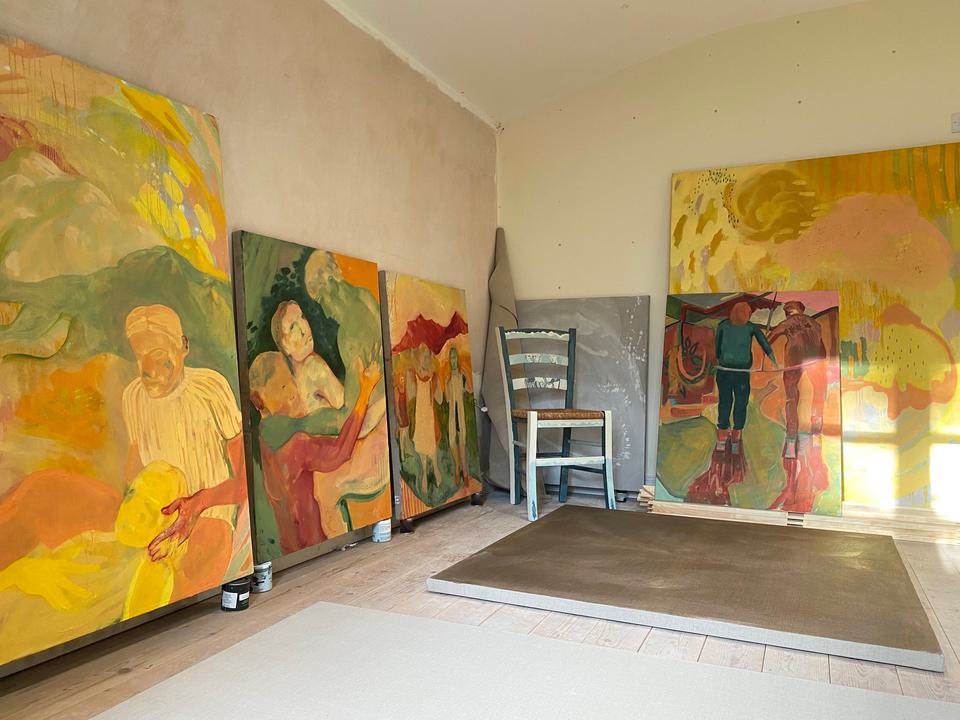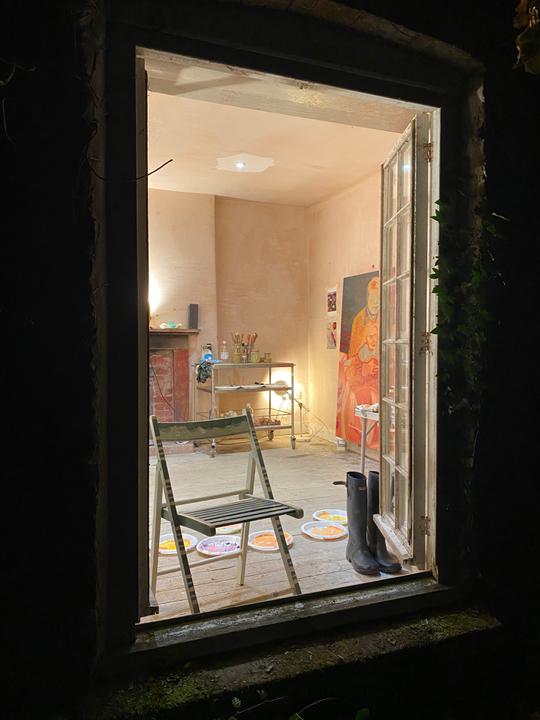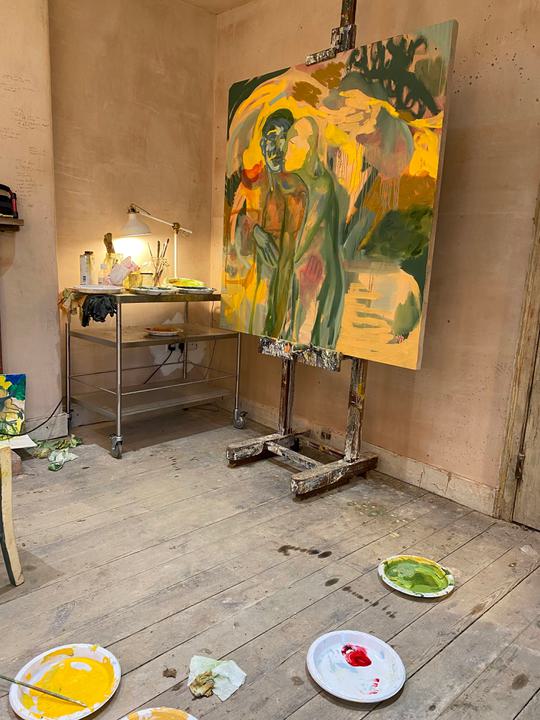 For Showering, the paintings occupy the interstice between recent encounter and deep-rooted memory. Many of the works in the exhibition were made during a period of complete isolation. In the absence of intimacy and touch, the artist then found her subjects intuitively, switching between non-platonic relationships and familial ties. Lovers embrace in private spaces. Infants are cradled at family gatherings. Hands reach out to others, conveying a sense of yearning for physical contact.
'Parents become grandparents, brothers becoming fathers, people are born and people leave us, relationships start followed by innumerable tears shed on the balcony following their ending, witnessed by these mountains - frozen, seemingly immune to time.'
'I am trying to integrate emotional experiences with abstracted form; the unexpected happenings when these two things meet.'
Water is a recurring motif, congruent with memory – reflective, evanescent, liquid – and as an entity that conceals or obscures hidden depths. In works such as Endless Search (2020), We Stray (2020) and Maisie (2020), the ripples of a mountain lake swirl and jostle in contrasting hues of pink, yellow and green, inculcating the scene with hallucinatory potential. The paintings echo some of the formal characteristics of the late 19th-century works of Les Nabis and the Symbolists, but also in the tender portrayals of domestic life by artists including Paula Modersohn-Becker. Both painters also share a strong affinity with nature, inspired by the landscape of memory and their particular surroundings.
'The disorderly nature of how recollections are held in our minds interests me.'
The narratives that materialise out of Showering's artistic process are simultaneously personal and universal. Most prevalent is that of love, in all its myriad forms. It remains the leitmotif: unconditional, reciprocal or as hopeful projection.
'Extracting a specific, singular experience is impossible, as the more we learn and live, the more the memories we hold onto morph and grow with us.'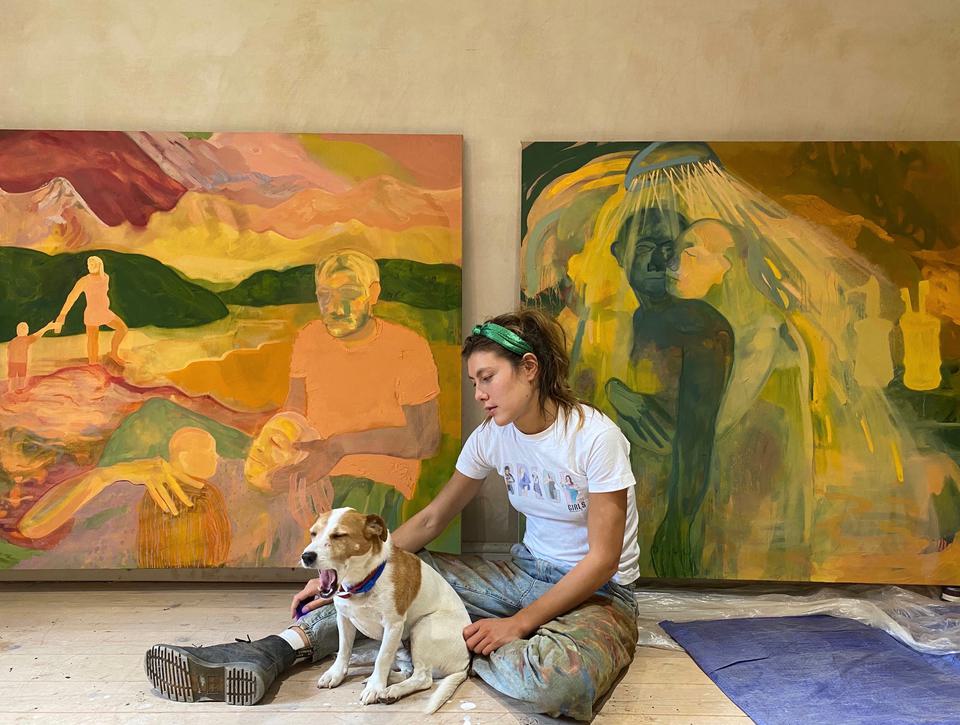 Antonia Showering (born 1991, London) lives and works in London and Somerset. She graduated with a MFA from the Slade School of Art, London in 2018 and a BA (Hons) from City and Guilds of London Art School in 2016. Recent group exhibitions include 'Dwelling is the Light', Timothy Taylor Gallery, London (2020); 'Out of This World', Stephen Friedman Gallery, London (2019); 'Adieu to Old England, the Kids are Alright', Choi & Lager, Cologne (2019); and 'Bloomberg New Contemporaries', South London Gallery (2018). Residencies and awards include 'Bloomberg New Contemporaries SPACE (studio bursary), London (2019); 'The Great Women Artists Residency', Palazzo Monti, Brescia (2018); and Chelsea Arts Club, London (2017).