Artists: 

Jamiu Agboke
Alia Ahmad
Mona Hatoum
Mary Herbert
Tomas Leth
Drawing inspiration from Leonardo da Vinci's A Treatise on Painting (c.1482–1508), and taking its title from Ada Limón's poem, 'In the Shadow', this presentation considers the phenomenon of pareidolia – the tendency to perceive patterns and forms in unlikely places – as a valuable artistic device which enables imagination to rule over perception.

In much of Limón's poetry she writes about the interconnected and sometimes conflicting relationship between the personal drama of our lives and our surroundings. In the poem 'In the Shadow' she says 'I am always superimposing a face on flowers […] It is what we do in order to care for things, make them ourselves, our elders, our beloveds, our unborn.' Here she seems to question if we can ever look at nature without anthropomorphising it.

The works in this exhibition show nature variously abstracted; some including hazy figures, others animated by amorphous shapes, or open expanses of space. They revel in playing with our perception, suggesting further images beyond what is immediately recognisable.

In his collection of writings, da Vinci advised his disciples to look carefully at their surroundings and at nature, in order to discover a parallel world of imagery. Through the contemplation of clouds, stains on a wall or even ashes from a fire, he promised, one could find an infinite number of wondrous things. In images that strive to 'see beyond' and by willingly unravelling fixed vision, landscape and abstraction can lead to the fantastical.

Hannah Gruy is a Director at White Cube. 'In the Shadow' marks her second curated showcase with the gallery, following the 2016 exhibition 'History of Nothing' at White Cube Bermondsey, London. In 2021, she was part of the curatorial team that selected 20 Fine Art graduates whose work was featured in White Cube's online exhibition 'Tomorrow 2021'.
Mona Hatoum's ongoing series of drawings combine the abject with the sublime, responding to the poetics of everyday materials and to the procedures of chance formation. Carefully outlining the edges of grease stains left on takeaway plates, Hatoum creates a random network of land masses or cloud-like shapes; a celestial map in which other images can emerge from the space between these nebulous forms.
Tomas Leth foregrounds the surface texture, organic patterns and mutable character of his paintings. Taking inspiration from Impressionism, and its emphasis on registering time and atmosphere, Leth harnesses the interstices and flux within abstraction to bring new and unfamiliar forms into focus. Working primarily in dry pastels and oil pastels, the paintings are the result of a process of delicate, layered mark making, that suggest germinating spores, dividing cells, spreading moss or metal oxidation. Using a rich palette of ochre and gold, burgundy and turquoise, the images evoke the mysterious or mystical in place of the immediately recognisable.
Jamiu Agboke's charged, verdant, landscape paintings bridge different modes of registering our surroundings. Using a palette of soft greens to build a sombre, brooding atmosphere, akin to the moment before a storm breaks, the landscapes feel illusory yet referential, slipping between visual coordinates and particular spatio-temporal conditions. This applies equally to the protagonists in Agboke's paintings, who seem part of and yet distinct from their surroundings. Based on landscapes familiar to the artist, the gestural brushstrokes not only imply the movement of trees, water or sky but also evoke the artist's recollections of being immersed in nature.
Pareidolia: the tendency to perceive patterns and forms in unlikely places
In her practice, Alia Ahmad narrates the convergence of memory, place and landscape. Drawing on childhood impressions of growing up in the distinctive industrialised desert of Riyadh, Ahmad offers placid dreamscapes, built up through structured compositions. Her imagery – which encompasses written as well as visual motifs – welcomes the emergence of unexpected forms between gestures, as well as the dissolution of object into landscape and figure into ground. She states that her work 'plays on the tense contradiction that exists between the extreme emptiness of this place and its lush characteristics', referring to her pictures as 'blueprints' that transform with each application of paint.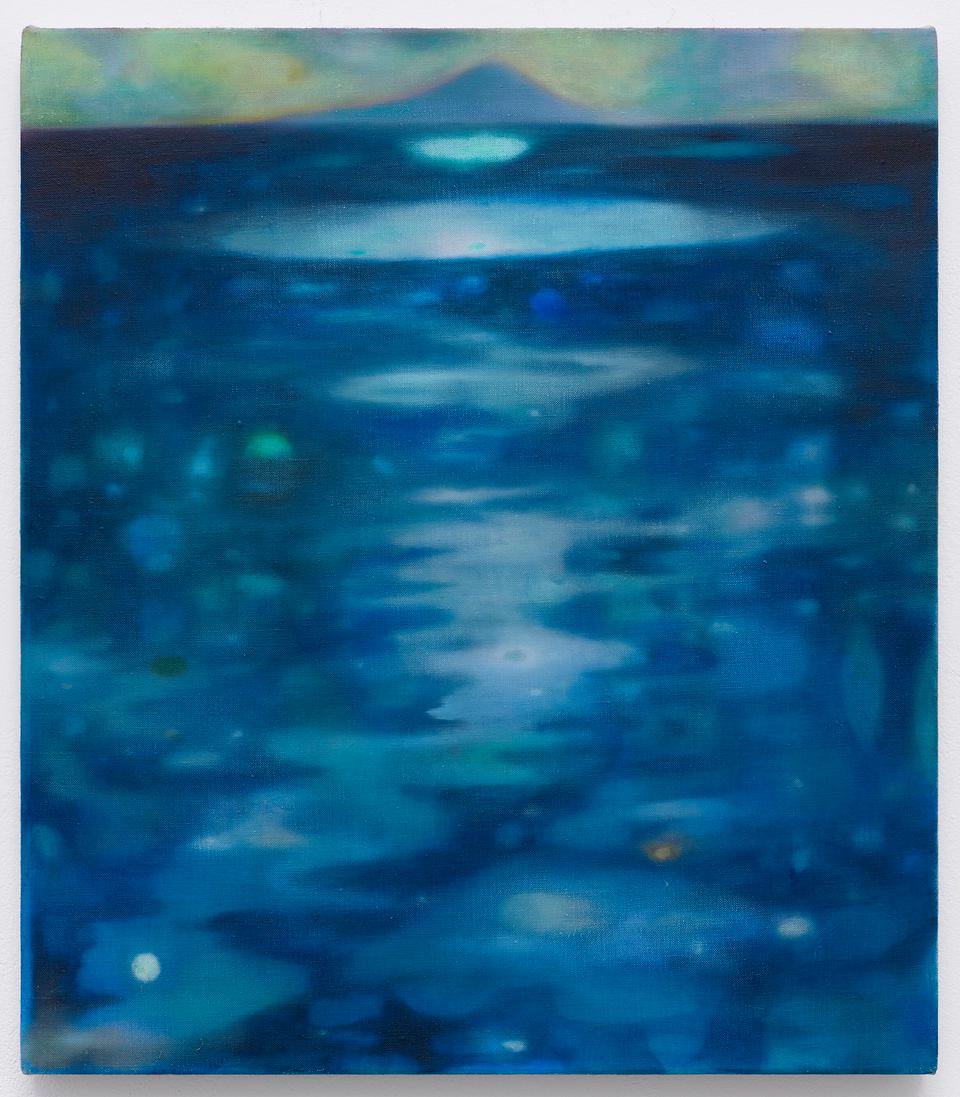 Mary Herbert
Sister Seaglass, 2022-2023
Price upon request
Mary Herbert layers observable and inner worlds in her paintings, heightening the viewer's visual perceptiveness whilst also inciting introspection. Through the application of veiled washes of colour, Herbert fuses the human form with the landscape, offering open-ended narratives at the same time as rousing a 'breath' in which to embrace the moments of silence within each composition. Light functions as a force akin to gravity; hands, feet, water and rocks glow and shift in and out of focus, eliciting an emotive response and engaging sensory observation. Characterised by a translucent luminosity, the paintings exude an ethereal radiance, fostering empathetic engagement and bridging the conscious with unconscious perception.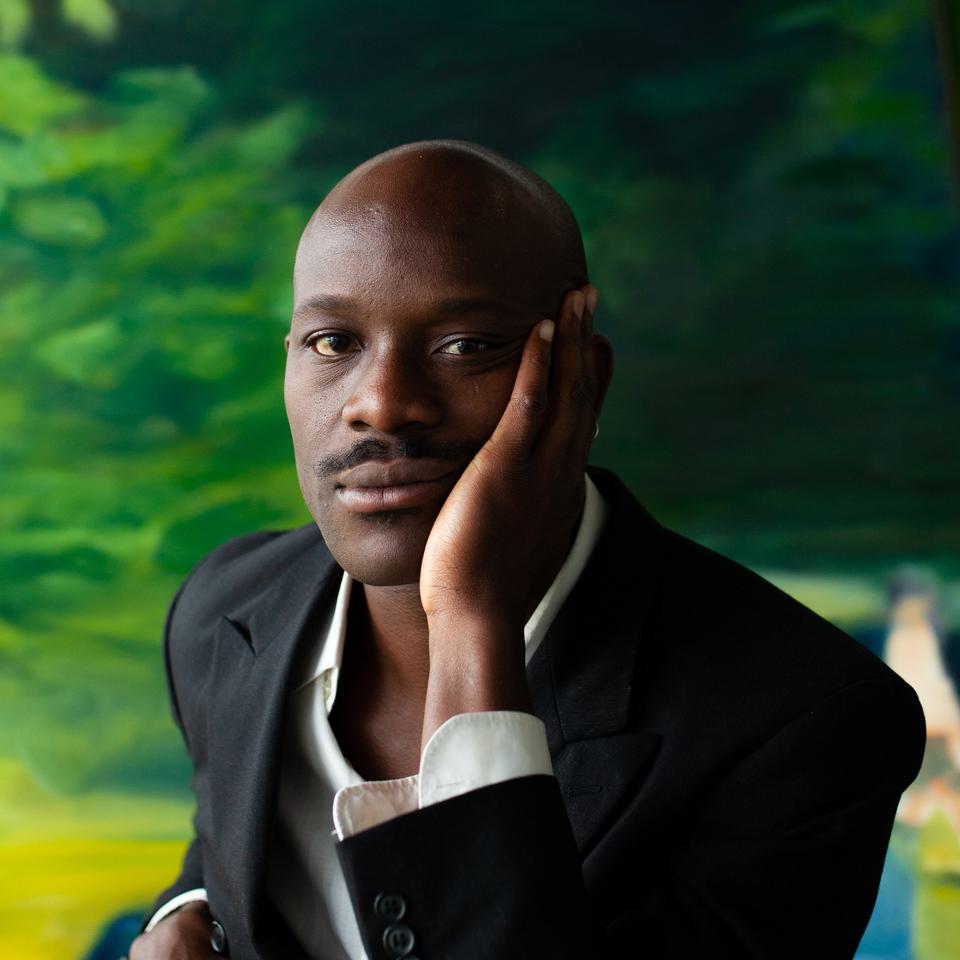 Jamiu Agboke (b.1989, Lagos, Nigeria) lives and works in London. Agboke graduated from the Royal Drawing School, London, in 2022. His first solo exhibition, 'Dark Waters', opened at VIN VIN, Naples, Italy, earlier this year. Recent group exhibitions include 'Project Space // Kane le Bain' (2023), London; Jack Barrett, New York (2023); Guts Gallery, London (2022); The Split Gallery, London (2022); and VIN VIN, Vienna (2022).
Alia Ahmad (b.1996) lives and works in Saudi Arabia. Ahmad received a BA in Digital Culture from Kings College, London, in 2018, and a Master of Research in Fine Arts from the Royal College of Art, London, in 2020. Recent solo exhibitions include Kohn Gallery, Los Angeles, California (2022); Hafez Gallery, Jeddah, Saudi Arabia (2022); and Gallery BAWA, Kuwait City (2021). Group exhibitions include Green Family Art Foundation, Dallas, Texas (2023); CICA Vancouver (2023); 21,39, Jeddah Arts, Saudi Arabia (2021); and Design Museum, London (2020), among others.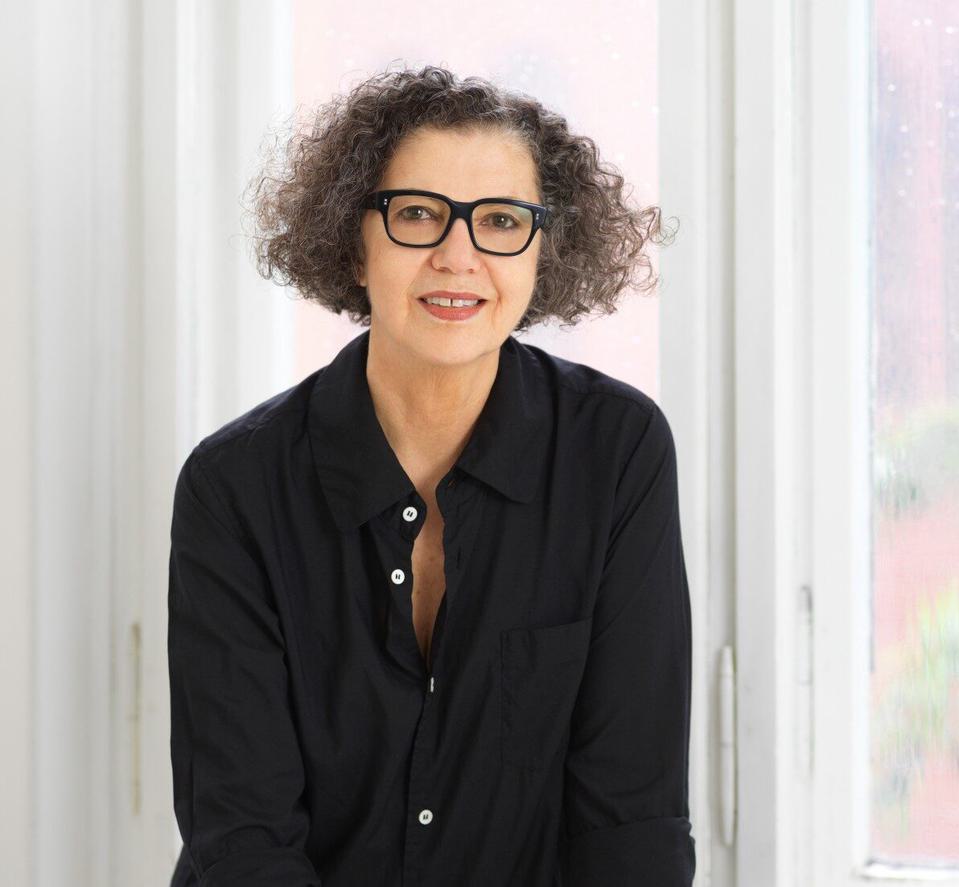 Mona Hatoum was born into a Palestinian family in Beirut, Lebanon in 1952 and has lived and worked in London since 1975. Solo exhibitions include KINDL – Centre for Contemporary Art, Berlin (2022-23); Georg Kolbe Museum, Berlin (2022-23); Neuer Berliner Kunstverein, Berlin (2022); Magasin III, Stockholm (2022); Valencia Institute of Modern Art, Spain (2021); Hiroshima City Museum of Contemporary Art, Japan (2017); Menil Collection, Houston, Texas, touring to Pulitzer Arts Foundation, St Louis, MO (2017-18); Centre Georges Pompidou, Paris, touring to Tate Modern, London and Kiasma Museum of Contemporary Art, Helsinki (2015-16).

Read Mona Hatoum's full biography.
Mary Herbert (b.1988, Welwyn, UK) lives and works in London. Herbert received a BA (Hons) in Fine Art and Contemporary Critical Studies from Goldsmiths University, London, in 2010, as well as a Postgraduate Diploma in Drawing from the Royal Drawing School, London, in 2018. Recent solo exhibitions include Moskowitz Bayse, Los Angeles, California (2021) and Lychee One, London (2021). Selected group exhibitions include Meyer Riegger, Berlin (2023); British Museum, London (2022); Huxley Parlour, London (2022); Arusha Gallery, Edinburgh (2021); Fortnight Institute, New York (2021); Leeds Art Gallery and South London Gallery, UK (2019). Her work is in the collections of the British Museum and the Royal Collection, London.
Tomas Leth (b.1981, Denmark) lives and works in Copenhagen. Recent solo exhibitions include Paulinha Caspari, Munich, Germany (2023) and ADZ Gallery, Lisbon (2022). Group exhibitions include ADZ Gallery, Lisbon (2023, 2021); The Royal Academy of Fine Arts, Copenhagen (2021); Galleri Tom Christoffersen, Copenhagen (2020, 2018) and Arcway Nightlands Connector, Copenhagen (2019).
---