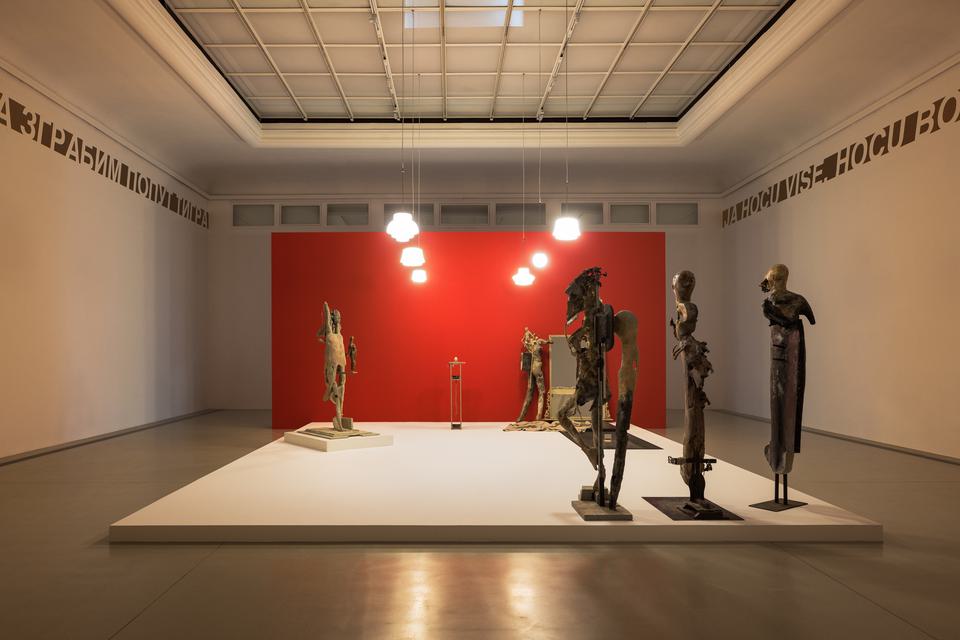 3 June - 24 September 2023
Graz, Austria
Halle Für Kunst Steiermark presents a new exhibition of sculptures and a painting by the artist duo TARWUK. Titled 'Бољи живоt' – a Croatian phrase meaning 'better life' – the exhibition explores themes of identity, language, metamorphosis and Selfhood.

In response to the gallery's architecture, the works in the exhibition are installed across several prominent structural features of the space. Adorning the sides of the main gallery, a golden frieze inscribed in Latin and Cyrillic script displays passages from the theme song of a classic Yugoslavian television show, to which the exhibition title directly refers. Complementing these friezes are paintings that have been seamlessly integrated into the architecture, such as MRTISKLAAH_Yremogtnom: Gnidnatsrednu_fo_Noitavitluc (2022), which is prominently displayed on the back wall of the gallery's apse, serving as the final element of the show. Showcased throughout the space on theatrical pedestals, the artists' scenographic sculptures, crafted from found or recycled materials, evoke carnivalesque mise-en-scènes.

'Бољи живоt' marks TARWUK's first solo exhibition in Austria.