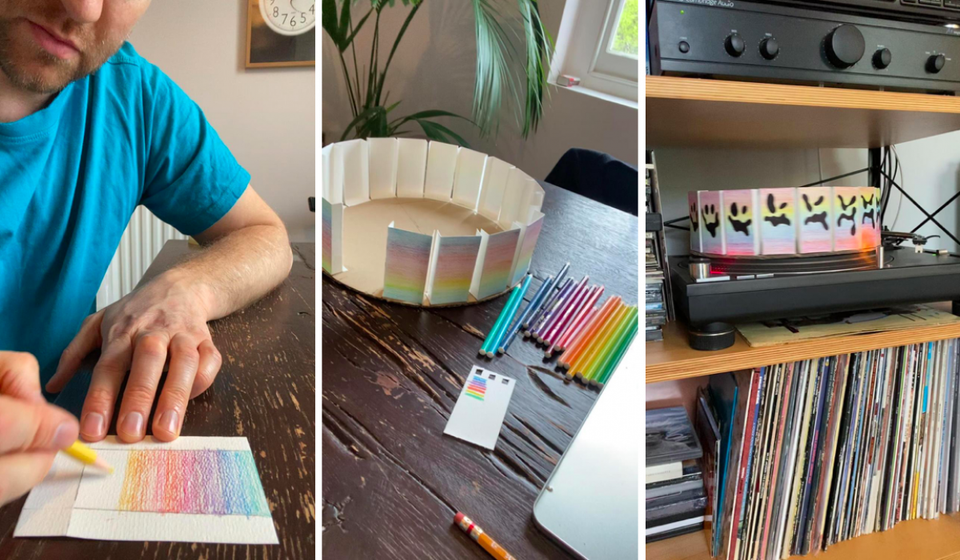 1 January - 31 December 2020
A zoetrope is a 19th-century optical toy consisting of a rotating cylinder which gives an impression of continuous motion.
Eddie Peake's practice encompasses performance, video, photography, painting, sculpture and installation. His work is an often-energetic spectacle in which the absurd and the erotic each find a place, and in which the artist plays a central role.

Here's what you'll need to make your Eddie Peake-inspired zoetrope:
A record player, two types of cardboard (thin and thick), colouring pencils, scissors and glue.
Instructions
1. Draw around a record player's slipmat onto thick cardboard and cut out the circle, taking care to include the centre hole.
2. Create 18 card panels with the thinner card, folding the edges and sides in at 5mm.
3. Mark out where the panels will sit on the edge of the cardboard disc, leaving 8mm gaps between each one.
4. Draw on the panels, making small incremental changes on each one.
5. Stick them to the disc.
6. Attach to the record player and turn it on.
9. Share photos of your zoetrope using the hashtag #EddiePeake

Artist's tips:

'This is a DIY zoetrope, but be as simple or elaborate as you like - try a face with blinking eyes, stick figures in motion or a squiggly line that jumps around, or make little sculptures instead of drawings. You could also draw on the insides of the panels, like an old-fashioned zoetrope.' – Eddie Peake