Events
Frieze Masters x NPG: Gilbert & George in conversation with Dr. Nicholas Cullinan
Posted: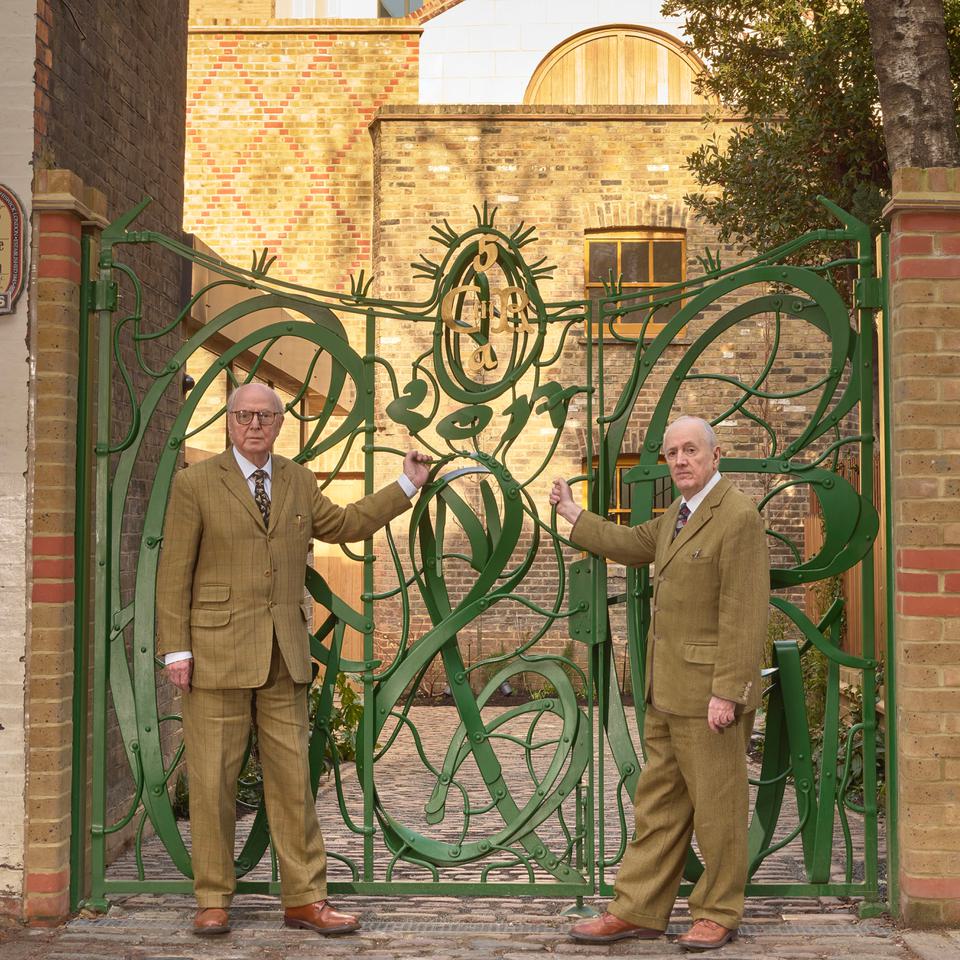 7:30 – 8:30pm
13 October 2023
The Ondaatje Wing Theatre / Online Livestream
Join Gilbert & George in conversation with Dr. Nicholas Cullinan, Director of the National Portrait Gallery, as part of the Frieze Masters Talks Programme, to discuss over 50 years of creating art, the opening of the Gilbert & George Centre and their plans for the future.

For Gilbert & George, icons of modernism in classic suits, 'our whole life is one big sculpture'. Implicit in their philosophy is the idea that personal investment is a necessary condition of art, and their monumental commitment to 'living sculpture' has endured for over five decades. As the starring characters of their art, theirs is a perpetually growing body of art corroborated by every public appearance and statement. 'Our subject matter is the world,' they say, and their wide filter enables them to address shifting social mores around sex, identity, religion, violence, prejudice, addiction and death, and to challenge the tastes and conventions of contemporary art.

Book tickets here.

The talk will be audio recorded and released at a later date on the Frieze Masters Podcast.
---
Gilbert & George
live and work in London. Recent solo exhibitions include their Auckland Art Gallery Toio Tāmaki, New Zealand (2022), and their touring retrospective exhibition at Schirn Kunsthalle, Frankfurt (2021), Kunsthalle Zurich, Switzerland (2020), Moderna Museet, Stockholm (2019), Astrup Fearnley Museum, Oslo (2019), and LUMA, Arles, France (2018), as well as solo exhibitions at Casa Rusca Museum, Locarno (2020); Fondation Louis Vuitton, Paris (2019); Helsinki Art Museum, Finland (2018). Since 1967 when they met, Gilbert & George have made over 100 museum exhibitions. In spring 2023, the Gilbert & George Centre in East London opened to the public.
Nicholas Cullinan
took up his position as the Director of the National Portrait Gallery in spring 2015 following his role as Curator of Modern and Contemporary Art at the Metropolitan Museum of Art in New York. Prior to this, from 2007 to 2013, Nicholas was Curator of International Modern Art at Tate Modern where he co-curated an exhibition of Henri Matisse's cut-outs with Sir Nicholas Serota in 2014. Nicholas received his BA, MA and PhD in art history from the Courtauld Institute of Art in London and in 2006–7 he held the Hilla Rebay International Fellowship at the Guggenheim museums in Bilbao, New York and Venice.