Voix Intérieures
9 September – 7 October 2022
Dates
9 September – 7 October 2022
Location
10 avenue Matignon
75008 Paris

'"Voix Intérieures" translates as inner voices in English, and to mark the occasion of my first exhibition in France I want to consider a linguistic expansion alongside the development of my paintings. As I push to refine my use of line, colour and composition, I also begin to consider how the central figures in my paintings respond to each new cultural environment they are presented in.'
White Cube is pleased to present 'Voix Intérieures', an exhibition of new work by Nigerian/British, New York-based artist Tunji Adeniyi-Jones. His first solo show in Paris, the selection includes a series of large scale oil paintings, as well as smaller watercolour, ink, gouache and acrylic paintings and works on paper, all of which focus on an expressive form of figuration resonant with movement and the chromatic interplay of fluid, organic form.
Adeniyi-Jones's paintings evolve from a perspective of 'cultural addition, combination and collaboration', celebrating the idiom of the Black body and the cultural lineage of his West African heritage. 'The bodies and forms depicted in these works can all be derived from the African continent, and more specifically rooted in a mythology emanating from the West African coast [...] The figures in my work are expressions of my identity and there is something very rewarding about using the body as a vehicle for storytelling', the artist has stated.

The rich, vivid pictorial language and the sense of cultural hybridity at the heart of Adeniyi-Jones's practice connects the work to a wide art historical spectrum. Acknowledging the influence of Nigerian Modernism, including the work of Ben Enwonwu, and the recent literature of the diaspora, the visual vocabulary of Henri Matisse and William Blake are equally important. An interest in the artists of the Harlem Renaissance where the form of a Black silhouette stood for protest, liberation and, ultimately, creative expression is also at play: 'Silhouettes as a form of resistance and expression of the mythological are of interest to me', says Adeniyi-Jones. Additionally, the palette of Aaron Douglas, the figuration of Bob Thompson, and the modernist forms found in Clara Etso Ugbodaga-Ngu's paintings help to inform an understanding of this body of work.

Set in shallow, compressed pictorial space against a dense background of stylised foliage, Adeniyi-Jones's figures appear un-gendered, conceived as open ended propositions; dynamic physical entities rendered as precise graphic forms. Relating closely to Yoruba mythology as well as to the more expansive notion of a diasporic identity, they can be located across and between histories and spaces, seemingly otherworldly but fully absorbed in their own movement. Often outlined with a pale line, conjuring spirits from a vision or dream, they are composed from an assemblage of bold shapes – ovals, circles or arabesque forms – which in this series have become more defined than in previous work.

Evoking the sense of an alluring spectacle where the body is a narrative instrument and the gestures of dance its primary tool, limbs and hands are conduits for expression, while the figures' mask-like faces, without individualising features, gaze out with white, penetrating, alert eyes. Enacting a sequence of gestures that often mirror or respond to each other, echoing ancient or ritualistic dance, the figures pulsate with an inner life force. The tension that exists between figure and ground provides an overall dynamism that builds across the series, manifesting itself in both form and colour from work to work, at times melding together in a dissolute intermingling of the two.

Adeniyi-Jones pushes his pictorial language forward in these new paintings, further abstracting figures which nonetheless possess an emphatic physical weight, archly emphasising the curvaceous grace of the form and the beauty of a body in motion. In some, the figure appears to disassemble into a series of linked shapes, with its spherical and oval component parts remaining overtly delineated.

Beginning as small-scale line drawings, paintings are executed in palettes of brilliant, saturated colour. By strictly limiting the tonal range within each work, Adeniyi-Jones evokes direct physical sensation through the medium: soft, fleshy colours in a palette of pinks, oranges and scarlet point to intimacy and warmth as with Red Dive and Pink Dive (both 2022). The intense heat of the African sun seems to emanate from a tonal kaleidoscope of oranges and yellows in Gold Twins (2022) while the twilight hour is evoked by the blues, violets and pinks in Cascading Violet and Cascading Violet II (both 2022).

Likewise, flashes of metallic, iridescent colour occur across the works on paper, Voix Intérieures I–X (2022), which form part of a larger group of 25 works. Using gouache alongside acrylic, watercolour and ink, results in an even brighter palette, and a sublimely radiant, luminous and textural surface. Similarly saturated by colour, a group of smaller paintings on canvas are informed by the artist's recent printmaking practice, transforming narrative through this intimate pictorial scale.
Installation views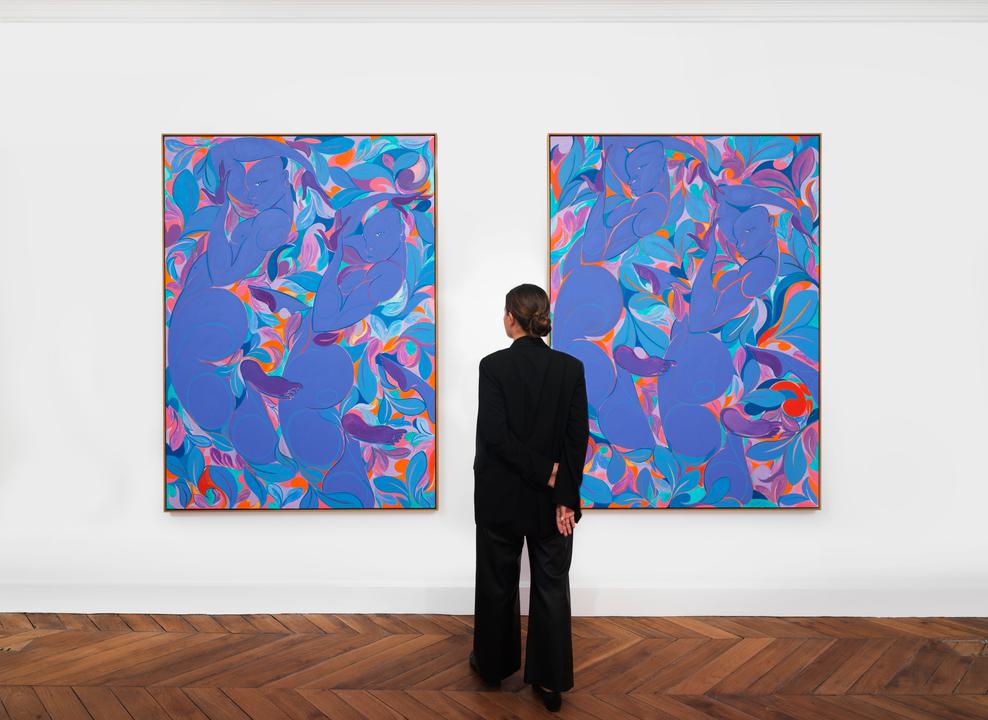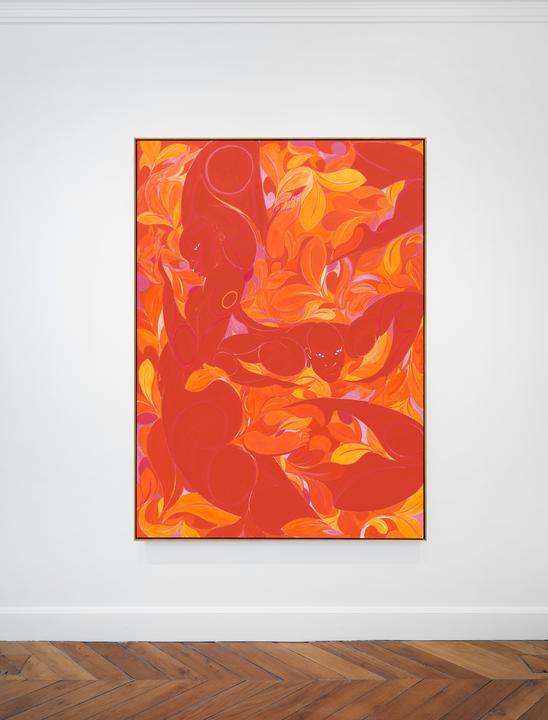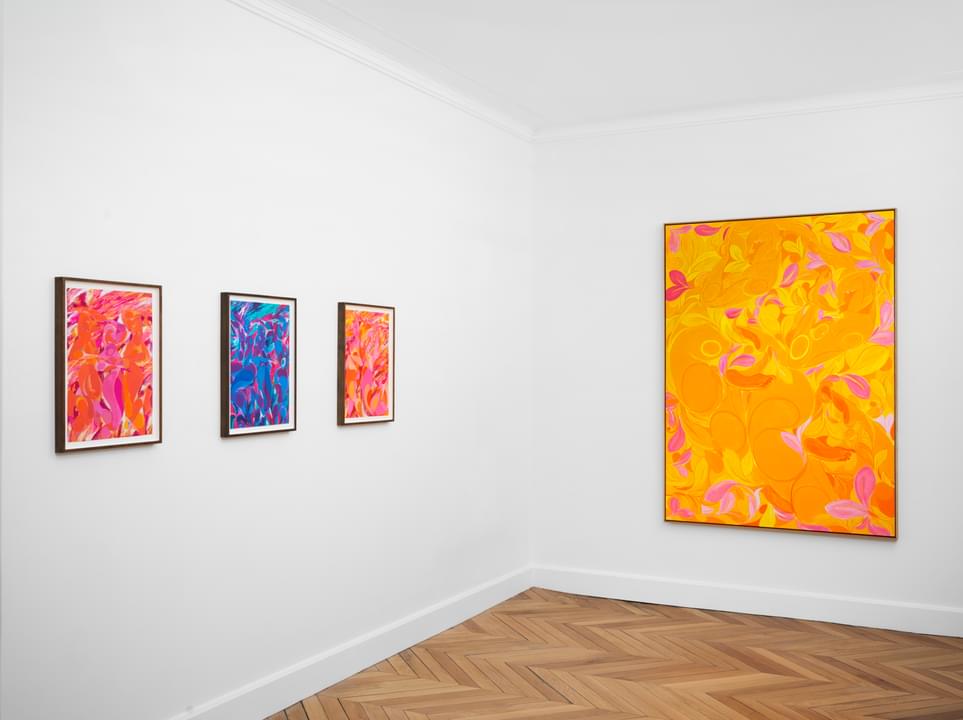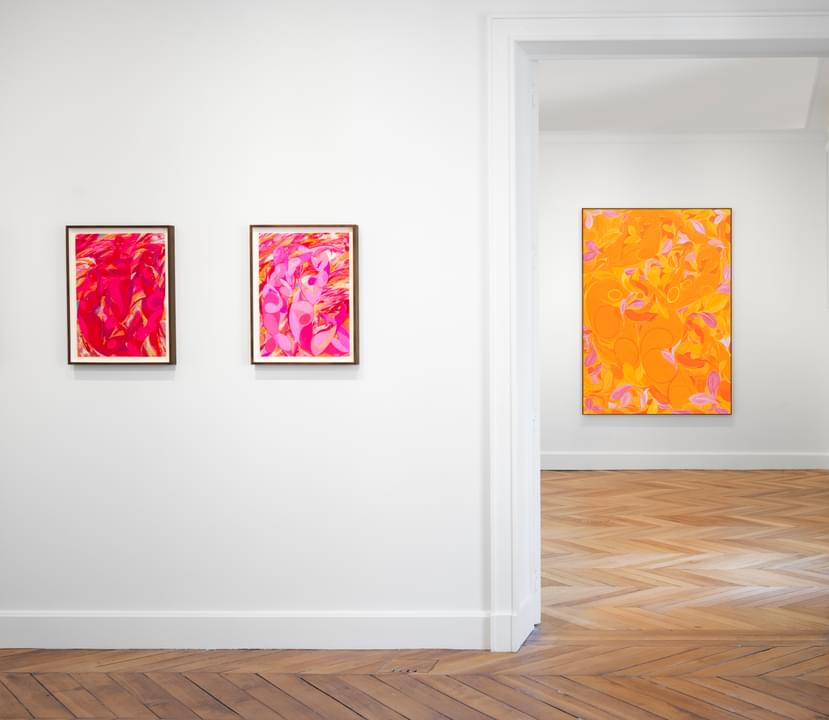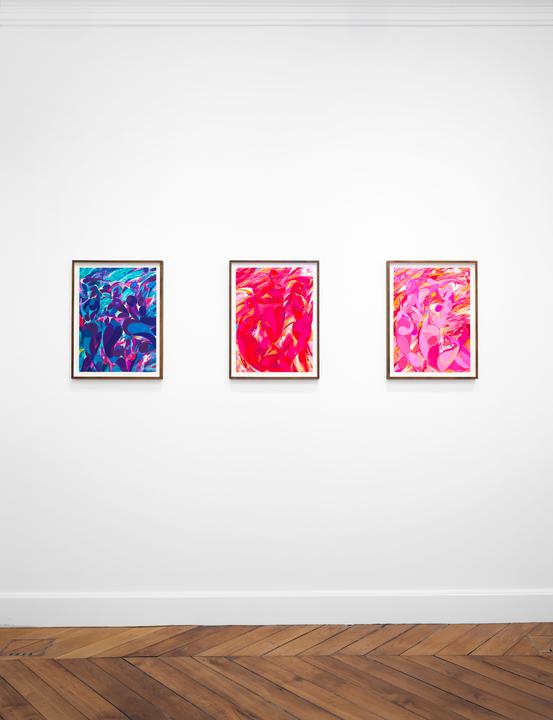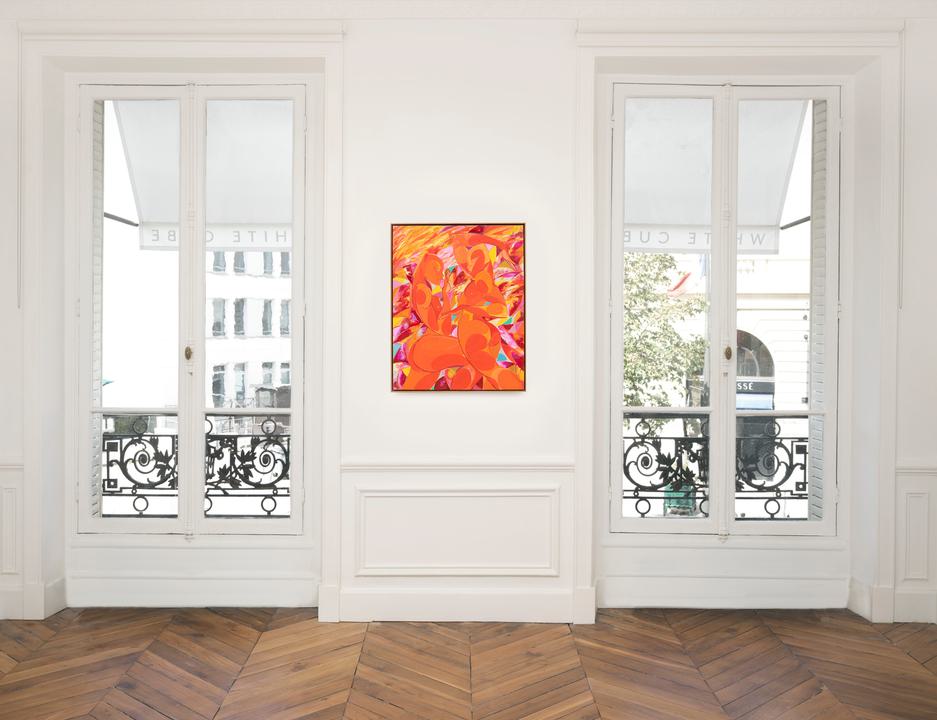 ---
---