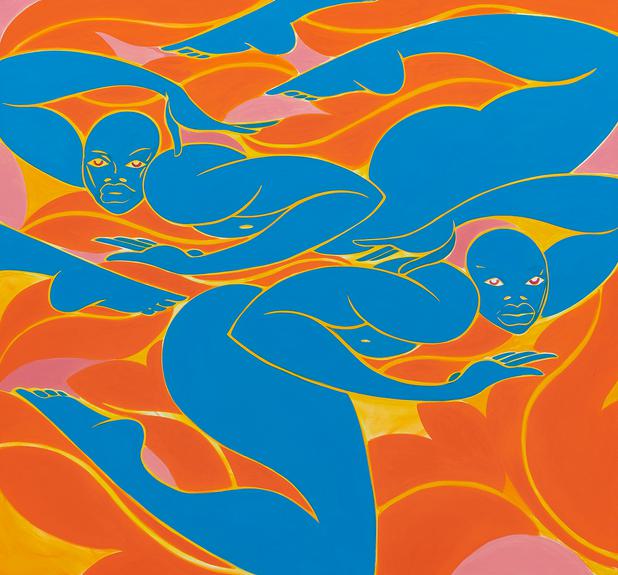 Tunji Adeniyi-Jones
Lives and works in New York
B. 1992
Tunji Adeniyi-Jones's paintings emerge from a perspective of what the artist describes as 'cultural addition, combination and collaboration'. Born and educated in the UK and now living and working in the USA, his practice is inspired by the ancient history of West Africa and its attendant mythology, and by his Yoruba heritage.

Often beginning with studies in ink pen or watercolour on paper as a means to explore his imagery, Adeniyi-Jones employs a varied palette and works with different seasons or times of day. His characters and forms are repeated and re-worked in multi-panel paintings which depict figures in small groups or pairs, invoking the ritualized repetition integral to ceremonial processes.

His boldly coloured paintings are set within a flat, shallow space located in modernist abstraction – in particular the overlapping planes of Cubism and the colourful papier découpé of Matisse – as well as the narratives and symbolism of West Africa. In these, abstract backgrounds of lush, stylized foliage proliferate across the canvas surface, the sinewy bodies emerging and dispersing into the tessellating shapes and interlocking swathes of colour.'The bodies and forms depicted in these works can all be derived from the African continent, and more specifically rooted in a mythology emanating from the West African coast [...] The figures in my work are expressions of my identity and there is something very rewarding about using the body as a vehicle for storytelling' he has said.

The figures are rendered in a vibrant single colour and built up from a composite of neatly connecting organic forms, and appear tightly contained within the confine of the picture plane. Reds, oranges and yellows or vivid combinations of scarlet and fuchsia blend together in compositions that reference the Dutch wax-resist fabric designs common to Africa, themselves a product of complex cross-cultural exchange. In some works a predominantly dark palette using a tonal range of indigo and violet, conjures night time, with figures outlined in pale colours that give them an otherworldly appearance, of luminous spirits from a vision or dream.

Singular objects such as a royal Asante stool, West African performance mask, Ife head or Benin bronze can serve as the starting point for paintings. In a number of works the Black Crowned Crane, Nigeria's national bird, features prominently, while in others, the ritual mask used in Yoruba ceremonies is present as a means to obscure the face of the central figure. In recent paintings, figures are drawn using flowing lines – loosely resembling the facial lines of scarification practices – that run the length of the body, tracing and enhancing its curvaceous form. Addressing the perception of the black body within Western painting – and in particular, its association with physicality – Adeniyi-Jones uses the body as both narrative instrument and primary tool of communication. Emphasising the importance of dance and body language in a continent where over 1000 languages co-exist, his works site the figure at the fulcrum of contemporary diasporic identity, one formed, as the artist notes, by 'travel, movement and cultural hybridity'.

Adeniyi-Jones locates his paintings within a specifically Nigerian cultural landscape; one that includes the post-Colonial writing and painting: 'Every memorable Greek myth or fable that we know of has an equally compelling African counterpart, but because of reductive concepts like primitivism, one rarely sees the expansive world of ancient West Africa represented outside of the continent. These cultural parallels have been detailed most notably through the literature of Chinua Achebe, Wole Soyinka and Amos Tutuola, and I want my paintings to serve as a visual accompaniment to this lineage,' he has stated.

Tunji Adeniyi-Jones was born in London in 1992 and lives and works in Brooklyn, New York. In 2014 he received his Bachelor's in fine arts from The Ruskin School of Art, Oxford University, UK and in 2017 he was awarded an MFA in painting and printmaking from Yale School of Art, Connecticut, USA.

Recent solo exhibitions include 'Deep Dive', White Cube Hong Kong (2023); 'Spotlight', FLAG Art Foundation, New York (2023); 'Tranquil Dive', Morán Morán, Mexico City (2023); 'Emergent Properties', Nicelle Beauchene Gallery, New York (2022); 'Voix Intérieures', White Cube, Paris (2022); 'Astral Reflections', Charleston, East Sussex, UK (2021); 'That Which Binds Us', White Cube, Bermondsey, London (2021), 'Melodic Virtues', Morán Morán, Los Angeles (2021); 39 Great Jones Street, New York (2020); 'Patterns and Rituals', Nicelle Beauchene Gallery, New York (2020); 'Dreams Through Seasons: New Paintings', The Cabin, Los Angeles (2018); and 'Flash of the Spirit', Nicelle Beauchene Gallery, New York (2017).

Selected group exhibitions include 'PUBLIC PRIVATE', Pond Society, Shanghai (2023); 'Sounds of Blackness', Metropolitan Museum of Manila (The M), Philippines (2023); 'When We See Us: A Century of Black Figuration in Painting', Zeitz MOCAA, Cape Town (2022); 'In Our Time: Selections from the Singer Collection', Scottsdale Museum of Contemporary Art, Arizona (2022); 'Out of the Fire: The 14th Dakar Biennale', Dakar, Senegal (2022); 'All Things Bright and Beautiful', Birmingham Museum of Art, Alabama (2022); 'Citizens of Memory', The Perimeter, London (2021); 'Forms of Life', Morán Morán, Los Angeles (2020); 'A Chance Encounter', (curated by Tunji Adeniyi-Jones), Parts & Labor, Beacon, New York; 'to dream a man', Clima, Milan (2020); 'Art on the Grid', Public Art Fund, New York (2020); 'Black voices, Black microcosm', CF HILL, Stockholm, Sweden (2020); 'Young, Gifted and Black: The Lumpkin-Boccuzzi Family Collection', OSilas Gallery at Concordia College, Bronxville, New York (2019); Lehman College Art Gallery, Bronx, New York (2020); and Go 'Figure!', Eric Firestone, East Hampton, New York (2019).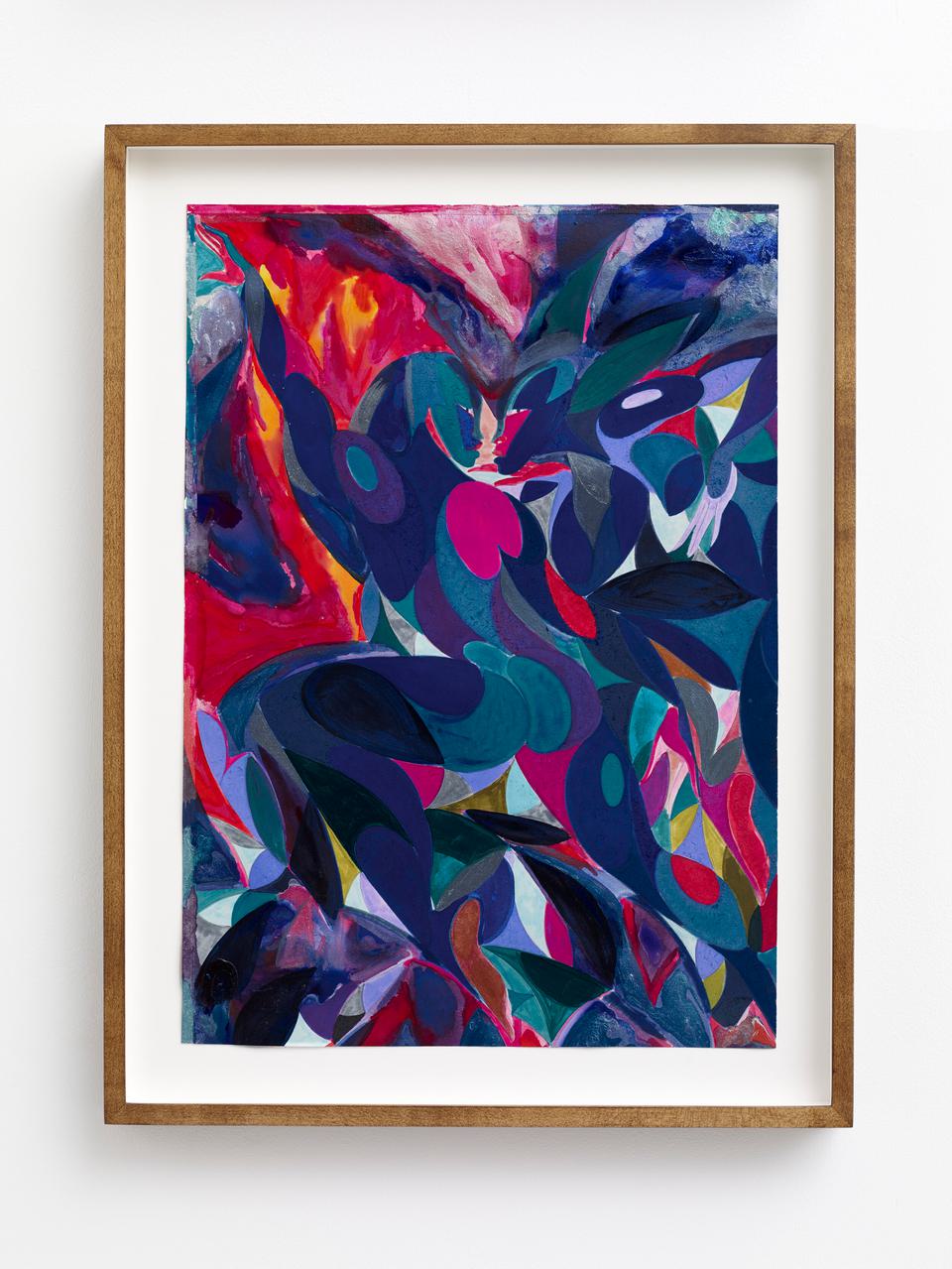 2021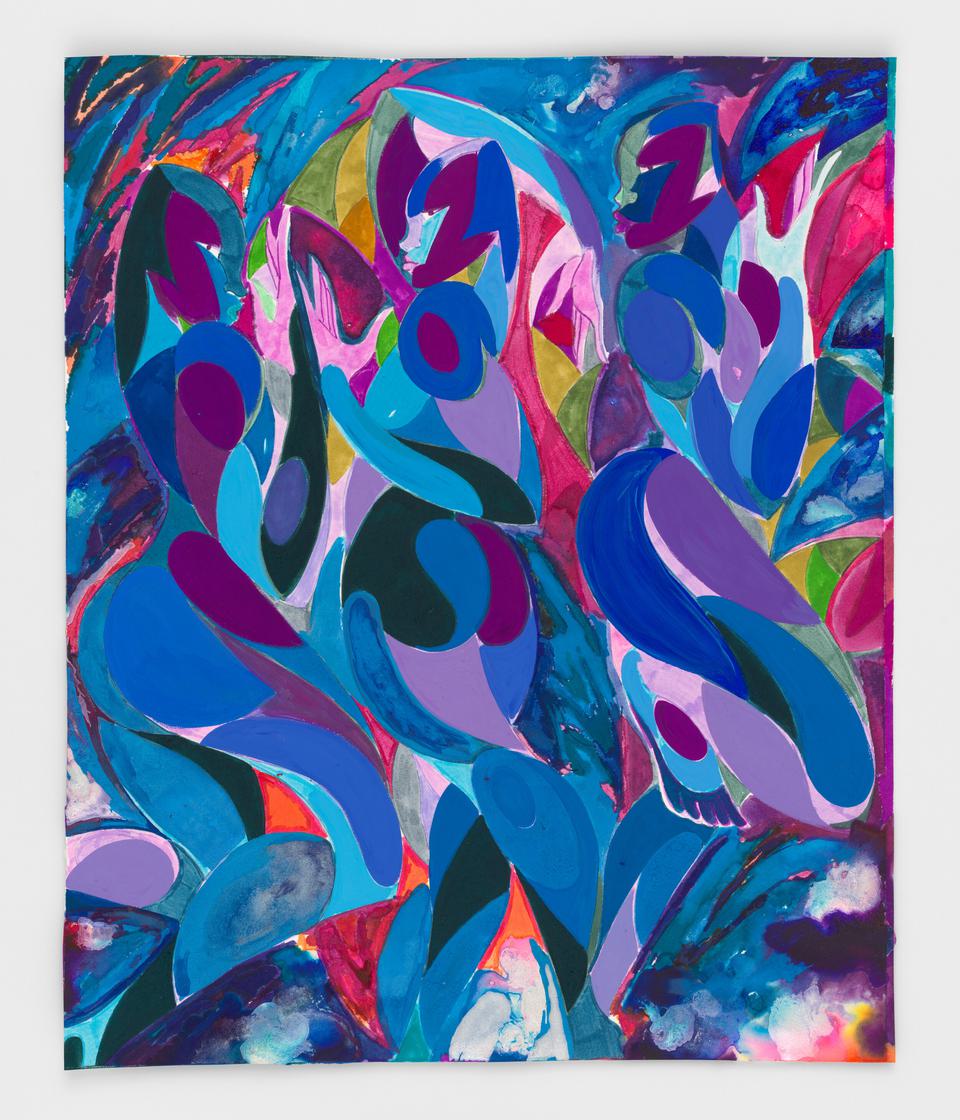 2022
---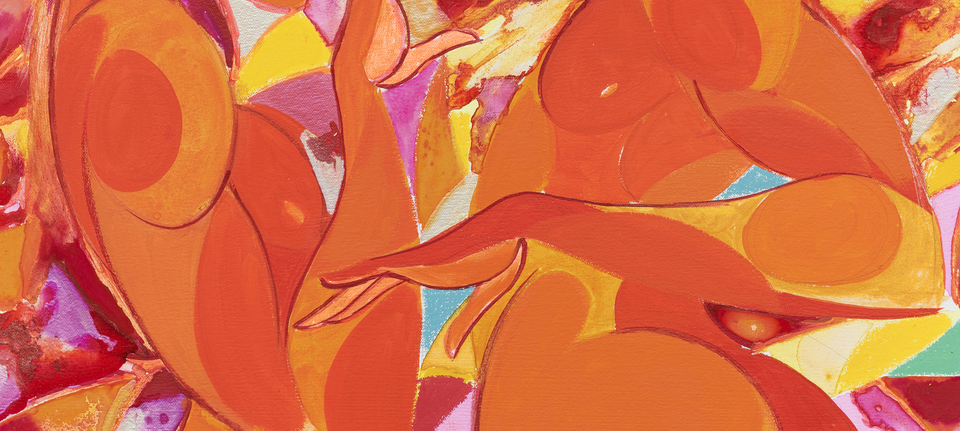 Contact us about available Tunji Adeniyi-Jones works
Enquire
---
In Focus
5 Questions with Tunji Adeniyi-Jones
Filmed at White Cube Bermondsey to coincide with his exhibition 'That Which Binds Us' (2021), Tunji answers 5 questions on his creative process and the music and texts that inspire his artworks.
In Focus
Darren Clarke on Tunji Adeniyi-Jones 'Astral Reflections'
Darren Clarke, Head of Collections, Research and Exhibitions at the Charleston Trust introduces Tunji Adeniyi-Jones' exhibition, 'Astral Reflections' at Charleston (2021 – 2022).
Conversations
Tunji Adeniyi-Jones and Dr Jareh Das at The Africa Centre
Dr Jareh Das talks to Tunji about his experiences as a London-born artist studying in America, the work of Harlem Renaissance painter Aaron Douglas, and the multiple art historical threads that link the silhouette.
In Focus
5 Questions with Tunji Adeniyi-Jones
Tunji answers 5 questions on his creative process and the music and texts that inspire his artworks.
---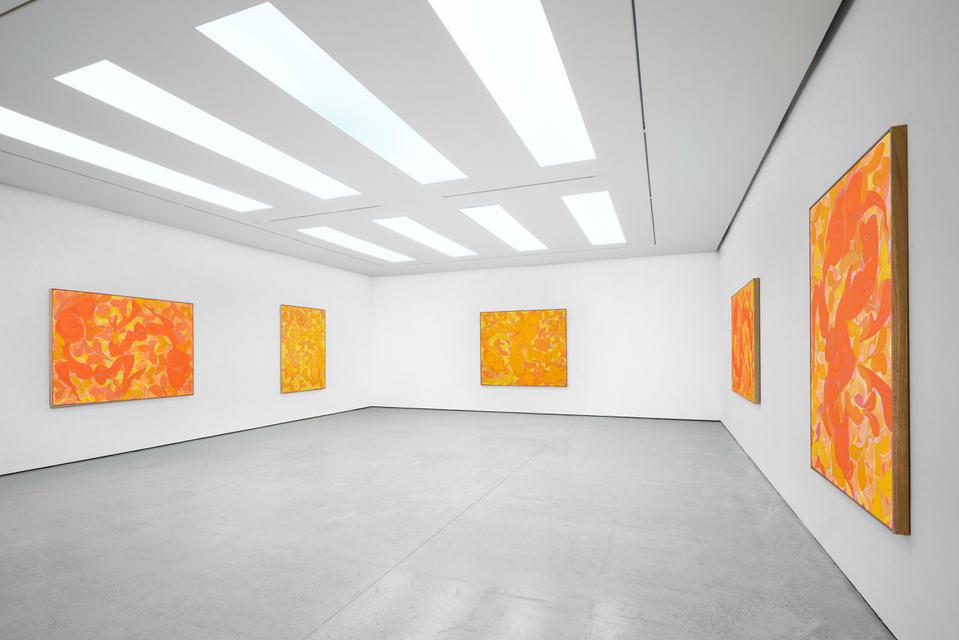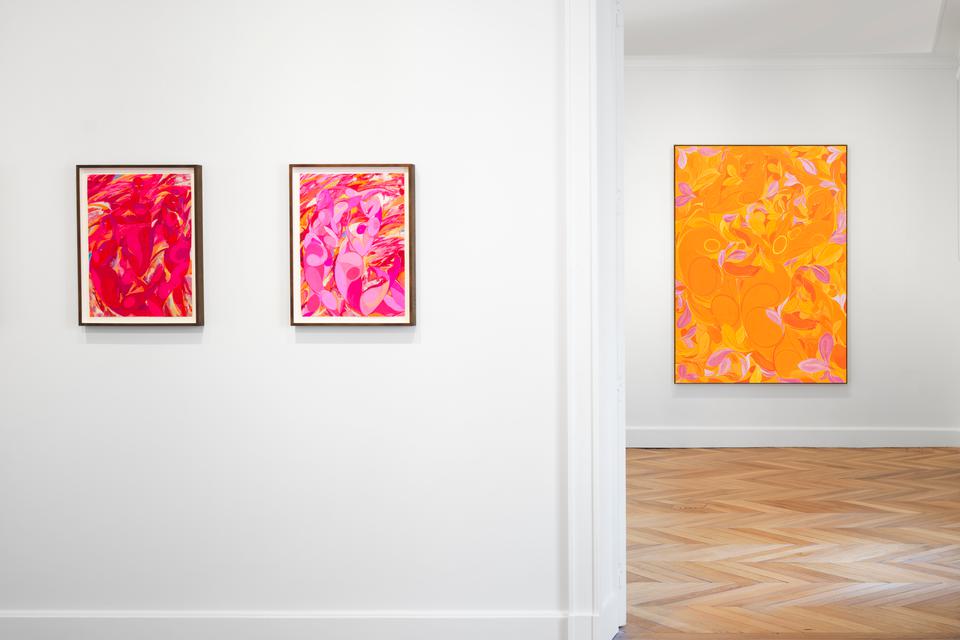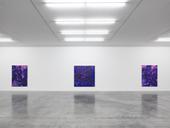 19 November 2021 – 9 January 2022
---
---
---