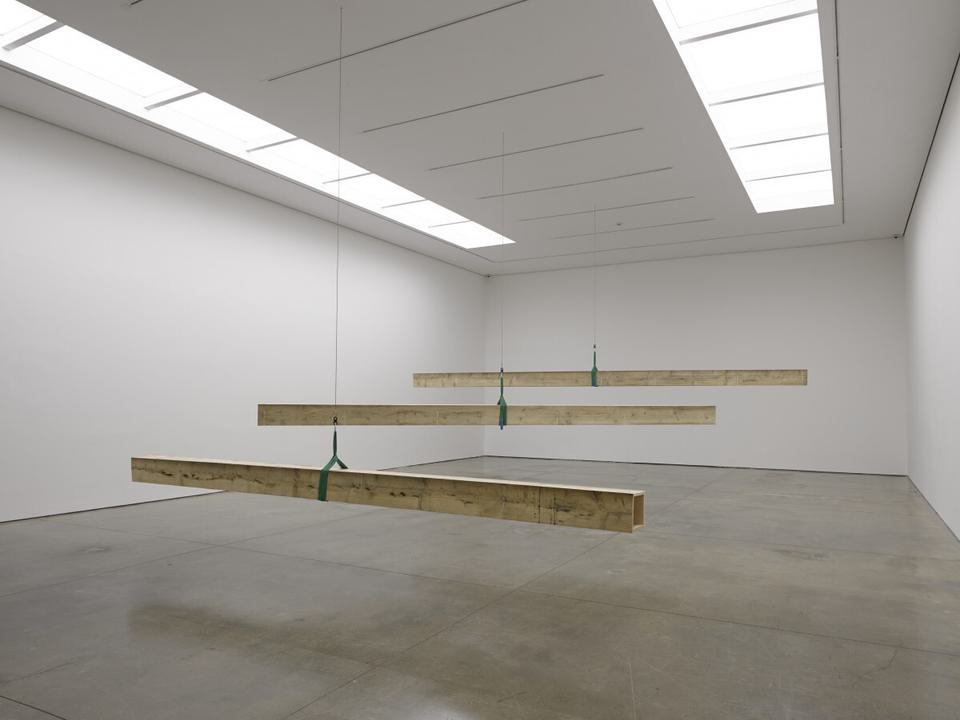 16 January – 14 March 2015
Dates
16 January – 14 March 2015
Location
25 – 26 Mason's Yard
London SW1Y 6BU

Marked by a minimal and elegant economy, Overton's large-scale sculptures and installations are intuitive and adaptable, focusing on volume and space and the inherent physicality of their component parts. Her process is a journey of trial and error whereby works are mostly created on site. Overton uses materials more commonly associated with building or construction, such as wood, metal, fluorescent lighting, mirrored acrylic, lumber, rope and cement. These, as well as appropriated readymades such as sandbags, chairs, ladders or pipes, which often obstruct and bisect the space, are used to highlight the specific dynamics and architectural motifs or to alter the space's layout and flow.
The ground floor gallery had been transformed by an installation made from planks of whitewood which flexed against the gallery walls. The wood was held in place by its own tension, created an acrobatic and elegant bow where it reached the ceiling. Through this bending and stretching the sculpture broke the linearity of the surrounding architecture, escaped from it but also worked within its boundaries.

In the lower ground floor gallery three open-ended rectangular wooden boxes were suspended from the ceiling by single looped cords, formed a constantly shifting cluster. These long boxes, made with the remaining whitewood from the ground floor installation, encouraged the viewer to pause, perhaps peered through the open side, or whispered to someone at the other end. Appearing like an over-sized mobile, the oblong boxes interacted with each other, slowly shifting and swinging in what appeared to be a constant search for the perfect balance.

A third sculpture also made from whitewood which had been interwoven and stacked together, had been created for the smaller lower ground floor gallery. Unfolding and extending from the corner of the space, the planks of whitewood feel almost elastic as they naturally deflected off the walls, as if wanting to escaped a gravitational pull.

Overton's sculptures are able to phenomenologically transform a space, while still retaining traces of their original use. Although they relate to minimalism, they complicate any suggestion of material essentialism by problematising notions of use and commodity value.

A fully illustrated catalogue with an interview with Lisa Le Feuvre was published to mark the exhibition.