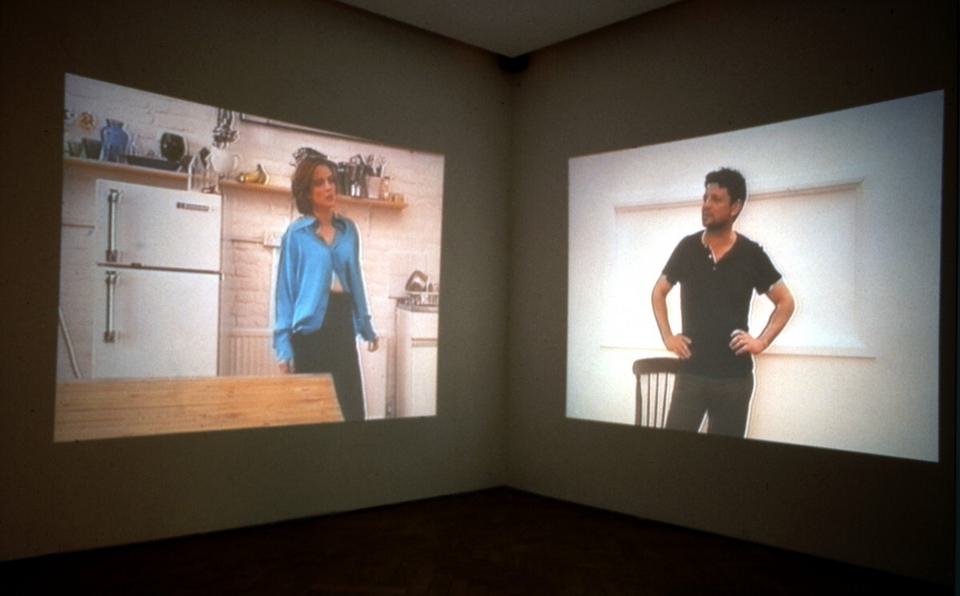 1 December 1995 – 20 January 1996
Dates
1 December 1995 – 20 January 1996
White Cube presented Sam Taylor-Wood's Travesty of a Mockery (1995), a 10 minute film that depicts a man and a woman having an argument. This domestic drama is enacted simultaneously on two separate projected screens—the man's space is described by a chair standing against a blank wall, the woman's by a fridge and a fragment of kitchen sideboard. Each participant is isolated within his and her own screen, the borders from one to the other being crossed by thrown objects such as a glass of milk or a frying pan and, occasionally, by one of the participants, who, unable to contain their rage, launches an attack across the divide. A soundtrack of tuning into a series of different radio stations accompanies the film, seeming to articulate the switching emotional tenor of the scenario as it moves through confusion, anger, sadness and resignation.
This is one of several works in which Taylor-Wood locates her subjects in emotionally heightened or distressing situations, and then monitors their responses. In a work made earlier in the year, entitled Method in Madness (1995), an actor 'performs' a nervous breakdown to the camera while, in the background; we hear cool, cocktail-bar-style 'musak' that contradicts the intensity and pathos of the process we are witnessing.

The artist's work in general uses film and photography to describe different psychological states that are often expressed in extremely private circumstances. In the room adjoining 'Travesty of a Mockery', hung two photographs from the Five Revolutionary Seconds series: elongated, static images that constitute 360 degree views of a room, taken with a revolving camera. People are arranged at strategic intervals: someone plays the piano, a man poses naked in a doorway, and a couple have a fight. These 'frozen tableaux' make palpable the psychological distance between people explored in the film.