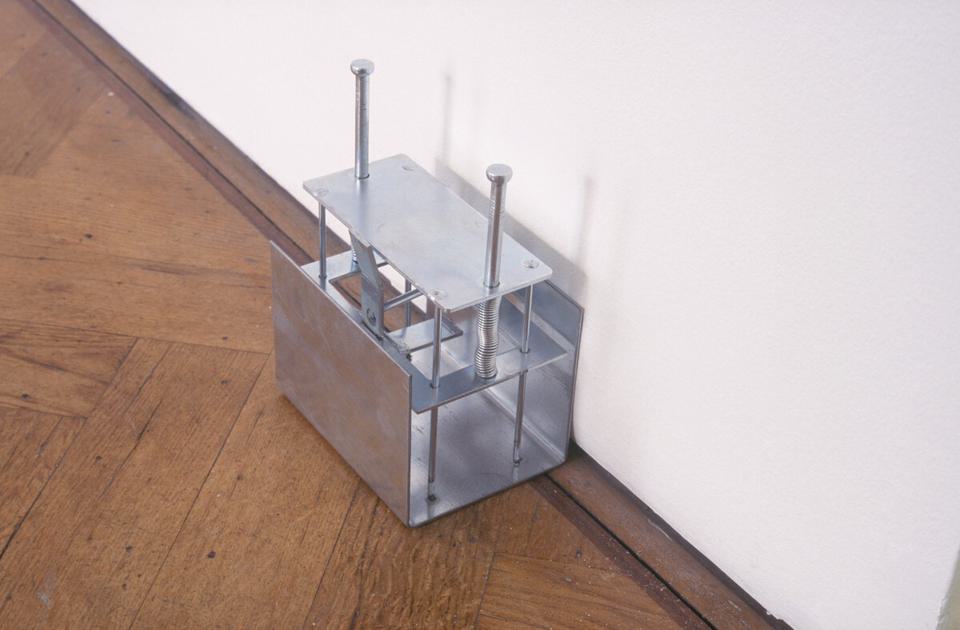 28 November 1997 – 10 January 1998
Dates
28 November 1997 – 10 January 1998
For what was his first London show, Andreas Slominski exhibited a series of home-made traps. Diverse in construction and style, they varied from a slatted wooden crate, designed to imprison unwitting badgers, to an intricate snare for hooking ermine. The varying scale and materials of these devices suggest a focus on the principle that function should determine form. Each trap is set and, as such, ready for action. Much of the latent drama in Slominski's work is due to this implication of potentially lethal purpose, of violence. His intriguing objects possess a quirky beauty, while our fascination with them is predominantly rooted in their function. Each trap constitutes a puzzle, inviting the viewer to work out how they operate. Yet, there is something incongruous about finding these objects in a gallery space—these traps will never encounter the prey they were apparently designed to catch.
The notion of trapping is an ongoing preoccupation for Slominski. The vast range of structures he has built includes cages, nooses, tripwires and nets. Initially, he used found objects, purchased from hardware stores, and simply placed them in the gallery. Later, he began to research and build his own traps, assigning them titles that explicitly informed the audience of this intended prey. Although these objects are fully functioning, they merely lure the viewer: held in a state of unfulfilled potential. In this way, Slominski alludes metaphorically to the seductive and deceptive nature of art itself.

The artist's world has also taken the form of playful performances, recorded on video. The traps share the anticipatory element of his time-based practice, implying an event waiting, albeit in vain, to occur.