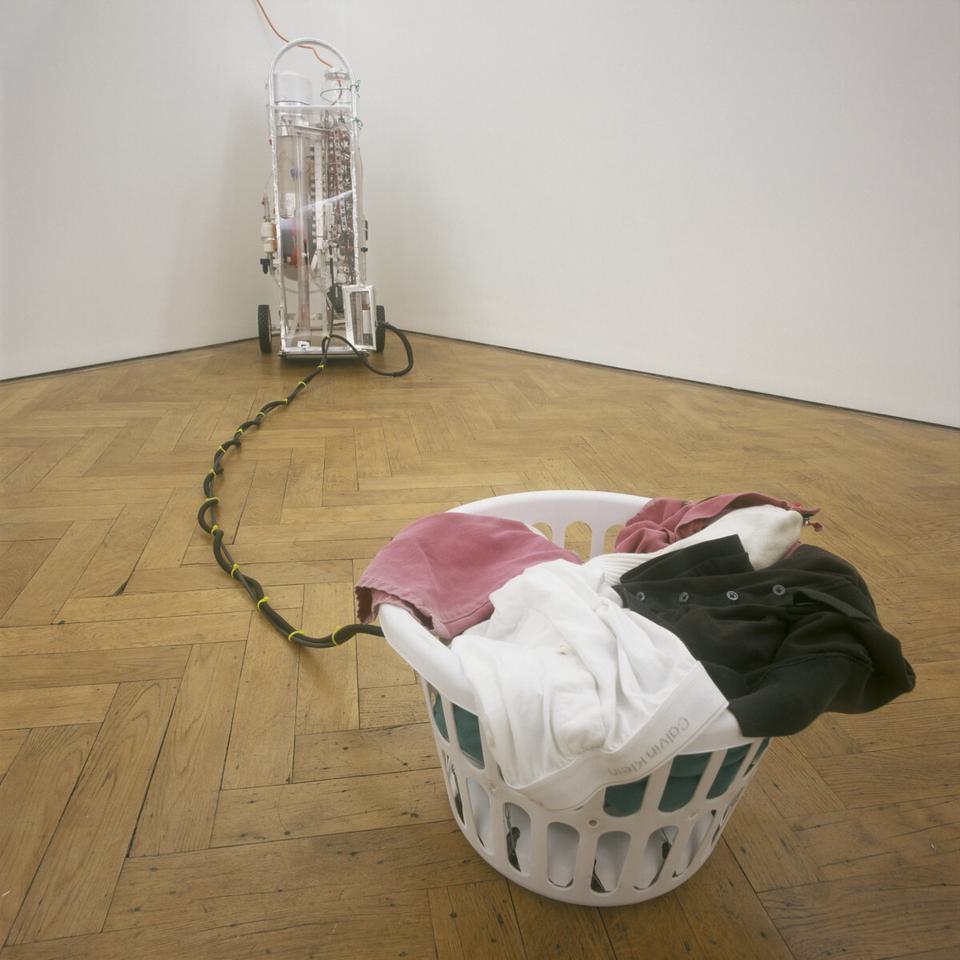 18 October – 25 November 2000
Dates
18 October – 25 November 2000
Los Angeles-based artist Tim Hawkinson makes low-tech contraptions and sculptural objects that range from the minute, such as the fragile skeleton of a bird constructed entirely out of his own fingernails, to the overblown, such as Pentecost (1999), a baroque installation that uses cardboard and sound-conducting tubes to form a tree extending over more than 3,000 square feet of floor space.
Fascinated by systems, Hawkinson is also interested in new ways of depicting the human body. For his exhibition at White Cube, he developed a typically imaginative invention—a kinetic installation entitled Spy Clothes (2000), which included a laundry basket full of discarded clothing, some items of which were fitted with a miniature surveillance device. By having their buttons swapped for mechanical 'eyes', the clothes were strangely anthropomorphised. Movement-sensitive, the devices shift position, with an audible humming noise, as the viewer walks around the piece, making them aware they are being discretely watched, and as a result, acutely conscious of their own physical presence in the gallery space. All the mechanical apparatus is laid bare, exposed on a low-level trolley.

Hawkinson often uses his own body as a starting point for his work, developing strange, expansive examples of self-portraiture in which his body is, for example, 'dissected' and transformed into a topographical mass including tree-like formations that reveal rings indicating time and growth. Skin Print Divided by Circumference Frequencies (2000), is a mosaic of tiny, sky-blue prints that were created with textured rollers the artist made from sections of a rubber cast of his own body. For another work, Record Drawing: Gentle Giant (1993), Hawkinson scratched hieroglyphic patterns into the surface of a huge rotating black disc while listening to music—'tracing' the rhythm with one hand and the melody with the other—to create a record of his aesthetic responses.
The artist's intense observations and baroque mutations of the body dislocate notions of the self and the other, making the self an unknown and constantly evolving territory. Hawkinson's work assembles disparate materials—often mundane objects such as rubbish, ice-lolly sticks, pencils and toothpaste tubes—into cohesive installations where the material nature of the component objects are completely refigured. A toothpaste tube becomes a clock, TV aerials become masts for galleons—the artist's low-tech world is one of connection, transformation and hare-brained cultural entropy.