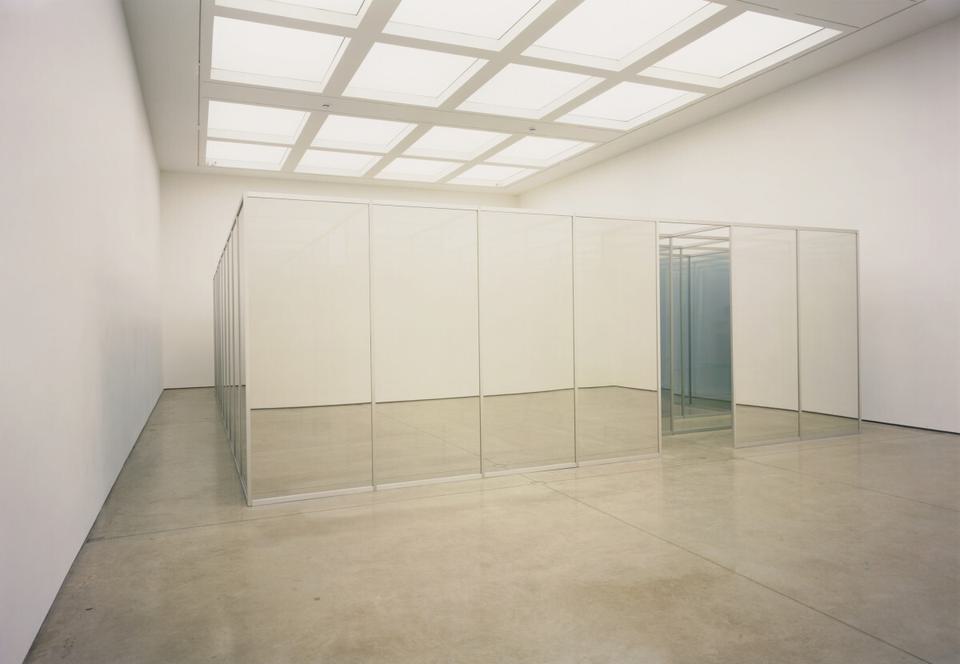 23 January – 28 February 2004
Dates
23 January – 28 February 2004
British artist Gavin Turk continually explores what it means to be an artist, investigating avant-garde ideas of authorship, authenticity, originality and value, subjecting them to a rigorous and playful scrutiny. For this exhibition, Turk produced a single, large-scale installation that explored the notions of perception and suspension, image and reality.
Turk announced his artistic strategy in 1991 when he was denied his degree at the Royal College of Art for his exhibition, which consisted of an empty studio space adorned with an English Heritage plaque bearing the inscription 'Borough of Kensington Gavin Turk Sculptor Worked Here 1989-1991'. Turk symbolically killed himself off when he had only just begun. Having in a sense made himself invisible, Turk could go on to adopt different personas. To this end, he makes frequent appearances in his own photographic and sculptural works in a series of different guises. One of his best-known sculptures, Pop (1993), is a waxwork of the artist as Sid Vicious in the stance of Warhol's Elvis Presley.
Turk has made a sculptural version of David's The Death of Marat, substituting himself for the bath-bound revolutionary and also a self-portrait in wax as the dead Che Guevara in his work Che (1999). In these works, Turk turned himself into a prop – the artist as object – a device that reflects the themes of transformation, disguise and disappearance, which persist in his work.
Turk has made various signature works that fetishise his own signature, and in doing so, pays homage to the works of Piero Manzoni and Marcel Duchamp, artists who explored the way in which a work of art is conferred iconic status. This preoccupation with value and how it is or isn't assigned manifests itself in much of his sculptural work. Bum (1998), a self-portrait waxwork of Turk as a vagrant, challenged the rock-star/artist status asserted in a work like Pop. In turning to the street Turk followed up these themes in works like Pimp (1998), a rubbish skip in shiny black transformed into a high modernist sculpture and Nomad (2001-03), a painted bronze sculpture of a dirty sleeping bag. Other painted bronze sculptures of 'worthless objects' such as bin-bags, opened out cardboard boxes, and polystyrene cups further develop this preoccupation whilst also focusing attention on the receptivity of the viewer: how art requires a 'leap of faith' on the part of the viewer and how it requires the viewer collude with a 'performance' by momentarily suspending disbelief.