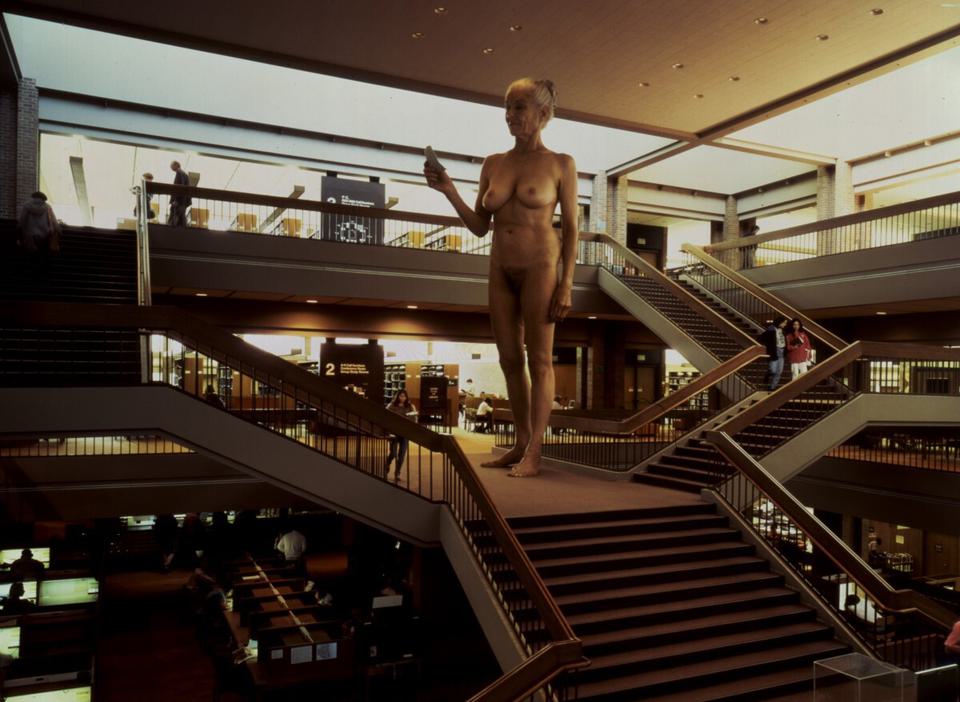 Dates
11 – 26 February 1994
In contrast to Jeff Wall's large-scale works, the single work he showed at White Cube, The Giant (1994), is small and claustrophobic. Wall's composite image features a naked, elderly woman standing on the landing of a staircase in a busy library that could belong to a university campus. The artist presents us with his take on the classical female nude. The pose of the model mimics that of countless classical works, and there is a quiet dignity to her confident stance that makes her look like an allegory of wisdom or learning.
The discontinuity of scale between this central figure and her surroundings is striking, and the intimate size of the work serves to heighten the discrepancy. The woman is approximately five times taller than the other library users, who seem completely unaware of her presence. In spite of this, her insertion into the image has been seamlessly executed. For this image, Wall employed the exacting techniques of a film director, using an 'actor' and building a 'set', and then subsequently refining the image using digital manipulation. Perfectly matching the light sources in the image to cast accurate shadows across her body, he made the woman's impossible presence seem feasible.

Jeff Wall began to show work in the form of back-lit, cibachrome transparencies in the late 1970s. Since then, the Vancouver-based artist has used photography as a means of reflecting on the genres of history painting from the 18th and 19th centuries, and subjecting their look, grandeur of scale and narrative content to influences from current modes of picture-making, including photojournalism, advertising and film. The works are framed in glowing light boxes, a method that highlights their purpose as objects for display. In The Giant, Wall eschews photography's 'decisive moment', replacing authenticity and documentary reality with his own form of constructed imagery.