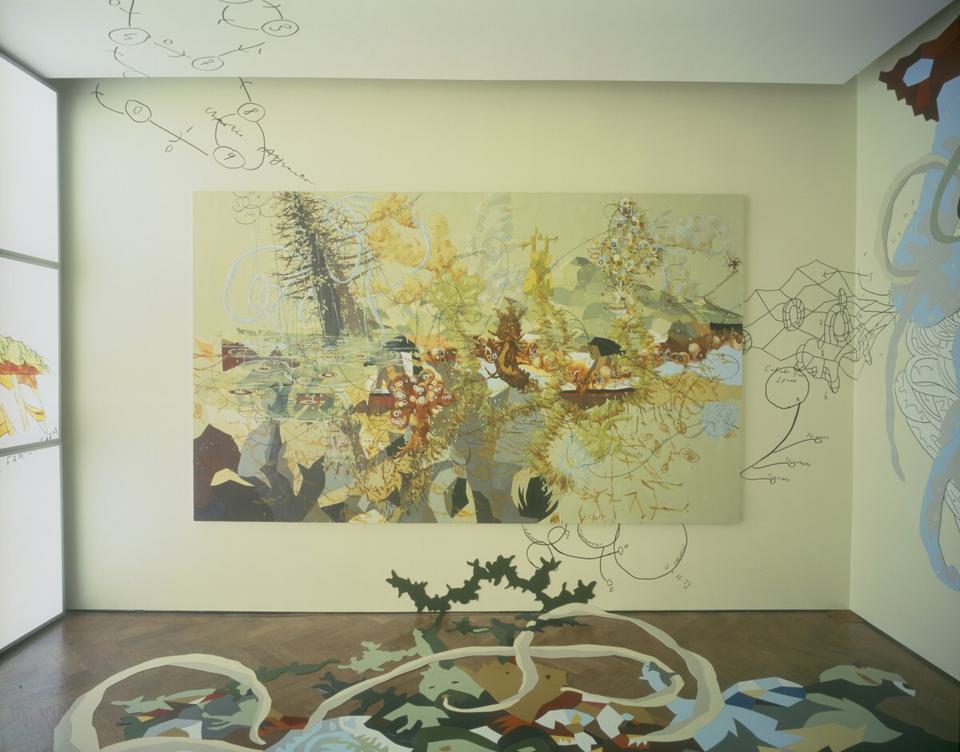 Matthew Ritchie
The Family Farm. You can't leave your blood behind
19 October – 24 November 2000
Dates
19 October – 24 November 2000
Matthew Ritchie, a British artist based in New York, created an installation that combined personal history, cosmology, and the myths and geology of the United Kingdom. These themes were revealed in a pictorial environment made up of many of separate elements: paintings, lightboxes, wall drawings and large-scale topographical works that together produced for a retinal blow-out—an overload of light, colour and information.
Ritchie's work involves the collision of timescales and the kaleidoscopic condensing of various narratives and information systems. 'The Family Farm' linked his grandmothers' childhood spent on an apple farm, which was eventually requisitioned by Heathrow Airport, with a history of the physical universe; in particular, the period known as 'the oxygen holocaust,' when aerobic life took over the planet and displaced its existing occupants. The installation also included references to the Celtic cult of the severed head, and to the fact that the coastline of Scotland was once connected to Norway and Maine in the United States, before it was split by the break-up of Pangaea—the original super-continent.

Since 1995, Ritchie's drawings, paintings and installations have focused on visualising imagined structures of time and space. Through the abstract interactions of colour and shape in works on the gallery walls, and often on the gallery floor, he offers up an elaborate cast of subjects and series of exotic landscapes—each element another clue to unlocking the mystery of his universe. Large mosaic-like abstract paintings are either laid over or placed alongside colourful, diagrammatic wall drawings and floor pieces, creating an incredible degree of visual density.
Individually, the artist's pictures convey a heady sense of cataclysm and imploding or exploding energy, making reference to both Abstract Expressionism and Minimalism, but also—with their fluid looping skeins of paint combined with biomorphic forms in the strong, flat colours of avocado green, and mustard yellow—to cartoons and the Baroque. By collapsing together different narratives, Ritchie formulates epic and utterly original versions of the creation myth and the story of how time began.