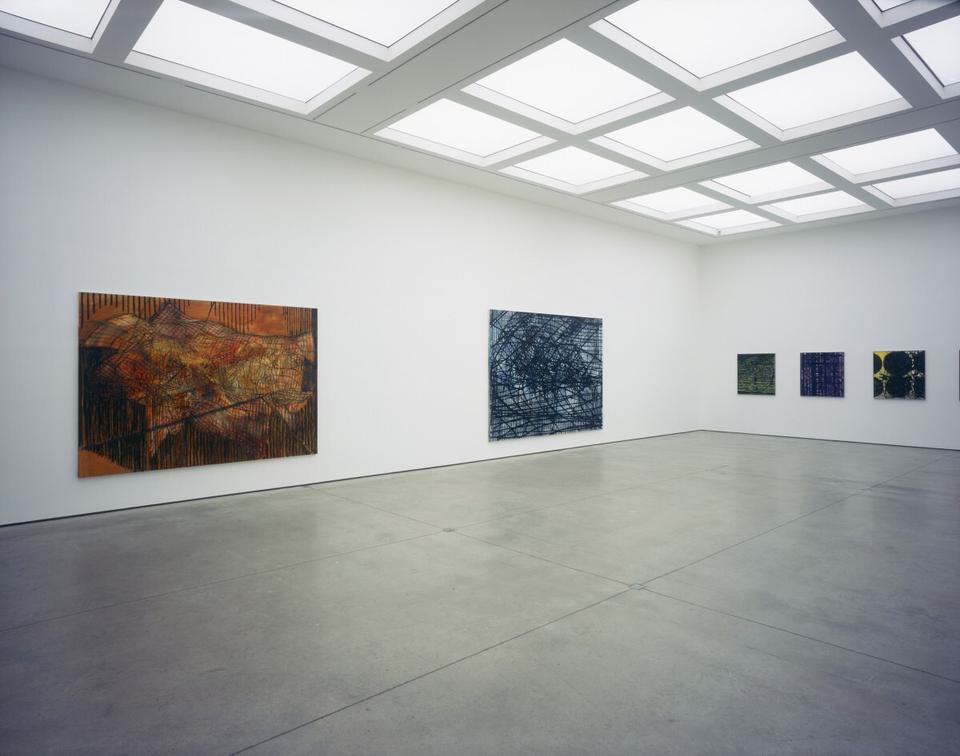 18 January – 2 March 2002
Dates
18 January – 2 March 2002
For his exhibition at White Cube Hoxton Square American artist Terry Winters exhibited a number of paintings taken from his most recent body of work, Set Diagram, a series of 100 pictures measuring one metre by one yard. Set Diagram is a term used to describe relationships between two or more sets of information, and the work in this series utilizes Winters' method of combining already existing data into new configurations.
Winters chose a key selection of 15 pictures that form a distillation of the series as a whole. These works were exhibited alongside two larger paintings with significantly different organizational principles: one is a taut grid structure, the other a fluid matrix. These two larger canvases acted as brackets for the exhibition, establishing the scope of the group.

The idea for 'Set Diagram' grew out of discussions Winters had with the Dutch architect Rem Koolhaas, who designed the first installation of 60 paintings from this series shown during the spring of 2001 in New York. These paintings, like all of the artist's work, draw together a variety of natural and artificial source materials such as biological photography, computer animation and architectural structures.
During the first 20 years of his career, Winters developed a complex abstract language comprised of energetic fields and lines, which create dense, graphic images that frequently converge into an impacted central core. The patterns and shapes that emerge suggest various hypothetical worlds. Ranging from the molecular to the psychological and the social, Winters paints what John Rajchman has called 'the theme of the brain-city'. His paintings also engage many ideas of post-War abstract art, referencing works such as the paintings of Jackson Pollock and the futuristic architectures of Buckminster Fuller.
Through abstraction, Winters explores and maps bodies of order, chaos, gravity and speed. In the artist's new work, the spaces of the digital age are mediated by human gesture, creating hybrid images, at once contemporary and archaic. The basis for all of Winters' painting is drawing, and the network of lines on the surface of his pictures creates an all-over energy. The goal is to describe forces - both virtual and actual. For Winters, the picture-making process is a 'collaboration with circumstance', a pragmatics where chance and intention collide. Through urgent and immediate mark making, using wax, oil and resin, Winters creates different palpable sensations. At some points the paint is heavily applied and intensely visceral, at other times it is lucidly translucent, creating different temperatures and emotional qualities within a single picture plane.