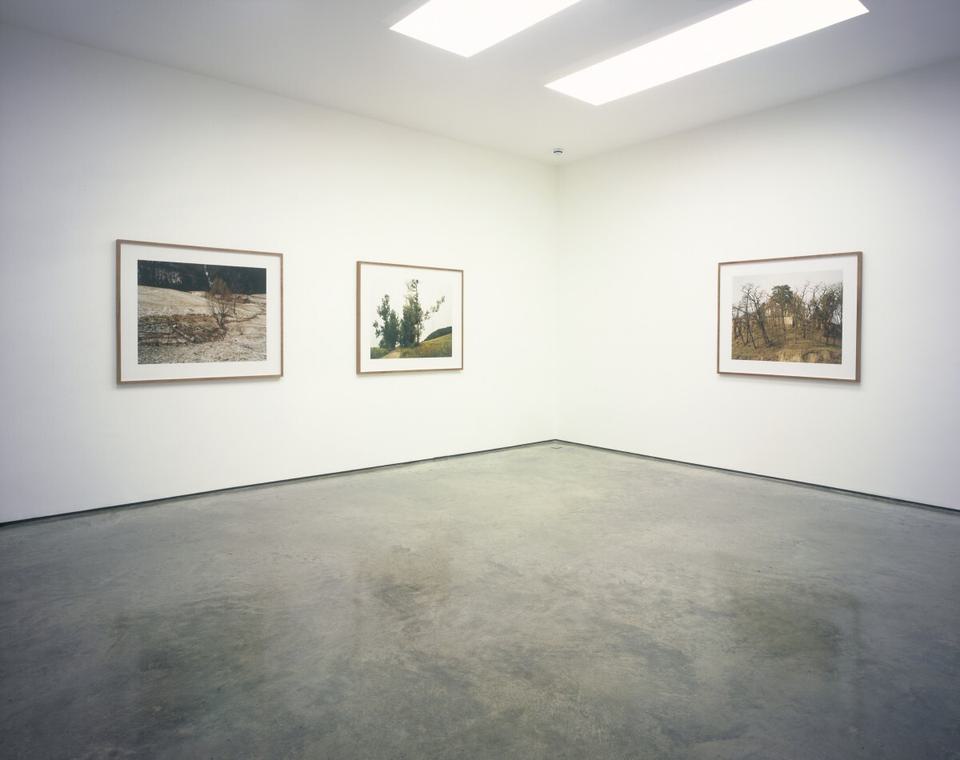 11 December 2003 – 17 January 2004
Dates
11 December 2003 – 17 January 2004
For her exhibition at White Cube Hoxton Square, British artist Clare Richardson exhibited a new series of photographs entitled SYLVAN, depicting a rural stretch of Romania, commonly known as the 'Saxon villages', a landscape that is expansively beautiful and historic and still farmed by pre-industrial methods.
Richardson was initially drawn to this particular area of Transylvania through her interest in farming and the mythic potential of untrammelled nature, in particular of the narratives and folklore associated with the forest. 'Transylvania' literally means 'beyond the forest', and has been the source for much European literature from the dark fairytales of the Brothers Grimm to Mary Shelly's Dracula. The SYLVAN works developed out of Richardson's earlier series of images entitled 'Harlemville', which document a Rudolf Steiner community in rural North America whom the artist visited for periods of several months over a couple of years. In contrast to the Harlemville series – small photographs that display an unusual closeness to their subject matter and form a collective portrait of a place – the SYLVAN photographs are grand and epic in scope, recording a bountiful but depopulated landscape, without the presence of any inhabitants. Richardson visited the area at different times of the year and her images variously depict the painterly and expressive change of the seasons, from the lush verdant green of springtime, to the snowy expanses of winter.
In one image a pair of traditionally made haystacks appear like strange figurative sculptures, their anthropomorphic presence creating an uneasy folkloric aspect to the soft apple green, almost velveteen hills behind. In another work, a serpentine path winds its way from foreground to background, through a lush field dotted with grazing cows and horses, a photo that is deceptively peaceful given its unexpected mix of cattle. In some senses, with its pleasing and harmonious composition, this image becomes almost a painterly standard that can be traced through a lineage of artists from Dutch landscape painters such as Jacob van Ruidsdael through to English painters such as John Constable. In Untitled III, an ancient wooden building, with fantasy turrets and a steep, pitched roof, is half concealed by a sparse copse of trees, a kind of emphatic reduction of its own subject matter, while at the same time, evoking a sense of discovery and of something hidden. In another work, a series of pitched roofs are gathered to one side, appearing rhythmically in their setting, flattened out like a Japanese landscape print.
Although these pictures are taken in a precise locale, the countryside depicted can be seen as an Arcadian ideal, referring back to a number of politicised and epic landscape portrayals by artists such as Corot, Poussain and Courbet. Although quiet and unassuming, the blankness and beauty of these images conceal a turbulent history, one that is inscribed with a sense of emotional loss. For Richardson, they were the culmination of a 'search for an elusive idyll…a landscape of collective childhood imaginings where the forest and what lies beyond is unknown'. Here the landscape becomes a metaphorical shelter, an escape from the disenchantments of the modern urban world where the SYLVAN is an ideal, a place where the imagination and reality conjoin.