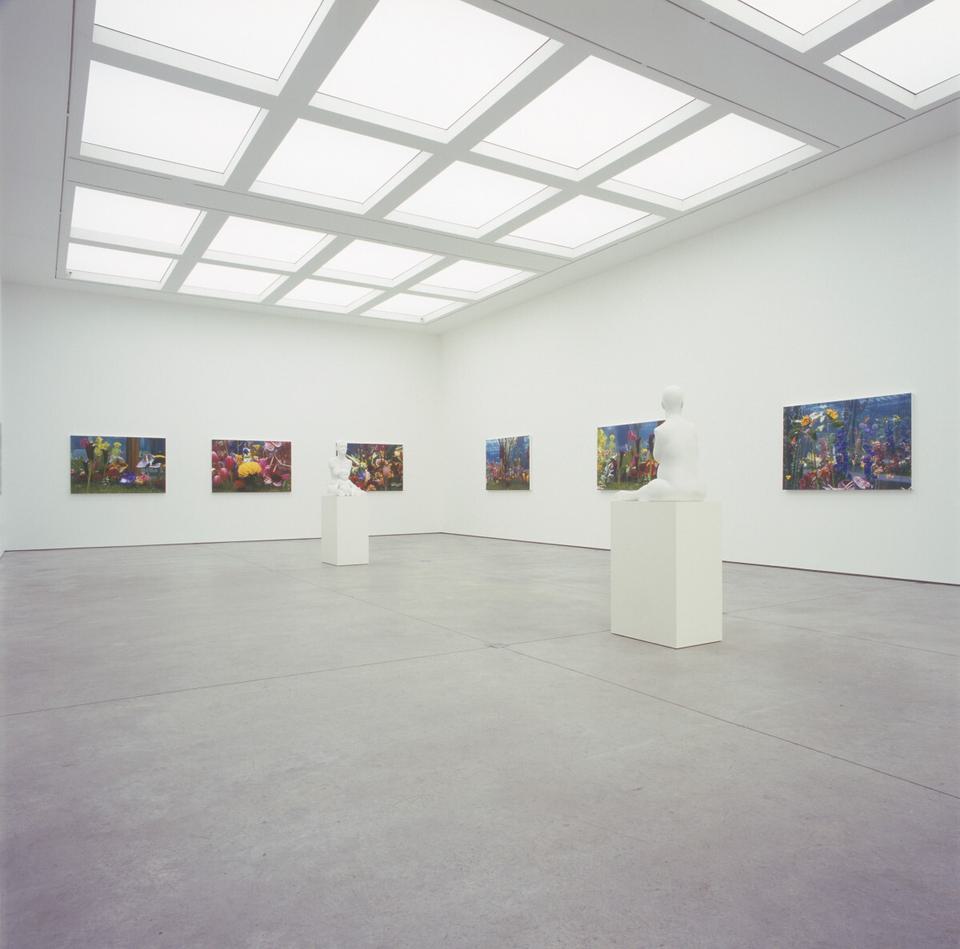 1 December 2000 – 6 January 2001
Dates
1 December 2000 – 6 January 2001
The works Marc Quinn displayed as part of his 'Still Life' exhibition, show a preoccupation with the mutable physical states of the human body: the spiritual and the physical, the inner and the outer, the cerebral and sexual. Using a diverse array of materials ranging from ice and frozen blood to marble and lead, his highly charged works have a resolved semantic core where medium and subject become inextricably locked together. In the exhibition, Quinn brought together three distinct but interrelated bodies of work consisting of marble sculptures, paintings and a sculpture made from the artist's frozen blood. In 1999, Quinn began a series of life-size marble portraits of amputees – people who were born without limbs or who had lost them through accident, war, or illness. Eight of these sculptures were shown in 2000 during the artist's acclaimed solo show at the Fondazione Prada in Milan. During the making of these works, Quinn met Alison Lapper, a woman who was born without arms and with short legs and who was eight months pregnant.
In 1999 Quinn made a sculpture of Alison pregnant and then, following the birth of her new able-bodied son Parys in March 2000, made another sculpture that presented mother and child. The use of marble as a material is significant as it is an emblem of cultural acceptance in the West and a metaphor for classical beauty. These marbles form a celebratory and dignified body of work that presents their subjects as contemporary heroes. Alongside the two sculptures of Alison Lapper, Quinn showed new paintings. These paintings, which are photographic in origin and made using permanent pigment, depict details of Quinn's work, Garden (2000), a lush garden frozen in perpetual bloom. Up until now, a photographically originated permanent colour image has been impossible, but, working with Permaprint, Quinn made the fugitive moment of photography last forever in supersaturated perfection. In these pictures, the frozen garden is frozen and fixed once again – this time as an indelible image.

The exhibition also included Reincarnate (1999), a vase cast in the artist's frozen blood with a real orchid emerging from its centre. The work explores notions of regeneration and the continuation of life on an atomic level when the form of the body is long gone. A South Bank Show film, written and directed by the artist and Gerald Fox, aired on December 17 in conjunction with the exhibition. The film is a sometimes surreal narrative cinematic odyssey through the artist's own world.