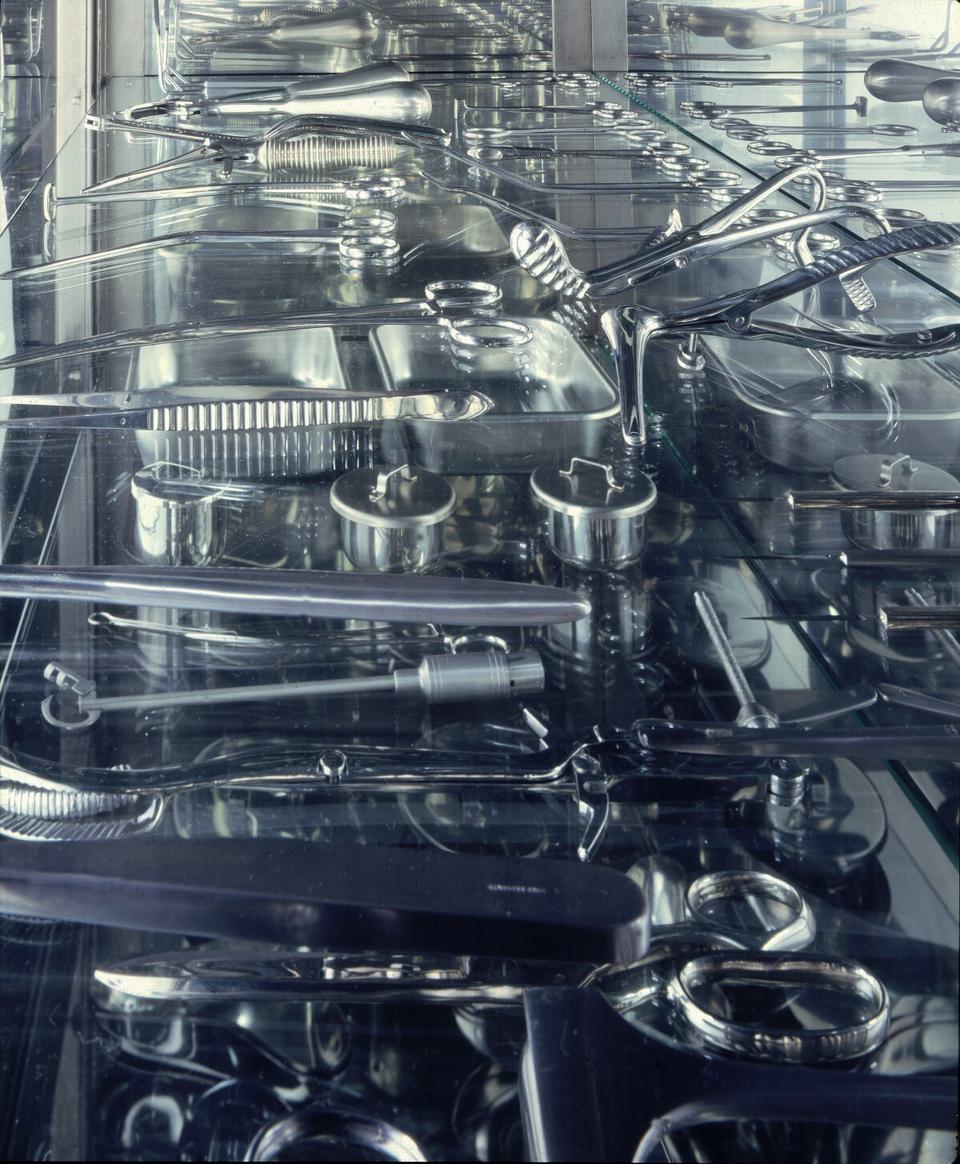 Dates
18 May – 1 July 1995
In Damien Hirst's Still (1995), a clinical vitrine made from glass, mirror and steel displayed a series of surgical instruments. The glinting scalpels, forceps, retractors and clamps, arranged on a series of shelves, with surgical, non-hierarchical precision, reflect the aesthetic of the laboratory. The display case lends the work an assertive sculptural presence. Hirst used the case to isolate and frame the medical tools, focusing the viewer's attention on some uncomfortable truths by highlighting the vulnerability of our bodies, and the temporal nature of our existence. In this respect, the work can be interpreted as referencing 'vanitas', a theme associated with the genre of still life; Hirst made this link explicit by putting a mirrored backplate in the vitrine that reflected the physical presence of the viewer.
The ordered form of Still employs the cool aesthetic of Minimalism, with an emphasis on repetition and the machine-made. At the same time, the ordered rows of instruments are emphatic reminders of the violence inflicted on inflicted on countless, unseen, ailing bodies. The work taps into our fears by combining deadpan macabre with a pervading tone of chilling melancholy. In addition, the taxonomic display also recalls the museum vitrine that, by association, turns these objects into relics.
In contrast to the themes Hirst broaches in Still, he also showed one of his 'spin paintings'; beautiful, pop, spinning, ice creamy, whirling, expanding painting (1995), a circular work made by pouring household gloss paint onto a rapidly rotating canvas from above. This mechanised and abstract tondo, emptied of authentic gesture, countered the cold minimalism of 'Still' with celebratory exuberance.