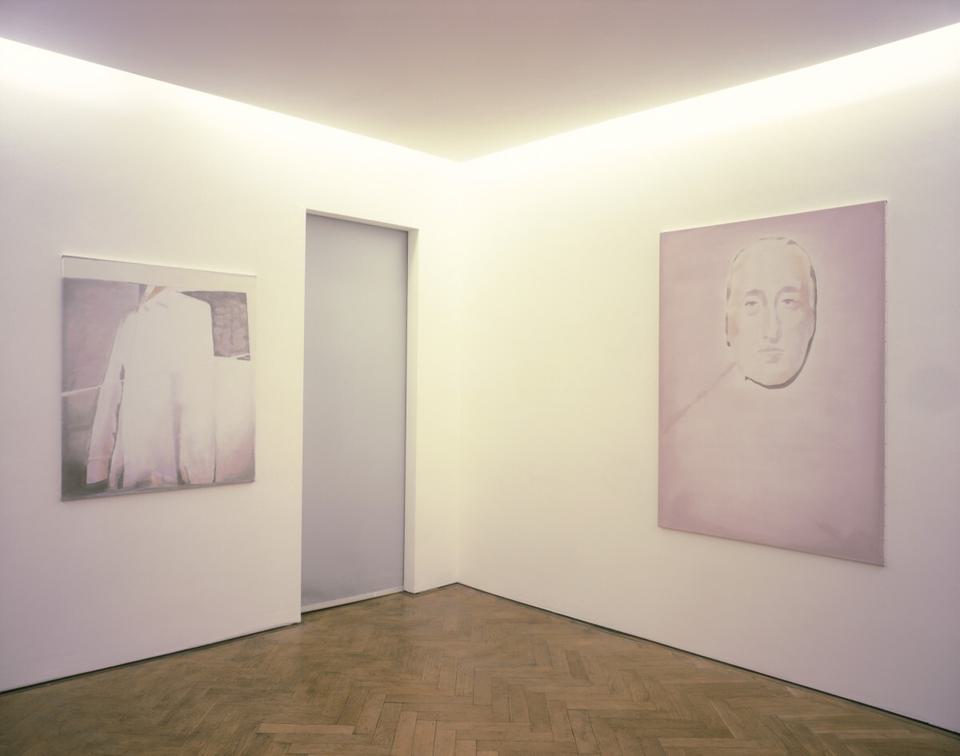 Dates
28 May – 17 July 1999
Luc Tuymans often approaches an exhibition by making a group of paintings that address an idea related to the location of the exhibition. 'Splendid Isolation'—a phrase used at the turn of the century to describe Britain's isolationist foreign policy, and one perhaps still applicable to British attitudes today—was the catalyst for Tuymans' show at White Cube. This idea led him to produce four paintings that included an image of a salmon, a white shirt, a portrait of a man, and an abstracted, luminous interior.
The artist described how in his work, one image in a series generates another, and that each image is formulated and then reformulated. There is nothing spontaneous about his working method—Tuymans continuously analyses and distills the image, making many drawings and watercolours before the high-intensity oil paintings. He says: 'Before I begin painting, I'm in an extremely agitated state. During the actual execution, I experience enormous pleasure, but before that, it's sheer agony. The act of painting really involves a kind of aggression or violence.'
Tuymans' paintings are austere and restrained, and all subjects, whether a portrait or the depiction of a simple interior, are treated with equal emotional detachment. The artist elevates ordinary things like a fish or a hanging shirt by making it the sole subject of a painting, dislocated from the world by enlargement, cropping and editing. As a result of this process of excision and transformation, the subject is made 'mute'—in both the shirt and portrait paintings, a corrosive white light pulsates and seems to partly obliterates the central image. The modest scale of the paintings belies their psychological force—each one silently generates its own disquieting emotional field, very often expressing a distanced and yet palpable sense of violence, suffocation and threat.
In the adjoining space, Tuymans showed a group of the works on paper.