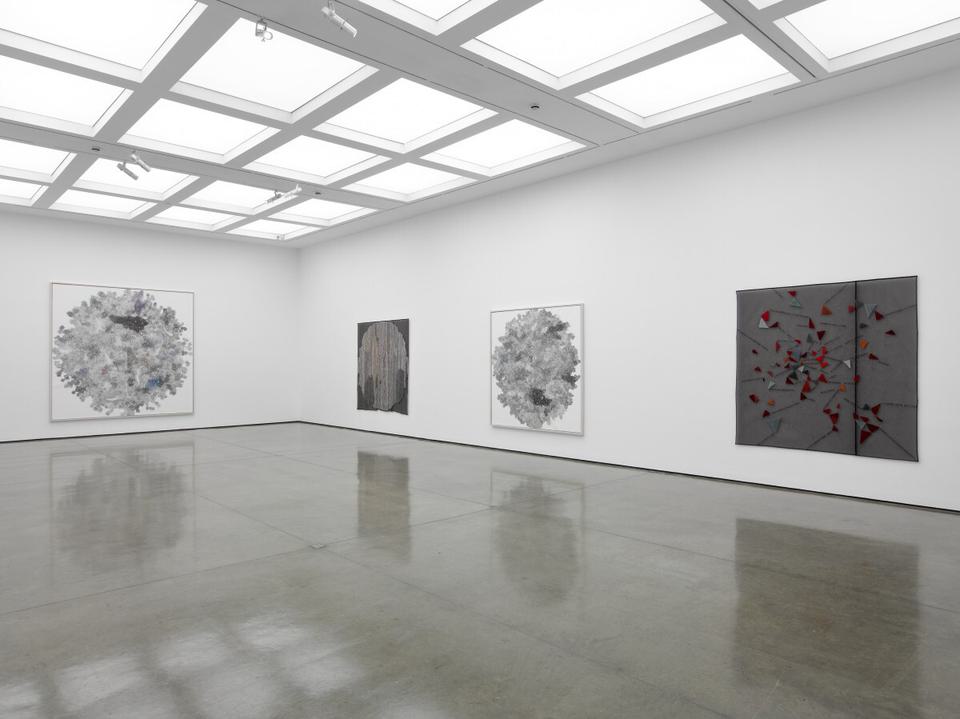 Dates
1 June – 7 July 2012
For her second exhibition at White Cube, New York based Australian artist Jessica Rankin presented a new body of work comprising seven sewn works and a group of drawings on paper.
Rankin's work condenses time, using the slowed down process of embroidery – traditionally associated with female domestic pursuits – to chart fleeting memories, landscapes, maps and thoughts. Using thread on organdie – a spectral and ethereal material – her work creates a web of associations, through poetic and abstract collages that equally incorporate phrases of poetry, political and historical reflections with more personal elements such as journeys she has taken and important events in her life. As Rankin has stated, 'sewing has a longevity, a resonance' that requires an ongoing relationship, like 'the repetitive motion of a word in your head, which lingers and returns'.

Lawrence Chua in his text published in the catalogue to accompany the exhibition has described Rankin's work as embodying a 'tension between personal time and domestic space and historical time and geo-political space'. These works take their form from stellar constellations on specific dates that are significant to the artist. In the work Quis Est Iste Qui Venit (2012), the title drawn from the ghost stories of M.R. James, for example, Rankin uses a map of the night sky at the moment her mother died to structure the painting. The paintings also evoke abstract landscapes and, in particular, how we personalise landscape by inscribing our stories in its image. In Silver Study (2012), the silver, white and gold threads have barely been fixed or sewn and are left as delicate traces of mark making that create dramatic verticals on the surface of the fabric, like a sheet of rain caught in the sunlight.
Rankin often uses words in her work; phrases which have been extracted from their original context to create new meanings by colliding with other words and images, somewhat like concrete poetry. But similar to Chinese calligraphy the writing is as much a pattern as a conceptual idea, where the shapes of the words are equally as important as their meaning. In Stooped (2012), clusters of words and shapes have been sewn very closely together, trails of thread linking their forms across the picture surface to create a map that is seemingly random and organic. Like a delicate spider web, the appearance of the picture's organic mark making seems to belie the deliberate work of its careful production.
The exhibition also included several large-scale drawings, some made over two sheets of paper. This is the first time Rankin had shown drawings of this scale and ambition which are sister works to the organdie embroideries. Delicate graphite and watercolour marks cluster together in a spherical arrangement, appearing like a primordial mass, a night sky, or a kind of surrealist informe. As with the embroideries, in the drawings Rankin uses dates of personal meaning in mapping the night sky. A ghostly presence runs through Rankin's work: ideas are suggested, not explicit and the attempt to give structure, meaning and legibility is always counteracted by its ultimate elusiveness.
Jessica Rankin was born in 1971 in Sydney, Australia and lives and works in New York. She has participated in numerous group exhibitions in the US, Europe and Australia as well as having solo shows in New York, Berlin and London, including PS1 Contemporary Arts Center, New York (2006) and Franklin Artworks, Minneapolis (2005).
A fully illustrated catalogue, with a text by Lawrence Chua, was published to accompany the exhibition.