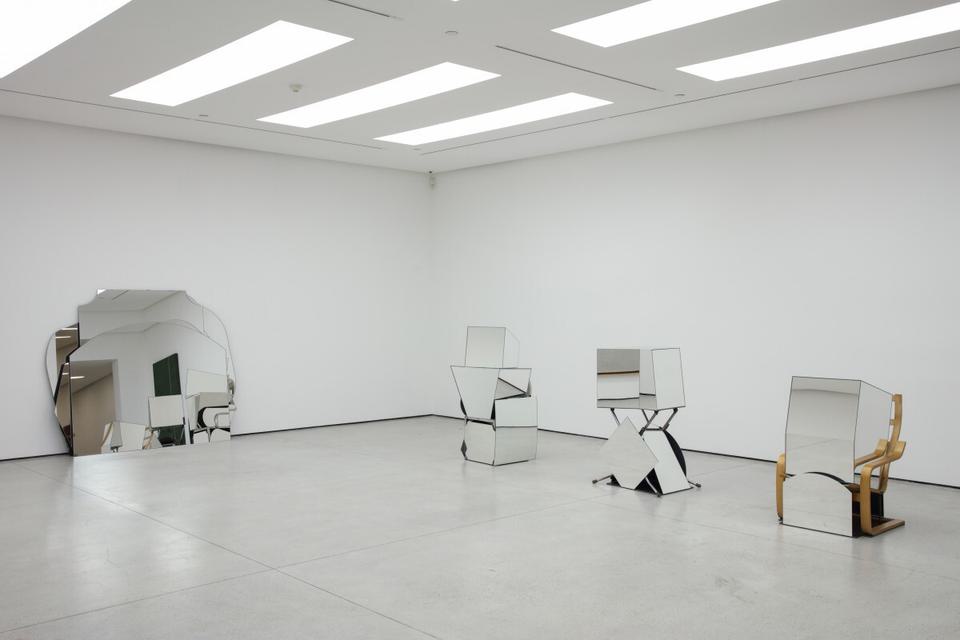 17 September – 24 October 2015
Dates
17 September – 24 October 2015
Location
50 Connaught Road Central
Hong Kong
This exhibition followed on from the artist's solo exhibition at UCCA, Beijing and continued his investigation into the rich symbolism of form and material through sculpture, installation and painting.

Born in the 1970s, Liu Wei belongs to a generation of artists that grew up in a constantly changing, unstable China which experienced a period of rapid urbanization. His multidisciplinary work focuses on playful experimentation and is characterised by a sense of irony, uncertainty and subversion. Frequently using unexpected materials in surprising configurations, Liu's work engages with the social and political questions that pertain to a swiftly expanding environment. He has said: 'I'm very interested to what degree and on what level art can truly affect life and reality – not as a political event, not as a protest or demonstration, but really simply the question of how to truly integrate art with reality.'
In a dynamic series of mirrored sculptures, Liu forms hybrid shapes using flat sections of mirror that are hinged together at different angles. The 'puzzle' sculpture is architectural in scale and consists of upright sections of mirror in various organic shapes placed together to form a makeshift enclosure. Set on a plinth, its alluring, shiny surface reflects both the viewer's physical presence as well as a partial view of the surrounding environment, destabilising the gallery architecture into a fractured and fragmented spatial reality. In a group of smaller-scale works, he uses block-like mirrored shapes placed on found items of furniture such as a wooden table, a worn, modern wood chair and a formal chair that is also mirrored. These oversized, irregular blocks appear weighty and obstructive but also loosely figurative through their language of geometric, upright forms. In two other works, solid metal vertical forms are flanked with thin sections of mirrored glass, placed as if in support of the sculpture's dense core.

A notion of collage and 'bricolage', where the hand of the artist is highly evident, continues in a series of 'crucifixion' works. These wall-based constructions are made from delicate, slim metal rods formed into rectangular shapes over which are draped irregularly-shaped pieces of steel sheeting. Sometimes Liu layers different rectangles on top of each other to produce a three-dimensional, vortex like effect, or else sets a single rectangular shape on the wall. Resolutely vertical, they act like frames for the square aperture at their centre, a view onto the blank wall behind. Liu has said that 'although the image of the Crucifixion is more of a Western tradition, I nevertheless feel it's a necessity for me to include this in society – if not religion proper, at least religiosity. So the title pertains to the somatic and to my own attitude. But the form is also about stretching the shapes out and almost tearing them apart in a seemingly brutal fashion, into an almost cross-like shape.'
Liu's paintings and 'shape-shifting' videos reflect the relationship of modernity to urbanism, architecture and design and the political, social and anthropological exploration of the human condition, which is central to his work. Executed in oil on canvas from a digital image, the paintings incorporate layer upon layer of fine lines of colour to create architectural-like forms, suggestive of a dense, abstracted cityscapes. The 'shape-shifting' videos are virtually static projections of colour – presented either as a single rectangle or as grids of squares on the wall. Referencing colour field painting as well as the neon advertising in an urban environment, these expanses of projected colour almost imperceptibly change, with subtle shifts in tone and sharpness as the light spills out around the clean edges of their forms.