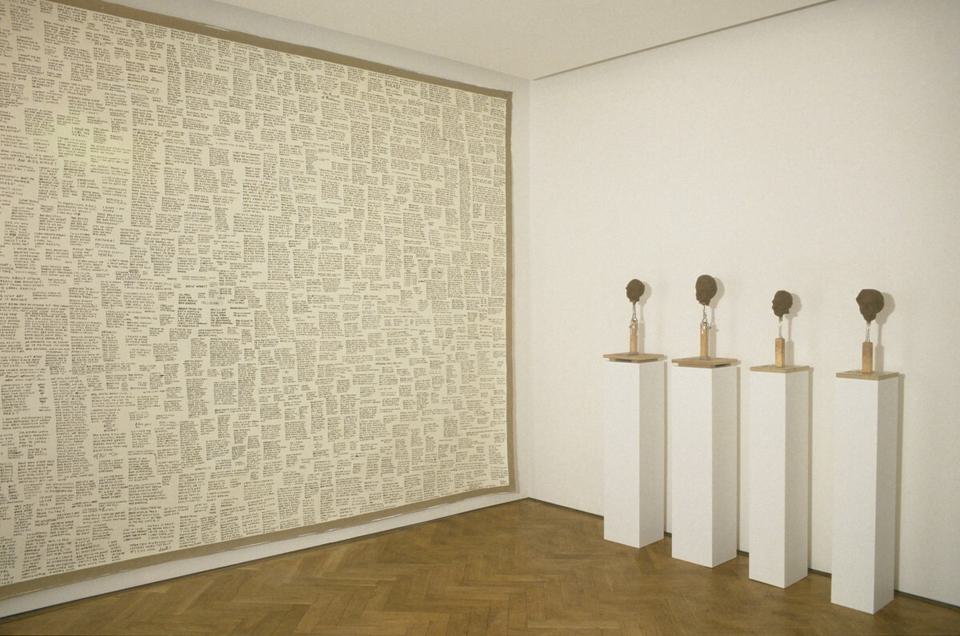 Dates
13 May – 25 June 1994
Testing the boundaries of what can be considered acceptable as subject matter for art, Sean Landers creates paintings, sculptures and videos that are both confrontational and humorous. In his video Remissionem Peccatorum (1994) presented at White Cube, Landers is witnessed stripping, with narcissistic languor, to the accompaniment of an operatic aria; then uses his belt to give himself a beating. Landers casts himself in the role of martyr, one who sets out to fail before the weight of art history. This act of naked self-flagellation both co-opts and parodies the endurance-based performance art of the 1970s, enacting a bizarre Baroque-Catholic spectacle that has distinct sadomasochistic overtones. Four wizened terracotta heads set on plinths, act as witnesses to this performance. They not only represent the artist's grandparents—motifs of middle-class respectability—but also serve as an ever-present, disapproving audience.
 Lander's work frequently takes the form of stream-of-consciousness diatribes, scrawled in rambling, hand-written texts that are provocatively self-indulgent and littered with misspelled words. Emptied of aesthetic content, these large canvases, pinned to the wall, need to be read rather than viewed and, as such, employ one of the strategies of Conceptual Art—Landers makes the viewer labour in order to gain access to his ideas. He variously presents us with dislocated memories of his own childhood, muses on his ambitions, exposes his artistic insecurities, critiques the art world, and reflects on his sex life. Flitting from one topic to another, the tone varies from the banal to the ponderous: at times Landers is self-aggrandising, at others, self-deprecating.

There are occasional moments of emotional clarity, for example, when the artist broaches the subject of his relationship with his girlfriend. As if second-guessing the viewer's reaction, however, Landers interjects with nihilistic one-liners such as: 'Honesty is a farce, from now on I'm going to lie my arse off.' At the heart of this work is the implication that, in amongst the scattergun statements, there may be something more profound to counteract the ironic angst.